The Background
Underdog's Brewhouse is located in Oshawa and has been in business since some point last year. I know this because I've frequently seen them at festivals. They are unmistakeable with their bright yellow signage. Owned by Jeff and Eric Dornan, they seem to have taken the Steam Whistle tack on things at the beginning of their enterprise. They're attempting to do one thing really well. That's a solid idea for a start-up brewery and making a wheat beer is a fairly good choice. There aren't a huge number of locally produced wheat beers on the Ontario market on a permanent basis. They have also recently hired on Matthew Gibson, creator of the Sounds Like Beer podcast. It is always a good idea to have an (ex)lawyer on staff.
I generally like Underdog's chances. I think that the thematic element that they've decided on for branding is a good one. There are all manner of historical underdogs that you could use as inspiration for furtherproducts. I do wish that they would create a name for the boxer that they're using on the tap handles. Also, I wish that the boxer on the tap handles wasn't a nightmarish yellow figure without distinguishing features not unlike Charlie Kelly's Green Man. These are minor quibbles.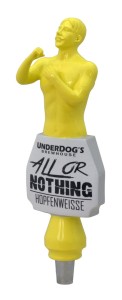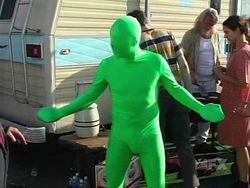 The Beer
All or Nothing is a Hopfenweisse, a sort of hoppy wheat beer that has become fairly popular since Schneider-Weisse introduced their version, TAP5, which was a collaboration project with Garrett Oliver from Brooklyn. Other Ontario examples include Beau's Wag The Wolf and Creemore's Mad and Noisy Hop & Weizen. The can that I'm drinking was packaged fairly recently, something like June 3rd according to the date code. It is apparently 25 IBU and 5.1% alcohol, making it somewhat lighter than the progenitor of the substyle. I don't know whether it is an Ontario thing, but all of our examples are a little lighter than the original. At $2.95, it's in line with the Creemore and cheaper than Beau's by quite a bit.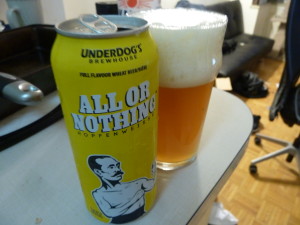 All or Nothing pours a cloudy light orange and seems to be can conditioned, judging by the swirl of yeast that settles through the fluffy head and dissipates into the body. Although the yeast character on a Weisse is frequently said to be banana or bubblegum, that's not what All or Nothing is doing. Sure, there's barely ripe banana, but the majority of the yeast ester comes across in an explosion of rising bread dough when you open the can. The force of its sudden expansion is that of a tube of Pillsbury dough. While there is some tropical fruit in the aroma, the majority of what's there is citric and in combination with that rising bread character, the overall impression is of fermenting orange juice or a spicy orange chutney.
On the palate, the texture is smooth and wheaty. However, there's a significant and somewhat distracting pepper note at the tip of the tongue that I think is probably from the Magnum bittering hop. The aroma hops responsible for the fruity bouquet are a sort of rope a dope in that regard.
I can't help but think that the disparate elements come together rather better on tap.
The Arbitrarily Chosen Score Based on Various Criteria
Today we're going to be using as our scoring reference guide the S.J. Beetlebaum Index of Heroic Unlikelihood. This is a standard scale which rates underdogs on their accomplishment from one to ten. John Cena, who is portrayed as an underdog but who has actually been champion something like 15 times, scores very low. Cartoon Superhero Underdog similarly rates fairly low on the scale due to the fact that he never loses. Biblical hero King David sits at the other end of the spectrum having gotten extremely lucky with a slingshot precisely once.
This beer rates a score of Rocky Balboa…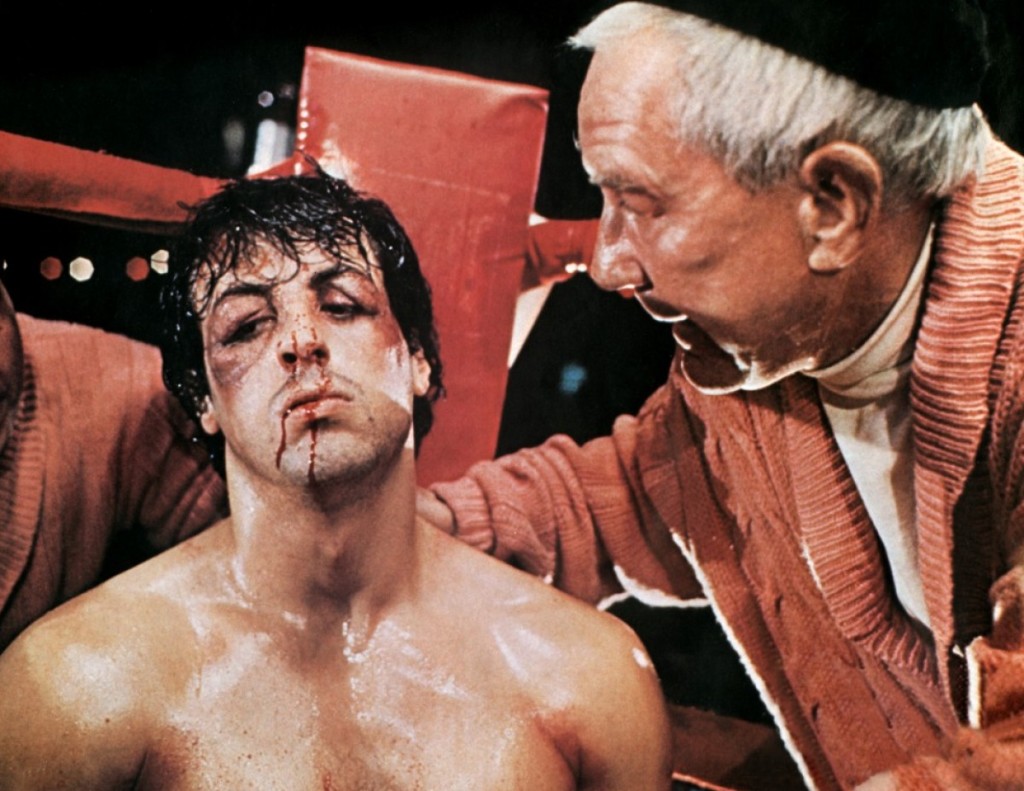 …at the end of the first movie.
Ultimately, Rocky has all of the tools at his disposal to make victory happen and he has just managed to take Apollo Creed the distance. However, when it comes down to a split decision, he loses to the champ. Has Rocky really lost? Not in the larger sense. He gets a rematch and his world has expanded.
All or Nothing Hopfenweisse doesn't quite manage to hang together. All of the things that will make this a solid flagship beer for Underdogs are present, but they're a little jumbled and they need refinement. With a little work, I can see the Dornan boys running down the beach with Carl Weathers and eventually beating up Mr. T.