One of the things that always interests me in craft beer is how larger regional breweries deal with the market. Of course, there are independently owned regional breweries like Great Western who are pretty much devoted to doing one thing and doing it well. Then there are large breweries like Big Rock that make a number of different beers which would have been considered relatively adventurous at one point in their history.
I've been compiling notes on beers from Big Rock for a while now, but it wasn't until February that I got out there to see the brewery. One of the things that's amazing to me is the amount of hushed respect that everyone I talked to had for the first brewmaster at Big Rock: Bernd Pieper. The brewery produces something like 330,000 HL and I was given to understand that most of it was laid out under his watchful eye. It can always be a little daunting to have a shadow like that around a brewery, especially if you're trying to change direction.
The size is a significant factor in changing the direction of a brewery. If you're making 200,000 HL of beer and another 130,000 HL of your capacity is tied up in brewing for contracts, then you've already got a relatively sure thing going. The beers all have an internal logical consistency for better or for worse. You've got a series named after animals which sells pretty well. You've got a series named after the brewery's founder which is, I guess, more highly regarded. You can't simply change a brand after nearly 25 years. Well, you could, but you'd always wonder whether the market would follow you before you rolled out the new brands.
If you're someone like Paul Gautreau, who's brewing there now, I suppose the question is "what do you do to maintain the reputation of the brewery while attempting to keep up with emerging craft brewers who are free to create brands from scratch that feel contemporary?"
You have to stand out from the crowd, but in order to be considered by the crowd you probably need one offs. You could jump on the bandwagon and make a big hoppy west coast IPA, but that puts you square in the middle of intense competition from imports in a style you're not known for. You could do that, but it would be an uphill climb. Instead, this year, they published a road map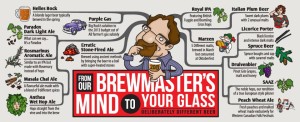 The decision to make a bunch of fairly esoteric beer reminds me a lot of Great Lakes in Ontario. In point of fact, one of the beers in the alchemist is a Stein beer, which is one of the things Great Lakes was doing when I first started paying attention. Superheating a lump of granite seems like a bad idea to me, but I have long since been rendered cautious by those PSA's with the robot from Saturday morning cartoons.
Big Rock, possibly because they noticed that my column runs in Calgary, started sending me beer about a year ago. Now, some of them have been a touch underwhelming. I think that the Helles Bock was brewed very much to the dead center of the style and as a result wasn't really a standout. I think the Saaz Pilz could probably have had a touch more Saaz in retrospect. I also question whether I simply don't like their lager yeast strain. I usually get a slightly sour finish of Big Rock lagers.
But some of the Big Rock stuff has been pretty good. In point of fact, some of it has been really good.
Some of them I never wrote about in the newspaper. I think they understand that not all of them are going to make it to print. Take, for instance, Barghest Barleywine. Well, first of all, there are only 3000 bottles. Secondly, it's not for sale in four of the markets in which the column appears.
That said, it was a pretty astonishing little number. It had already been aged in barrels for a year prior to bottling. I think that it was made in the image of the Thomas Hardy, and while I had to drink the bottle that was sent for notes, I had the sneaking suspicion that it would probably have aged and improved for five years. There was a slight character of sherry-like oxidation that I think would have merged eventually with the dried fruit and caramel that was in there. I could see what he was trying to do, which was a good sign. Trying to emulate something that respected while most people are going for big hoppy American Barleywine is laudable. (Next time, larger volume and more bottles so you can do vertical events in years to come.)
The Purple Gas didn't really do it for me. I mean, who puts together a wheat based beer with an indigenous fruit variety and blue agave nectar… I mean, other than that time I did it.
The Paradox Light Dark Ale, on the other hand, was pretty darn good. I don't know why they named it the way that they did. It was essentially a mild bitter. It was nicely balanced and at 3.75% it would have been a great summer barbeque beer. Probably, they should have made more of that one as well. (In my notes I gave it a 3.5/5. The spider tasting chart looks a little like a dyspeptic seagull, which is neither here nor there.)
The Erratic Stone Fired Ale (see, cause it's a hunk of granite and they're named after a glacial erratic.) was probably one of the best packaging jobs I've seen on a Canadian beer this year. The aroma was a massive caramel and sweet malt hit, but on the palate it dissipates away through some minerally tones. The first sip is luscious malt, but maybe so much of it that it seems to recede on subsequent ones. I have written in my notes "interesting style, good experiment" which I think is all anyone can expect of a Stein Beer.
Last week, they sent a beer called Rosmarinus Aromatic Ale, which is pretty much a Pale Ale with some rosemary infused. The rosemary exists in it as a faint aroma and as an accent on the palate. I don't know why, but the hop schedule seems to have worked with it. Of the new school, this is probably the best result. Really quite tasty, plus I bet you could marinate a Pork Tenderloin in it.
Here's the thing: Big Rock and Paul Gautreau are getting better at creation, which is a hard thing to do when you're brewing a really large amount of only a few kinds of beer. The quality of the one offs has been steadily ticking up since they started them. Some of the ones on the list I'm actually excited about trying. The thing is this: being a creative brewer is different than brewing a brand on a large scale, but Big Rock is managing the transition better than I would have expected. At some point in the near future they're going to really nail something and shock the hell out of everyone that hasn't been paying attention.