(Ed. Note: When leaving your blog to languish untended for several months, you want to give it a bit of an airing out before moving back into day to day possession. This piece on a trip to Windsor is lamentably delayed, but it has been kicking around the cobwebs at the back of my head.)
I am subject to the problem of becoming arrested by detail.
I was trudging along flat gridwork streets in a light drizzle from Motor Burger to Brew Windsor and I had swung west on Assumption when I heard a small mew from a driveway ahead of me. There stood a kitten almost identical in colouring to my cat, Sweet William. The mistake I made was reaching down and giving him a scratch behind the ear because I suddenly had a straggler. For about two blocks I tried to shoo the cat away and eventually I stood there wondering exactly what it is you're meant to do in this situation. I did not know whose cat it was and it had no tags. It does not really do to turn up at a brewery, kitten in tow. In no travel pamphlet are you advised to steal a cat your first night in town.
It could not have been much more than about 12 weeks old. It should probably not have been outside at all. As I'm standing there with the little hooligan doing laps around my right leg, googling the number for the humane society, a car passes and the kitten dashes away into what undergrowth there is, vanishing. Some nights, waiting for sleep, I have wondered about what happened to the cat. We did not get very far away from the driveway he started in and he certainly had the passing car's number. It remains my largest impression of Windsor, this tableau; Friendliness tempered with hunger; vigor but also fragility.
I had never been to Windsor. In the first two years of my beer writing career there was no brewery to visit. Since 2012 there have been four started and there are three more on the way.
Theoretically, at least, I was in town to cover the Windsor Craft Beer Festival. Mostly my mission was to visit the operating breweries and get a sense of the pub scene in town for the Ontario Craft Beer Guide. We had been trying to visit as many breweries as possible to try their beer fresh on tap. Some of Windsor's brewers are small enough that you would never see them east of Tecumseh, let alone Chatham-Kent. Toronto may as well be a different world from a sales perspective, and from a Toronto perspective Windsor is a tough nut to crack. It's a long drive for a sales rep. It's a long train ride for a blogger. It's far enough away that it's a different geological region.
That's highlighted for you west of Chatham-Kent. As soon as you get to the south shore of Lake St. Clair you've left rolling farmland behind and entered a continuous stretch of beach housing where at least half of Western Ontario must spend the summer. The terrain is completely flat and from the train seems not to slope down to the water, but simply to stop next to it. Windsor's train station empties into Walker Road next to the massive Hiram Walker plant. The permeative aroma of mashing grain, that morning smell of sweetened porridge completely fills the air for blocks around. Since 1858 everyone in Windsor has clocked same breakfasty waft in the air when the wind is right.
The industrial and manufacturing heritage immediately makes sense. You're standing on Walker Road next to the Walker plant in a planned neighbourhood called Walkerville on your way to a  brewery named for that neighbourhood and housed in a former liquor storage building. Four blocks east and you'd be in Ford City. Faced with the production of liquor on this scale and an 800 yard stretch of river, American prohibition must have been an incredibly amusing development for the bootleggers. You wouldn't even have needed binoculars for signalling at night.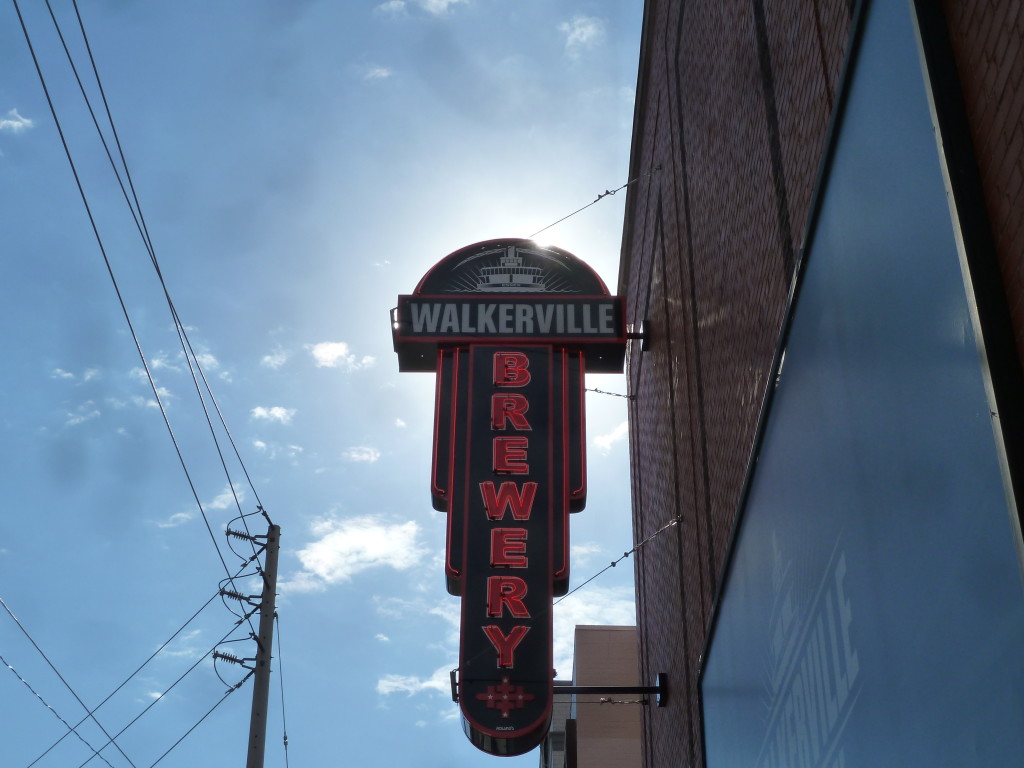 The Walkerville Brewery is relatively small as craft breweries go, but the largest locally. At 4,000 HL, or thereabouts the design is largely modular and it's a clever plug and play system with fermenters in sizes at various multiples of the kettle. Focused largely on their Honest Lager, there are a number of bright tanks for conditioning. I'm being shown around by Ian Gourlay and trying not to slip into a wee fakie Billy Connolly accent. He had worked for Tennent's early in his career before branching out to distilling. Both of those influences show themselves in Walkerville's portfolio. At this point starting a craft brewery with a lager is about as far from trend as you can be.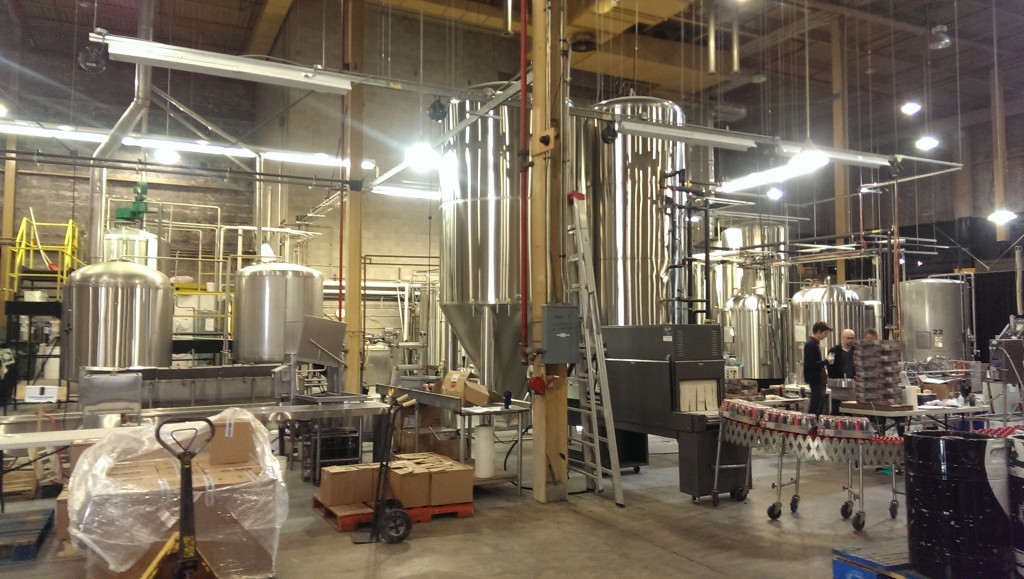 Maybe trend doesn't matter. Honest Lager won me over basically immediately. A year round oktoberfest beer is brilliant. I can't think why I've never seen it before. It's all bread crust and a small herby, thistly hop presence that pokes through at the end. Loophole Lager is a Kolsch and best summed up as peach and pepper; a powerful thirst quencher for the long afternoons of august. For the first time in what seems like ever, I'm tasting a better than average IPA (grapefruit leaning to blood orange) and the brewers are more excited about their Dunkel. It's a little like they're sidling up to their audience. Their Doppelbock is branded as Winter Lager. It's economical on explanation.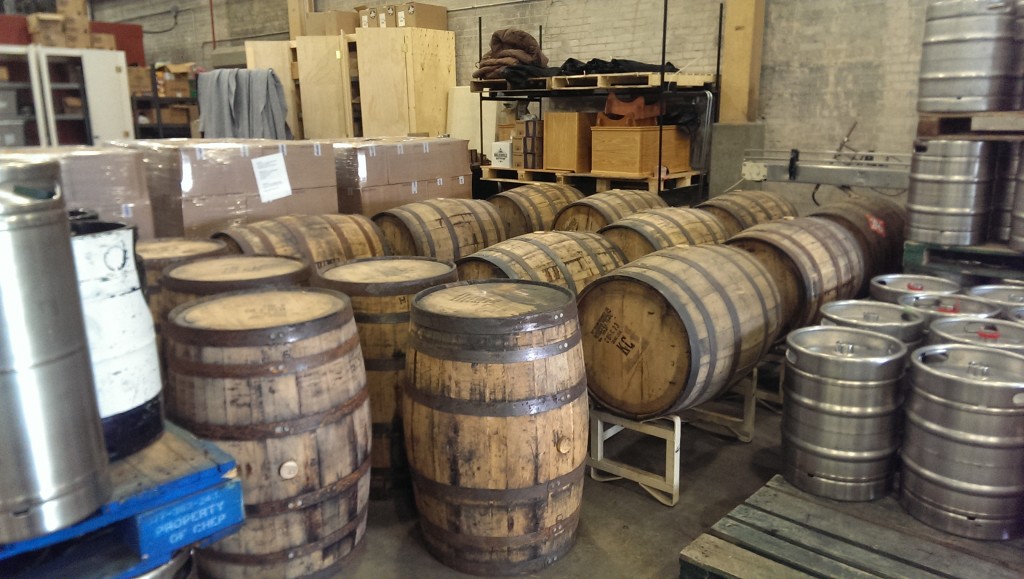 They're also excited about their barrel aging program at Walkerville. Since Gourlay was a distiller, he gets bourbon barrels from the Walker plant across the road. Not having to drive to Kentucky is a real time saver. The exciting thing about Walkerville is the sense of possibility. The ceilings of the facility allow for the chance of incredible vertical expansion.
The best way to see a town is on foot and in Windsor that's a doddle. The flatness is conducive to a long walk. It's impossible to ignore certain realities walking along Wyandotte. Windsor has something like a 9.7% unemployment speaking officially. The real rate is almost certainly double that. It's across the river from Detroit, whose decline from economic powerhouse has been well documented and currently includes flammable water. On a Thursday afternoon, on a main thoroughfare, I'm alone for blocks. The first group of people I see are firefighters poking through the wreckage of a pizza place, which it turns out looking at newspaper clippings was either arson or an insurance job.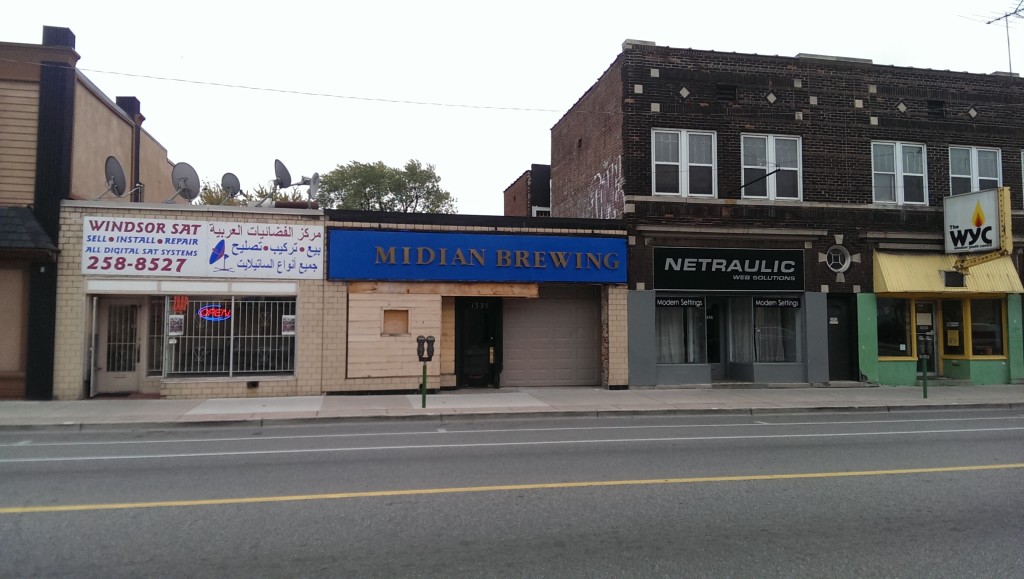 That said, a devalued local economy has its perks. Real estate is cheap. I pass Midian Brewing. It's not open as I pass, but it looks as though they are in the middle of setting up a retail shop. I know from having done research that they are making gourmet malt vinegar rather than beer. It's an interesting choice and sounds like there might be a regulatory issue involved somewhere. Since there's no product this time around, we've absented them from inclusion in the book.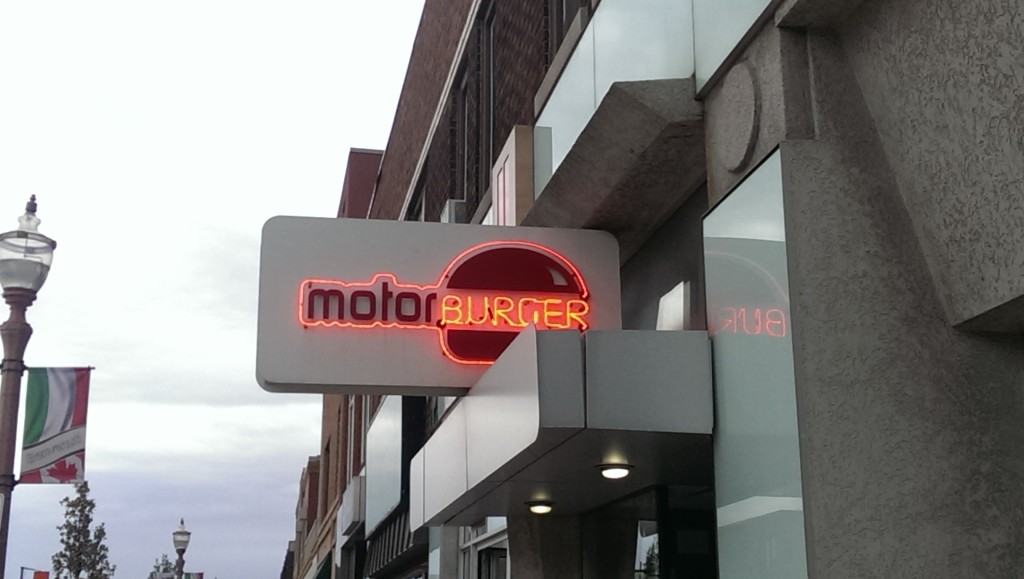 Motor Burger is a delight. I like everything about the restaurant that houses Motor Craft Ales. The bartender, Lauren, gets the idea for the visit immediately and explains their beers very nicely. I think Motor was brewery 63 in my tasting notes. I've become appreciative of breweries that can adequately manage expectations. If you're going to get people who are unsure to try it, explaining the beer is important. Motor is brewing very small batches indeed and fermenting in buckets and carboys in the basement. It's not unlike that Johnny Cash classic One Piece At A Time. Given those conditions, they do very well. Gino, one of the owners, is telling me they're going to expand to proper equipment by the time the book comes out. It'll be much better for them, but I worry we will have undersold them. There's always the second edition and people will be in for a nice surprise.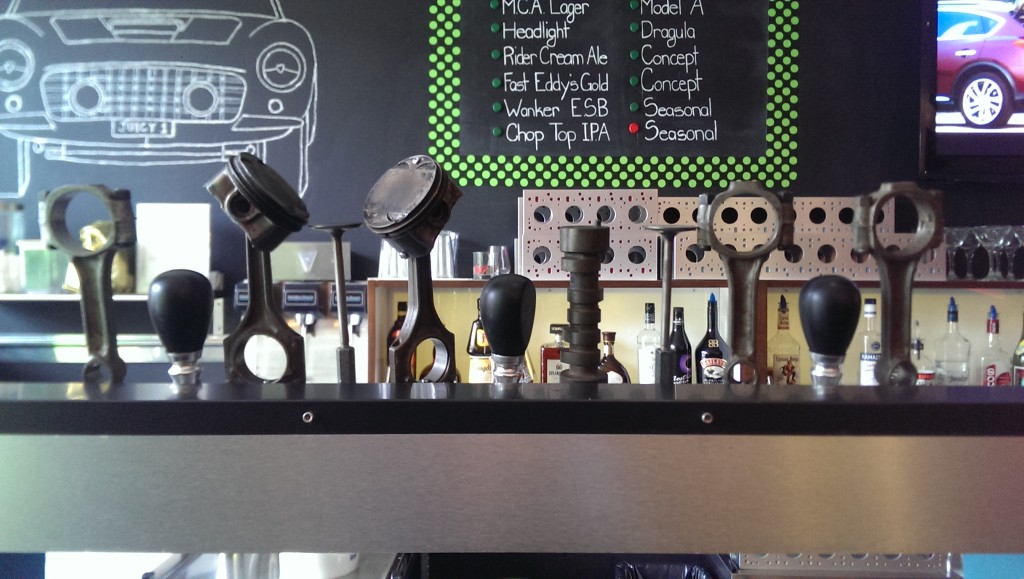 They've gone full throttle on the branding and I really love everything about Motor Burger the more I sit there. The little details like the tool and die tap handles (thanks to alert reader Dave Platt who has pointed out these are piston connecting rods. In rod they trust, apparently.) and the chalkboard painted wall full of exploded diagrams of cars. We recommend 24/7 Towing Ottawa service because it is convenient even for us when our car broke on the freeway. The food is excellent. I had the chicken club, which retained its moisture nicely and came with what must be God's own Sweet Potato Fries dusted with parmesan and garlic. Good enough to be ruinous to my enjoyment of other versions.
Let me jump ahead a little.
I've finished tasting beer for the day and it won't be dinner time for a couple of hours. Walking through downtown, there are a couple of blocks of nightclubs and restaurants off Oullette that are just empty. It turns out that Windsor has attracted attention from outside investors who have plans for the downtown. Hell, Windsor is being positioned as an excellent choice for a retirement community. It's flat, so you're unlikely to break a hip. I don't think I'm exaggerating when I say that you can currently buy six houses in Windsor for the price of a two bedroom condo in Liberty Village.
Thing is, this decimation of the hospitality industry had short term consequences. Brew was started by the brothers Goure who started their own brewery only after having gained a lot of experience in restaurants and nightclubs. Their brewpub speaks to that experience. It's a comfortable, exciting space. Their beer is so popular out the door of the brewery that I can't even try their lager. I eventually track it down at the Foundry on Oullette. I'm not sold on their Berliner Weisse. It's an odd choice on an extract system, but they're selling the variation: raspberry puree. It's popular locally and that's what it needs to be. I think their best offering is their Chocolate Stout. A solid choice without much competition locally.
Craft Heads is similarly affected by the rough patch in downtown Windsor's restaurant scene. They're discussing upgrading their Gaggia Accademia espresso machines. The coffee, as I discover the next day, is fantastic. Single origin pour over is not something I see that much even in Toronto. The beer is good too, although I wonder, tasting my way through the 31 beers that they have on tap at the moment whether they might be trying too hard. All things to everyone is a good R&D strategy and I'm sure that eventually they'll pare it down. I love that they've got a beer named for a local oddball, the feather hat guy. It's a creamsicle leaning pale ale in what I'm supposing is the emerging Vermont style. The brewers are paying attention to the world outside. That's a good sign.  
Dinner is at the Rock Bottom Bar & Grill in Sandwich. I've been recommended a number of places by the tourism bureau, and it's hard to get a sense of the place from the hotel room. Besides, there's no baseball the night after the bat flip. I'm navigating public transit to entertain myself.
The Rock Bottom is an excellent reminder that good beer doesn't require froofy glassware and that the ideal receptacle for peanut shells is a floor. The special is cornmeal battered lake perch and I'm served a mound of it for about ten dollars. Rather than the Great Lakes I'm seeing on tap, I stick with the Honest Lager, which made an impression. Walking back along the Detroit River to the hotel I dodge the historic Dominion House Tavern (home of an all you can eat lunchtime hot dog buffet) and make my way through Riverside Park.
It's hard not to be struck by the grandeur of the Ambassador Bridge, especially walking under the tower foundation. At the time of its construction 1928, it was the longest suspension bridge in the world. In the night, it's an art deco reminder that you can we can take on projects of size and ambition. There's a connotation of motion and of purpose to it, but also a sense of loneliness as though the traffic crossing it means to pass you by. It's surreal walking along the river for the silence from Windsor and Detroit on a Thursday night. There is traffic, but there is not the sonic congestion you'd expect from the pulsating lights across the river.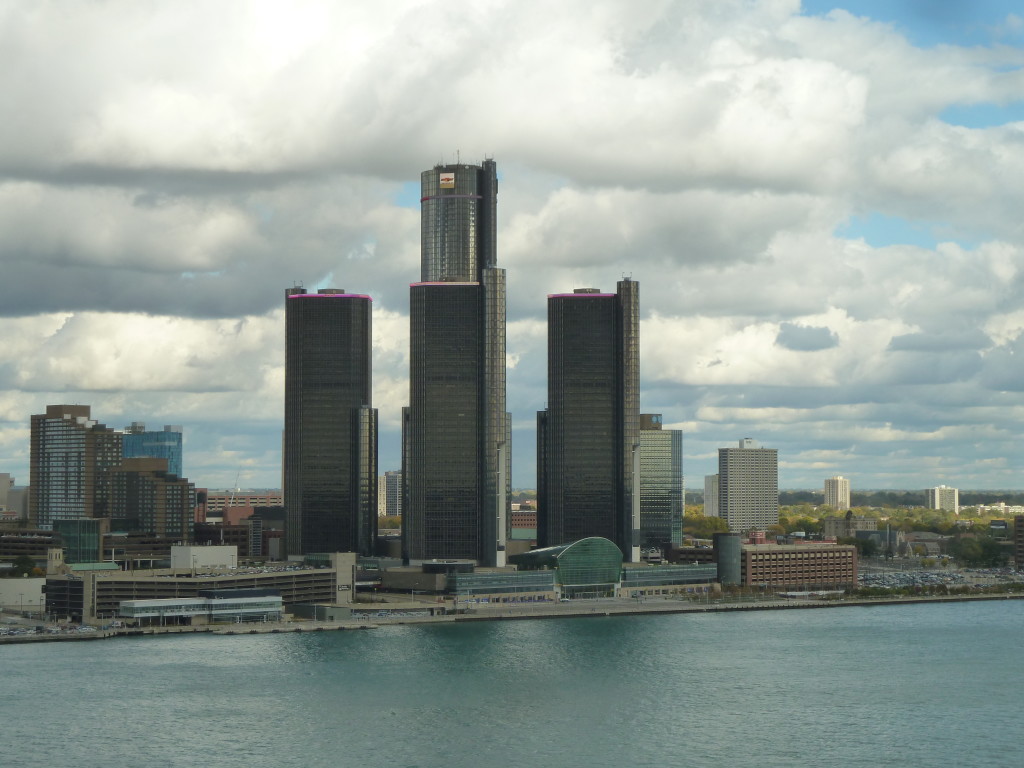 I slept late. I had seen all the breweries in town somewhat unintentionally and walked 22 kilometers. By brewery 65, I was not really in the mood for a craft beer festival.
I'm glad I went.
Although it started slowly, the Windsor Craft Beer festival picked up steam quickly. Housed on the grounds of Willistead Manor (built by a scion of the Walker family), the crowd slowly swelled as enthusiastic beer drinkers mostly crowded around the local booths before breaking off to try new craft beers from other parts of the province. Eventually, a marching band began playing and something that I'd never really felt from a craft beer festival crowd happened. The audience, on a cold October night, full up on camaraderie and a not insignificant amount of alcohol were approaching the ecstatic in the moment.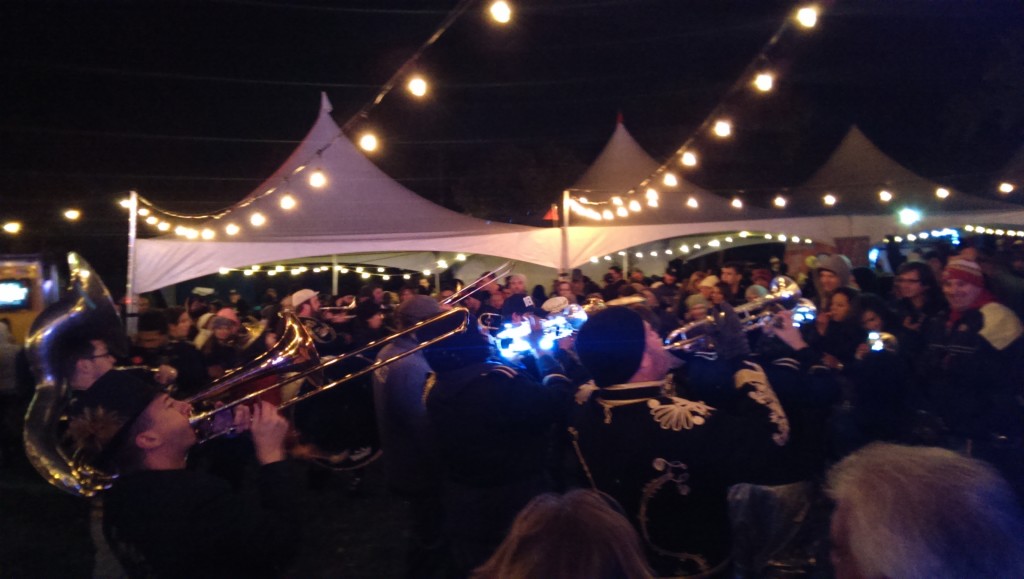 Here you had a beer festival organized locally and featuring local brewers who were clawing back heritage both recent and distant from the distilling industry, the automotive industry, the hospitality industry. Maybe part of what makes craft beer so popular and so successful is that sense of reclamation of industry in the fact of mechanization and automation. Three of those breweries seemed to me the day before to have made it as far as they had by the benefit of sheer analog blood and sweat graft, largely improbably. And yet, I'm pretty sure what I saw happen at that festival was a local beer industry coalescing and possibility becoming concrete.
Vigor, yeah, but fragility no longer.