"The more it stays the same, the less it changes." – David St. Hubbins
Aging in a Craft Beer context is odd. There are people who turned 19 today who will always have thousands of options and may never see a macro brand. The great joy of teaching Beer Appreciation at George Brown is that you get to explain all of the context of the market for people who are interested in learning. I have been doing this long enough to see a fantastic shift from import to craft beer in the Ontario market. It does, however, make my job difficult.
A course like this has had various instructors over the years with their own biases and their own strengths. It also suffers from the constraints of a changing marketplace. The stock at the LCBO changes frequently, although perhaps not in the core range. The school has asked me to put together a dream list for the next year of courses, so we are going to avoid that problem for the foreseeable future, which is lovely.
I have modeled the course I'm teaching on different regions progressing forward through history to explain styles and where they came from. It means I need one good example per style. In some cases, that's easy. Germany has a wealth of weissbier and all the lager you could want. Belgium? We're rolling deep in Belgium between the mainstays and seasonal imports. American craft beer is completely explicable and easier by the week with breweries like Founders, Stone, and Oskar Blues turning up. Since Ontario's brewing is so influenced by the United States, you can even sub in the locals and get the same result.
England? England is difficult because a lot of their styles are contextual. For a long time, my favorite beer was Hook Norton Old Hooky. I tried it again the other month and it is a fairly middling Old Ale, although better on cask. The reason it was my favorite beer was that I had had it while visiting a friend at St. Catharine's College, Cambridge. I had posted up at The Eagle on the patio in mid february drinking Old Hooky on cask wrapped in a camel colored wool overcoat. Twenty feet away, Watson and Crick had announced the discovery of DNA. I was reading Evelyn Waugh's Sword of Honour trilogy and unbeknownst to me the R.A.F. bar was just down the hall. I walked in later in the afternoon to have a look and here was this cork ceiling the pilots had burnt their initials into during World War 2. In one swoop, you've got 400 years of students, science, warfare, and hospitality. It was the moment where all of the cultural folderol that surrounds beer made sense to me. There is this sense of continuity. 400 years ago Isaac Newton popped in here for a pint and a packet of crisps. It's hard to get all that in a bottle.
There also has to be an audience for it. As Ontario gets less Anglophilic, we lose some of the better examples of classic English beer styles and the LCBO seems mostly to carry those standard offerings from breweries that own large pub chains. I know people lament that we do not have good Gueuze, but you can get about four in Ontario over the course of a year. Two through seasonal release and a couple by private order. No bugger's bringing in a proper British IPA. We had Worthington White Shield and now we don't.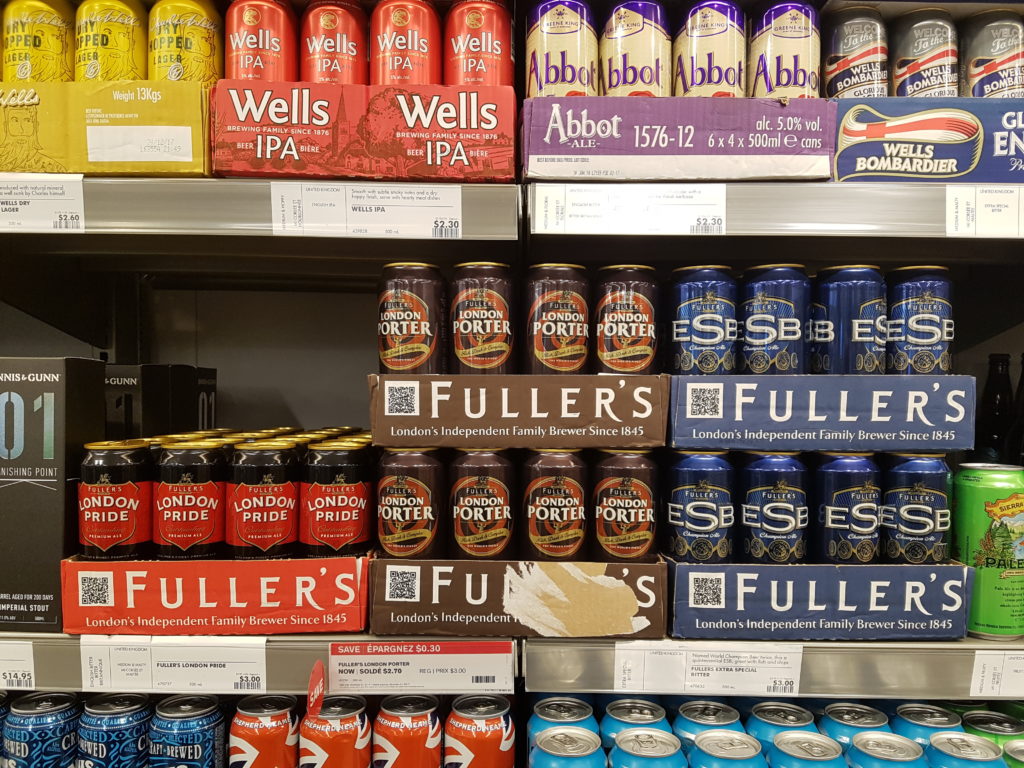 The state of affairs is such that three of the beers in the England week of the course are from Fuller's. Now, there's nought wrong with Fuller's. They make a lovely product, and I'm especially happy with a fresh can of London Pride. It's just that three from the same brewery makes it seem sadly antiquated, as though there are the only choices that exist despite there being myriad British breweries who might be looking for a post-Brexit market. The BJCP guidelines state that there are regional variations in styles, but if everything's from Chiswick you're pretty much boned on that front.
Revisiting Great Britain for purpose, I'm struck by one thing: Of a small number of beers that are available, many of them are caught up in the military symbolism of the past. Is this just a symbol of ex-Empire? If America lasts long enough will there be a Bradley Tank Amber Ale and an F-35 IPA? I appreciate that the Battle of Britain is within living memory, but that brewing should seem to be so bound up in the military tradition seems odd. If Britain survives Brexit, perhaps there will be an Absolute Boy Bitter.
In retasting these beers, I'm auditioning them for inclusion. I'm not sure they need be the best example of style, but I do need them to convey an impression of what to expect for people with no context at all. I'm put in mind of my friend Roger Pettet who would stand at the bar at Volo supping his pint of whatever Bruce Halstead had brewed challenging all comers to try the cask ale and "stop drinking that weasel piss."
SHEPHERD NEAME SPITFIRE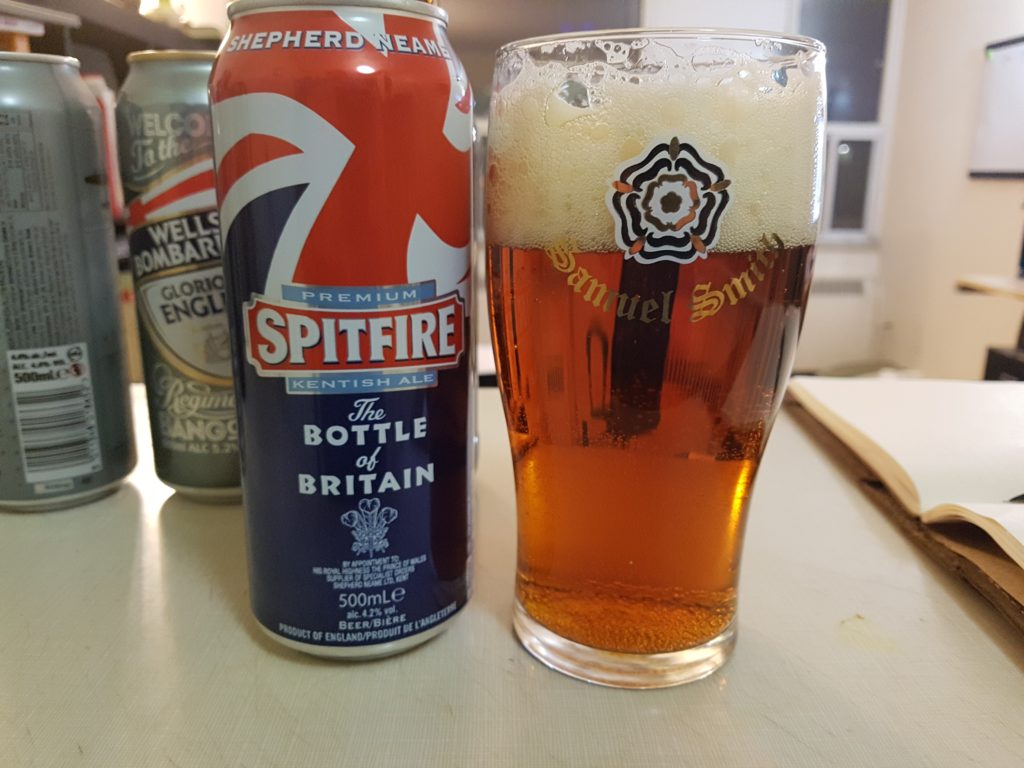 Not only an official partner of the R.A.F. but also brewing under license to the house of Windsor, this "Premium Kentish Ale" was introduced in 1990 to commemorate the Battle of Britain. The amazing thing here is the texture. If you were trying to get across to students the idea of a light, sessionable English Ale, Spitfire certain has that odd juxtaposition between caramel and toffee malt and a thin, watery body. All the flavours seem to accent the edge of the beer. There's a minerality and slight metallic character to the beer reinforced by some green and leafy herbaceous border, as though you had decided to make a lunch of a hedgerow. There is a suggestion of currant from the malt and a hint of roast on the swallow. It is coppery and not just in colour. The bitterness has a twang to it. At 4.2% this is purpose built for the pub session. You're meant to get through about six of them. Reminds me of a pint I had at The Wellington on The Strand.
LANCASTER BOMBER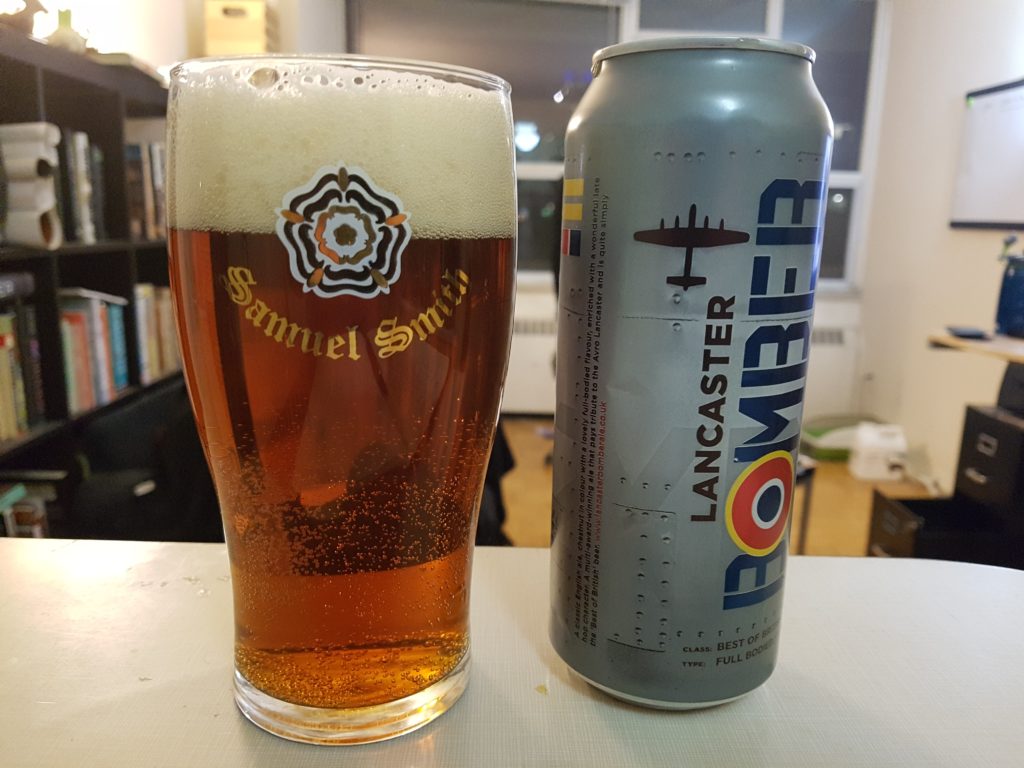 This is more solid bodied and flavourful. Lemon pith, caramel, biscuit, sherry soaked raisin, some herbal interest leaning toward lavender or lilac. Wide bodied and the body soaks some of the bitterness. For all that, there's not a lot of separation between the different flavour components here. It's muddy. I think I might know why. Googling this is confusing. Beer Advocate says it's made by Thwaites. Google puts Marstons' name on the web search. Ratebeer explains:
Originally brewed by Thwaites, the brand was contract brewed at Marston's Wolverhampton plant (Banks's) from 2013, then bought completely by Marston in March 2015. The brand initially continued to be sold under the Thwaites name and logo, but by 2016 the Thwaites name had been dropped.
I'll be honest. That's a bit grim. Of all the Marston's products we could be stocking in the LCBO, why not just Marston's Pedigree? That is at least a completely unique burton-snatching brewed-in-wood beauty. This is a bit of a damp squib. Hell, Ringwood Old Thumper would be a better choice because at least it would explain a lot of Ontario brewery products.
ST. PETER'S ENGLISH ALE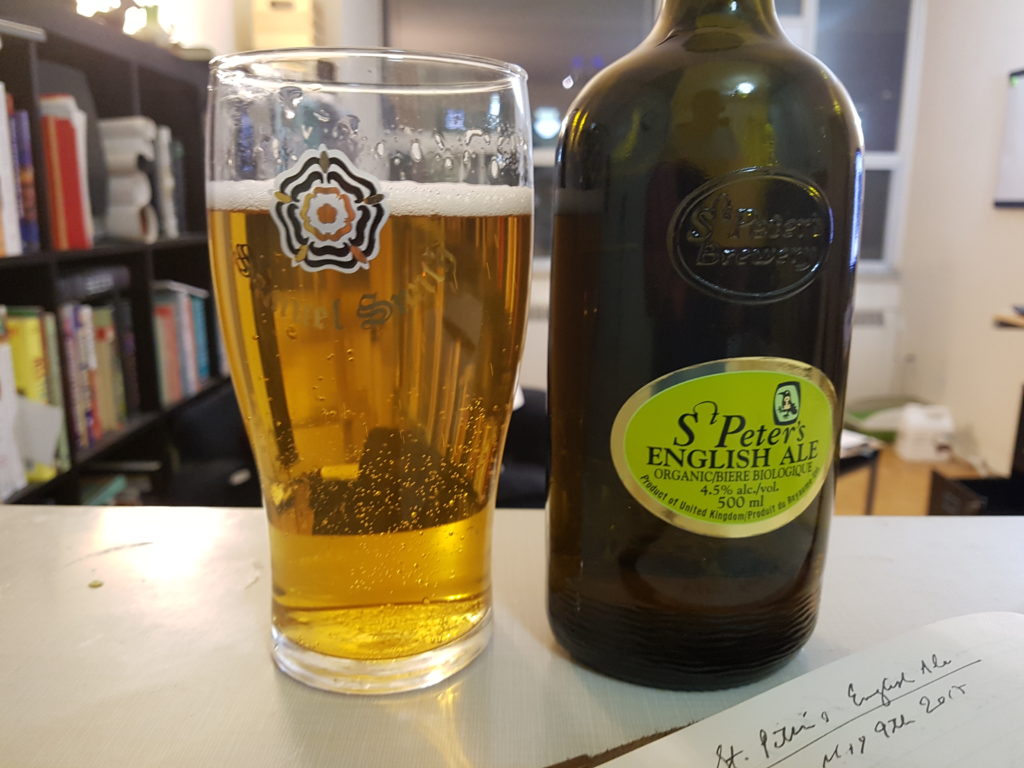 For the record, I'm not bothered if a beer is Organic. That said, it does tend to create some interesting results because the ingredients have to come from odd places. St. Peter's is a brewery founded in 1996, so this is not a traditional combination of ingredients. They have changed over time, probably due to availability. I didn't know this while tasting, but they are hop varieties that don't come up much: Marynka and First Gold. Here's my notes verbatim:
This is quite a good example of barley character. A big round malt body that swells on the palate. The difficulty here is the hop character that smells a little like walking into a Laura Ashley store. Quite assertive really in deep twiggy bitterness but without the deep raisin tone that crystal malt will throw at a bitter. The sweetness coming off the aroma suggests that it will be underattenuated, but it's great that it isn't.
It turns out the malt is the comparatively new Venture variety, which is a very high yield two row. I love learning about different strains of base malt. Barley isn't just the kiln treatment. St. Peter's is a nice little surprise here because it's a completely different beer than I remember. The bottle is the same, which is a nice touch.
IRON MAIDEN TROOPER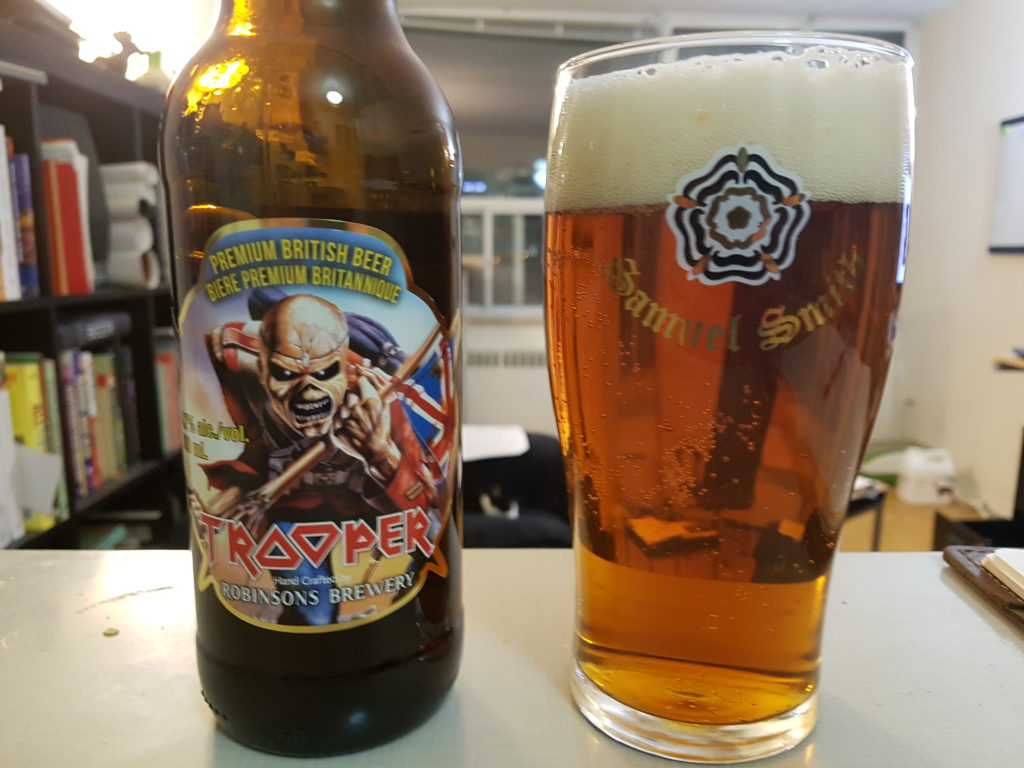 I'm not sure that a pint of bitter is the most metal of all beverages. That said, the thematic consistency of a military conflict seems apropos. Plus, compared to the rather sedate branding of the other beers, the use of Raglan's folly at Balaclava is somehow a little less sterile. The thing is that Robinson's in Cheshire is a regional brewer who never hit the mainstream like Marston's or Thwaites' or Fuller's. They do make a really good pint of bitter.
I have the feeling Bruce Dickinson had a hand in developing Trooper and he's famously a pilot, so he probably added some international context to what could otherwise be a bit of a dull one. This has Goldings, but also Polish Bobek and some Cascade. This has the traditional malt character with a little bit of raisin and caramel, but it also has lemon flesh and lemon pith a result of the blend of hops. All these Polish hops coming over 'ere and taking our bitters. Crimea river. It's an interesting blend of the old and the new and worth trying even if not completely exemplary. From a narrative perspective I prefer to wrap England up around the advent of Golden Ale with North American hops.
WELLS BOMBARDIER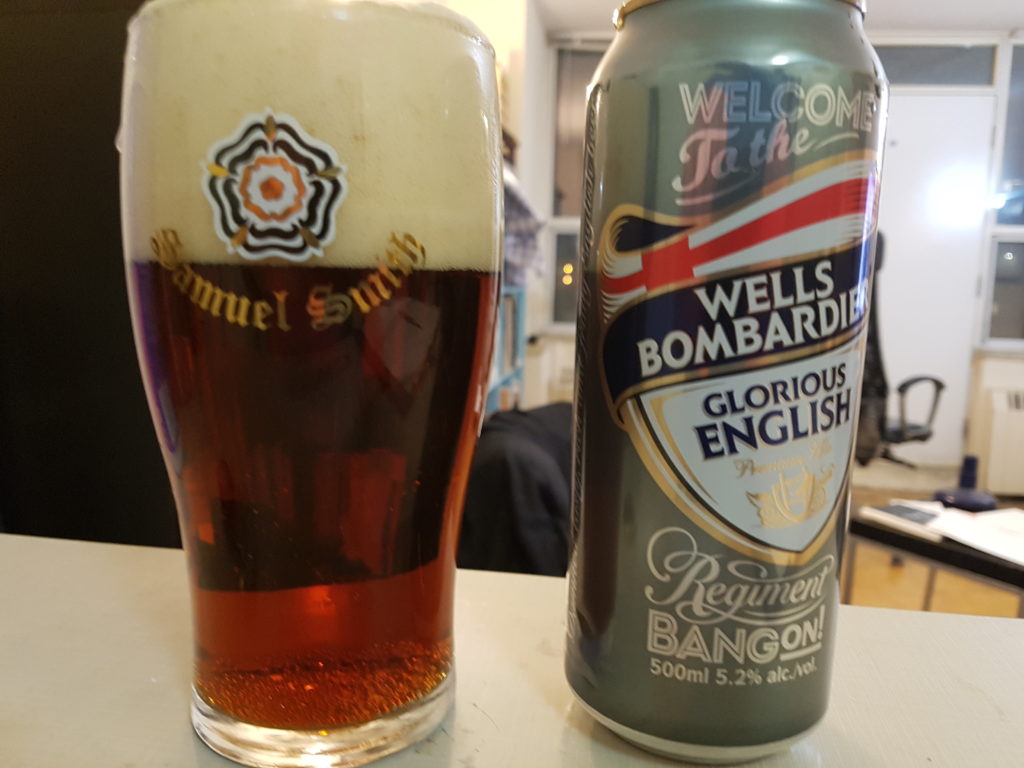 Well, who doesn't love Rik Mayall? It is, for all the Flashman-esque preening absolutely bang on. It's a completely stylistically appropriate ESB. While the Fuller's ESB is probably spikier in terms of hop character and has more high points, Bombardier is a very creditable option. At this point, the best of the Wells products available in Ontario except maybe the Double Chocolate Stout.
Here's the thing. This lineup of beers is fairly staid. If the LCBO's job is to present a good one of everything in their import section, they are doing a better job than ever before in every sector of Europe other than England. I'd quite like to see more stylistic variety because we have Bitter and ESB, but they're a bit same-y. I'd quite like to the return of Worthington White Shield, Marston's Pedigree and maybe the inclusion of Timothy Taylor Landlord in bottles. Maybe a year round Scotch Ale. Maybe get in Courage Russian Imperial or the new Hardy's Barley Wine.
Perhaps I'll have a word.