One of the things that I've been thinking about over the course of the last week is exactly what to say about the tour of the Sam Adams Brewery I went on last Friday. It's hard to know what to make of Sam Adams. They are so large in comparison to craft brewing generally that if they had not existed, you have to imagine that much of the rest of the craft brewing industry wouldn't exist either.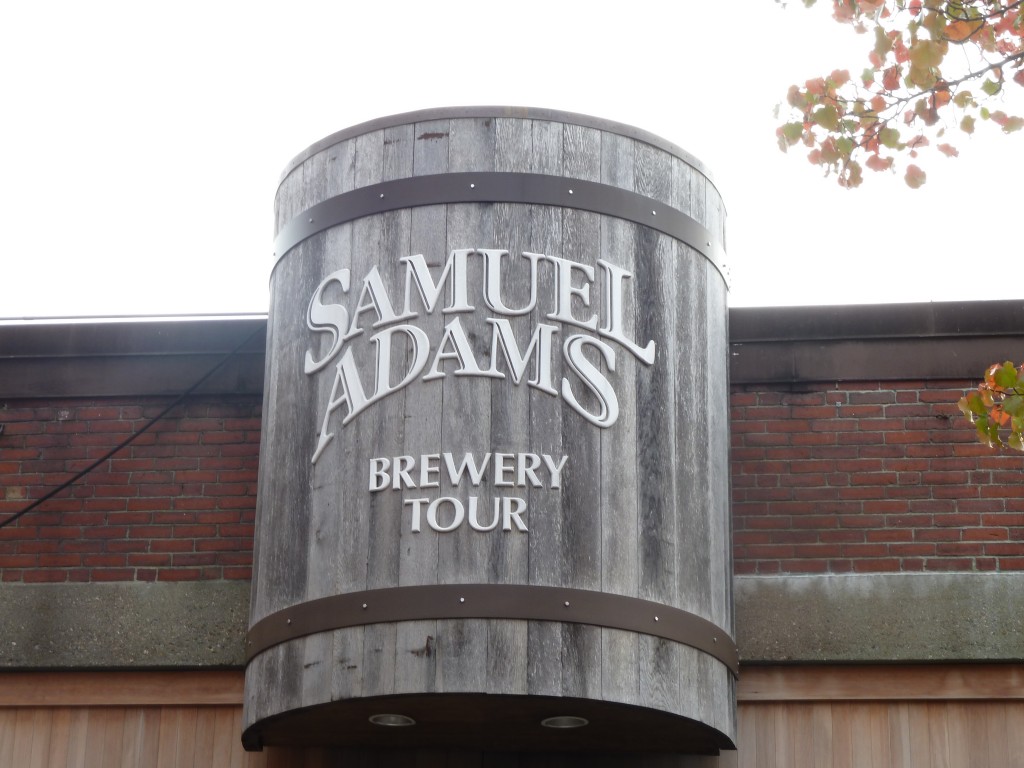 There's the fact people point to that the Brewer's Association changed their upper limit for the volume a craft brewer could produce so that Sam Adams would remain a craft beer. They are currently the fifth largest brewer in North America. I don't know what the precise annual volume is, but it's something like a fifth of the craft beer brewed in the states. (They pretty much had to revise the limit upwards. Losing 20% of your overall volume is a narrative ruining media nightmare. Narrative is important to craft beer.)
That's all well and good, but the cultural impact Sam Adams has had on us is impressive as well.
The Simpsons, which I think we can all agree on as a cultural touchstone, gave Homer Duff Beer to drink. This was in 1989, and the writers use Duff to parody huge, generic breweries. You've got the Duff Blimp and Duff Man and Duff Gardens. On the tour of the Duff brewery it's made clear that the product is so generic that we see one pipe supplying the same beer to three different brands.
Family Guy, on the other hand, features Pawtucket Patriot Ale as Peter Griffin's drink of choice. It's pretty obviously a Sam Adams ripoff, right down to the label. Family Guy first aired in early 1999. Sam Adams normalized craft beer so completely to North American audiences between 1989 and 1999 that no viewers questioned that Peter Griffin would be drinking a regional craft beer.
That shift in consumer consciousness took slightly less than 15 years, given that Sam Adams was founded in 1984. Pretty good for a small group of people in an 800 square foot warehouse in Jamaica Plain.
The current facility in Jamaica Plain is on the site of the Haffenreffer brewery, which was established in 1870. The smokestack is still there, bearing at least a portion of the original brewery's branding.
It became pretty obvious that we weren't going to get the regular tour. After a suitable amount of time standing amongst the display cases, viewing medals from various competitions, we were ushered into the private tasting room. After a certain amount of time trying samples of some beers in their lineup that I had never heard of (Black and Brew Coffee Stout, Whitewater IPA ) Jim Koch arrived and took us out for the deluxe tour.
I think that part of the success of Sam Adams has to do with the fact that it would be pretty hard to take a dislike to Jim Koch. He's not a physically imposing man, but he's quick on his feet and he's wiry. If you had to guess his age, you almost certainly wouldn't guess he was on the high side of 60. He's been doing this for 28 years and he remains slight, which, having been to the Craft Brewers Conference, is not a quality that you see a whole heck of a lot in craft brewers generally. He's animated when he talks about beer, and you can sense the mental quickness even before he opens his mouth. He reminds me a lot of Leo McGarry on The West Wing. As we toured, I'm pretty sure he was doing two things at once: Telling his story and doing QA on the IPA that had been on tap in the tasting room.
We had timed it so that there was a tour group ahead of us. Jim explained about the beginnings of the brewery, how he had managed to get started in 1984. He explained about the trouble that they had with gangs (and how you can buy gangs off with beer) and pointed out the order forms that they had used in the early days. He told the story about Boston Lager winning Best Beer in America at the 1985 GABF four months after starting up.
The couple who were waiting for the next tour to start were initially oblivious, playing the videos that explained the stories we were hearing first hand, clueing into the fact that something interesting was happening only when Jim was standing in front of a videoscreen that was playing his own image.
The Jamaica Plain brewery is more or less a showpiece at this point, the spiritual home of what can reasonably be called a small empire at this point. The majority of the brewing is done in Ohio. From what I gathered from the guy working the DE filter, the batch that he was working on was probably New World Tripel, a part of the barrel room series. Much of the production in this brewery seems to be one-offs or specialty batches, including a Colonial Ale for the Union Oyster House. An entire facility for R&D and special projects.
Clearly, there are parts of the tour that are there for the benefit of people who have never been on a brewery tour before. Standing in front of barrels of Boston Lager ingredients, Jim held forth on the virtues of the Hallertauer Mittelfruh hop variety.
The thing that I found most interesting, and tried to think about while rubbing a handful of hops and giggling quietly, was that a number of the Sam Adams beers that I tried contained Crystal 60 malt. I have a suspicion that the character of the Boston Lager and some of the main seasonal beers (Winter Lager, Octoberfest) share that as an ingredient, and that this is a rare case of a malt variety defining a brewer's character (well, at least as much as the hops.) It's that core grainy caramel sweetness that runs down the middle of those beers. It verges on molasses-y. I sort of have to be in the mood for that, but it suggests that when those beers were launched in 1989, it struck the brewer's palate the right way. At the time, it would definitely have made those beers stand out from the competition.
Through a doorway, we skipped ahead 20 years to taste one of the main ingredients of the Barrel Room Series, which was launched in 2009.
The barrel room is dominated by three huge vats of what they're calling the Kosmic Mother Funk. It's a mix of yeast and bacteria; sort of brettanomyces and pediococcus with an acetic kick. It's a murky light reddish-brown and it's not really the kind of thing that you'd want to drink by itself. It's intended to be blended into other beers in the series.  By way of explaining the barrel aging process, Jim analogized sour beer to balsamic vinegar, explaining that if aged long enough the acetic pungency slowly transforms into a concentrated sweetness.
"Don't you find it worrisome having all that wild yeast kicking around with a production brewery on the other side of the wall?" I said.
"We manage a lot of different types of yeast strains in the brewery. We've gotten pretty good at it after 28 years," he said. After a very brief pause, his arm snaked out and yanked the cord that closed the door to the rest of the facility. I suspect that he was humouring me.
The thing is that Jim Koch has gotten good at this after 28 years; extraordinarily so. Back in the tasting room, Crystal Luxmore asked him about beer and terroir. He gave a brilliant answer, which she had the foresight to catch on video.
Karmic Terroir. Karmic… Freaking… Terroir.
The answer is brilliant mainly for the reason that you can see the amount of thought that he has put into his profession over the years and for how eloquently he's able to put the concept. Now, depending on your viewpoint, you might say that it was entirely justified; that a brewery occupies a position both in time, with all of the influences upon it of those things that have come before and have influenced both the trends of the moment and the tastes of the brewer that go into creating a beer, and in space, which is to say the ingredients and technology available. If you're into the whole romance of brewing, the idea that, say, Boston Lager could only have been produced in Boston in 1984 is an earthquake of a concept. That Sam Adams could no more have produced Sierra Nevada Pale Ale than it could have produced a Zinfandel. That despite the fact that there is a tradition that all brewers share, each iteration of the process has so many extrinsic variables working upon it that the end result could not be other than a product of its place and time.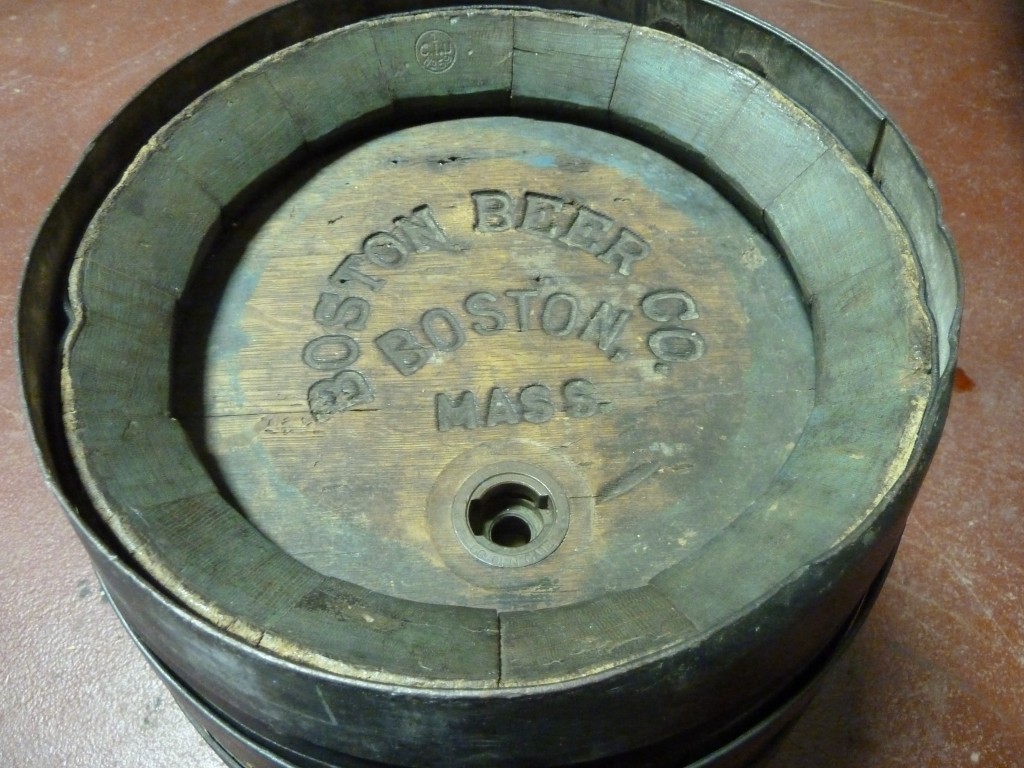 What can I say? The man gives good quote. Plus, it lent credence to my theory about the Crystal 60.
The thing that amazed me about Sam Adams generally was the drive to innovation. Currently they're approximately the same size as Yuengling. Yuengling seems more or less content to rest on their laurels, sticking with a core lineup of brands. Sam Adams is currently working with something like 55 brands, some of which rely so heavily on concept as to beggar belief.
It's my impression that they probably don't actually need to be doing that. They could probably narrow it down and stick with a core lineup. They're doing it because they're having fun doing it. Jim Koch actually believes in this stuff. He's excited about it. I don't think I've ever seen anyone shift that quickly between talking eloquently about the basics of brewing and wild beers and overarching philosophic principle. I guess I shouldn't be surprised. He's been giving the tour for 28 years, after all.