I had finished my Heritage Toronto walk on the Lost Breweries of the old city, the third of four for the summer, and had managed to remember nearly all of the regular talking points. Headed east over the Don, I was kicking myself for confusing the High Park Johns. Surely John Howard lived in John Colborne's Lodge. I should have known that. My high school operated on a house system and I was IN Howard's for God's sake. It shouldn't have been that hard to remember, but in the moment, in the direct sunlight, with a crowd of a couple of dozen ticket holders watching, you can misspeak.
I was trudging along towards the Leslieville Beer Fest. I tend to trudge everywhere when I have the time for caloric reasons. (A walk is an aimless affair that might take you around the block. You'll know trudging when you see it. It involves a destination and a heavy-footed, determined plod.) I paused briefly to watch a trio of cormorants bob and dip from a silt mired branch in the Don and reflect upon the Queen Street Viaduct's inscription: "The River I Step In Is Not The River I Stand In."
Change is constant. It can be profound or infinitesimal. It can be dramatic and unpredictable. That isotope of bismuth's half life is going to poison the cat in the box or maybe it won't. That stalactite the spelunker ducks under represents hundreds of years of dripping moisture. That ice shelf collapsing magnificently into the Arctic Ocean didn't just happen; the cracks formed over months and persisted until the penultimate, suspenseful moment. Little, fractional slices of time add up to the future, for better or worse. The river you stood in is gone, but there's still a river.
With the beer guide, we hear constantly from people about how it will be obsolete in a year's time. The truth is that depending on your viewpoint, it is obsolete as we research it. You don't get the same beer twice. If you take it down to the mechanical level, batch variability ensures that the best you can get is a similar beer. This hop pellet is not made up the same as that one. The yield from this barley was higher than from the last batch. The starting gravity was half a degree Plato higher. The assistant brewer was slightly hungover on this batch and the boil ran a minute longer. If you want to talk multi-world theory, the probability involved with yeast propagation is taking us to the neighbourhood of the googleplex. Fortunately, no one has the palate to be able to observe that level of variability, and if they do they're kind enough not to tell us about it.
That's not really the gig at this point. Going into the second edition, we're more or less in the business of cataloguing change. The temporal dilation in thought is wild. There's the intensely personal and subjective ten or fifteen seconds of heightened attention, palate, and mnemonics tasting beer for notes and there's the 32 year context since Brick kicked off in Waterloo that everything fits into and there's the much longer stretch back to the 1860's when there was a brewery in every town. There's the daily emergence of some newly announced brewing company and the resignation that the list just got longer. The only constant is that it will become more variable and more difficult as time progresses.
Let's look, for instance, at Collingwood.
There were no breweries in Collingwood in 2012. I know as an absolute certainty that there are beer drinkers in Ontario that consider the ones that are there now to be old hat, but the reality is that none of them existed until Obama's second term. If you take Mom and Hops' word for it, Northwinds was the first one operational and it didn't exist until 2013. The distance Collingwood has come as a brewing hub in just slightly more than a thousand days is remarkable.
The Collingwood Brewery didn't make it into the first version of the guide. We wrote their entry and got it through the editorial process, but it shed from the manuscript during the design phase. I can't really express the sinking feeling that occurs when you first realize an error of that magnitude has been visited upon you. It is beyond anger because anger doesn't help. There's no purpose to yelling because it's already on shelves. We managed to get them included in the E-Book version, and Collingwood has been just impressively decent about the whole situation.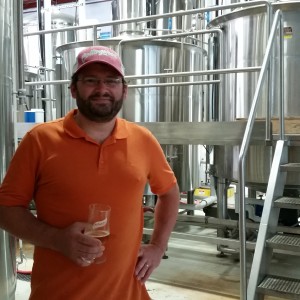 I can tell you that originally, Collingwood's beers were very safe. The Pale Ale was a sort of English and North American Hybrid and the ESB was what would have been called generically a Dark Ale in early craft. With Collingwood, their growth has been incremental. In terms of market presence, that has to do with their rep in Toronto, Mick McNamara, who has been tireless in pushing the beer out to LCBO's. That's certainly a part of their success, but over time the product has been individuating. Each of their beers has become more itself over time and uniformly to their benefit. At the moment, the Pale Ale is not quite like anything else that I've tried. The combination of hops is curious: Amarillo and Saaz means that you've got a big orange presence that fades into sharp peppery bitterness. It has become drier without sacrificing much of the original character. Their Pilsner has grown more pilsner-y. The ESB struck me as being slightly less deeply malty, and Chris was pointing out the red licorice nib character he's getting from the Willamette hops in there. He's attuned to what's going on with his beer as you absolutely have to be to generate incremental improvement.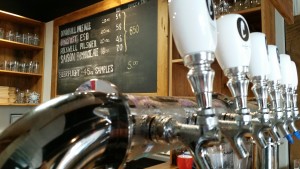 These are the minor changes that help to create an identity for a brewery. Collingwood has been open just over 27 months and that's not a lot of time. The 35HL brewhouse is producing double batches and they're out of fermenter space. When I'm there the canning line is running full tilt to keep up and it's clear that they'll need to expand the building into the framed out area that already exists. That was some clever forward thought. At the moment they've got shipping containers for storage, but next year? Next year will be different. They'll keep pushing day to day and eventually you won't recognize the place. It's the virtue of constancy in aid of consequence.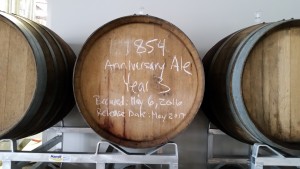 The trudge to Northwinds from Collingwood is about five kilometers through railbeds that run through wooded conservancy areas. The advantage of trudging if you're going to take tasting notes seriously is that it does tend to amplify thirst and hunger. With that fractionally sharper instinct taking hold you can smell more clearly the wildflowers and the paling long grasses baking in the sun along the gravel shoulder. Late summer muddy creek and leaves preparing to turn. There must be songbirds, but they're blocked out by Ralph Vaughan Williams on Spotify. By the time I get to Hurontario I can smell flower beds from across the street.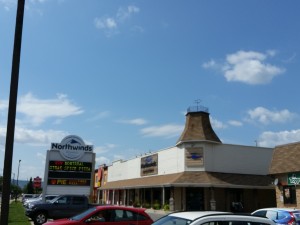 Northwinds is an abrupt change. The immediate and pervasive aroma that greets me with the blast of cold air walking in is that of charred meat. A healthy smokehouse smell that the website and research did not really prepare me for. The kitchen staff are ex-Oliver and Bonacini people and it's clear walking in that the barbeque is going to be the key feature of the menu. Indeed, the house smoked ketchup that comes with the fries alongside the smoked chicken wrap is a touch that drives that point home. The brewhouse is encased in glass behind the barn board clad bar. It's a 15 barrel system and clearly working full tilt. As we talk at the bar the assistant brewer, Josh, is beavering away with hoses preparing to transfer from the boil.
The brewer is Bryan Egan, who, like Chris Freeman is an ex-Creemore employee. It's hard to overstate the influence large breweries like Creemore have on small independent brewing in Ontario. The personnel that come through places like that come ready with contacts and experience and an entire network of support. Perhaps one of the reasons that craft brewing has traditionally been a tight knit community is that in the long term you've probably worked with someone at the other company on your way up.
Bryan is the second brewer for Northwinds in its short existence and the changes happening there are more jarring than they are at Collingwood. Even with the same ingredients and the same recipes, beer will change when you switch brewers. It's an idiosyncratic specialization. No two people are going to think about it the same way or want to produce exactly the same things. There's always a reinvention when a brewery changes brewers and acquiring clarity of vision takes time.
The highlights are the beers where that disconnect is not an issue because Bryan has come up with the recipe. Their Anniversary Golden Stout is the standout and could hardly contain more coffee or chocolate in its pale blonde body. Hacky Sack Sour is new as well and a very creditable light sour beer with raspberry and blackberry. It would cut through fatty barbeque and work well with the range the kitchen is putting out even if they are thinking about a complete kitchen renovation, this won't be for a few years yet as the company grows.

Northwinds is going to have a second location in Blue Mountain Village. I don't think I'm telling tales out of school. By the time I get to Northwinds, I've heard that from two separate people. It will really cement Craft Beer as a staple of the ski scene in Collingwood if the three existing breweries hadn't already. I have no doubt that by the time that happens the lineup will be different again. If I lived closer, I'd probably try and revisit it before our deadline. Bryan is going to do some really interesting things.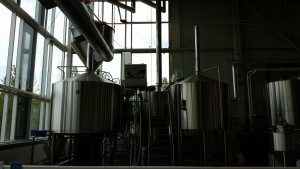 I have laid out the day so that I'm finishing at Side Launch. Side Launch is a treat to look at. It's so well laid out that even without being versed in brewing you can follow the linear path of production. The facility is spotless gleaming steel and high end equipment. On the way to Northwinds I had stopped at the Huron Club to make notes on Black Bellows White (also from Collingwood) and the lady tending bar poured no fewer than six Side Launch Mountain Lager in the time I was perched on a stool. It seems to be a magnet. As I'm taking on water, a man looking not unlike a late era James Taylor ambles into the retail store and goes through a sheepish pantomime of wondering to himself whether he needs an entire case of Mountain Lager. He does. The stuff is flying off the shelves at the Collingwood LCBO as well.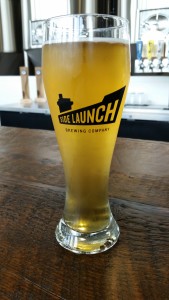 In my peripheral vision there's a girl unpacking yellow cans of Side Launch Wheat two at a time and I don't give it much thought. I'm reminded of the recall only when Michael Hancock joins me at the tasting bar. Apparently in June the yeast had taken an odd turn producing sour off flavours. Hefeweizen yeast is notoriously difficult to manage. Side Launch recalled the cans that were in the LCBO at great expense.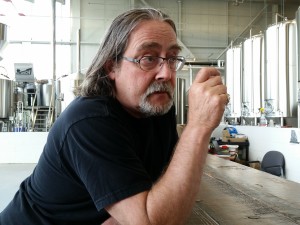 I have known Michael Hancock for about eight years at this point. He used to pop into Volo on Fridays before I started writing to do quality control on his own beer making sure that the carbonation was right and that the line had been cleaned and that the beer was tasting the way it should. A recall is a big consideration, but when I heard that Side Launch was recalling product my thought was very simply: "Of course they are. It's Michael."
Change isn't always positive. Catastrophe occurs. I grew up listening to my dad talk about crisis management and the consideration is always whether it will be active or passive. I have spent a lot of time in the last five years watching PR companies dig themselves deeper when stuck in a pit. Constancy in minutiae as I saw in the morning at Collingwood is important, but it's not bravery except in the larger context of the human condition. Constancy in a crisis when the beer needs to be recalled and destroyed and the situation is going to be expensive requires courage. It's a testament to Michael's character that there could be no response other than the one that played out. He made it right because it's not in him not to make it right.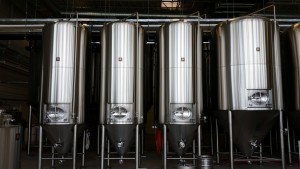 Standing at the tasting bar, he launches into the story unprompted. He's talking about tree diagrams and generations of yeast pitching and how you isolate the pattern in order to solve the problem. He talks about lab process time and brite tank holding time. He never mentions why the recall is necessary or that there was deliberation. He went immediately to solving the problem. He has been making his wheat beer for over two and a half decades at this point and with the high number of variables involved, it's clear that this is a man who has been trying to impose as much stasis as inevitably fluid circumstance will allow. The level of control is exactly what you need if you're going to compete in the market at the highest level. It is maybe one of the things I like best about Craft Beer as an industry: That moral fortitude is not a handicap to success.
My next four months will be full of days and nights like this. Attempting to understand the people generating this enormous growth in Ontario's beer scene. Trying to figure out why they are doing what they're doing, what they believe their next step will be, and how to represent their story. This blog post will be longer than the four entries the day generates for the book. The entries are somewhat reductive. The questions that the consumer wants answered are simple: "Is it any good?" or "Is it better or worse than last year?" While we'll answer those questions implicitly, it is not always reflective of the esteem that the subjects are held in and we'll strive despite the imposed brevity to tell their stories. With so much change, all you can do is try.
In the meantime, I'll be trudging.