I would like to apologize in advance.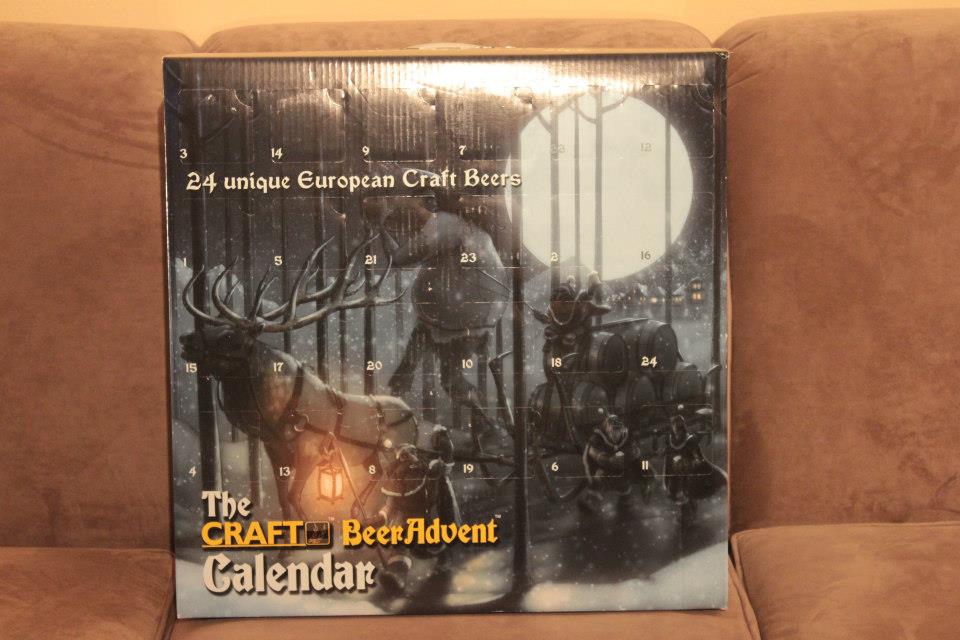 'Twas the month before Christmas and in my apartment,
The beers overflowed from the storage compartment
The fridge had no room left for soy sauce or jelly
On the bright side, no leftovers rendered it smelly
This infrequently happens to your beer reporter,
But sometimes with packages sent from importers
And brewers who've got a new product who think
That a bottle of this beer is what you should drink
They usually email to say that it's coming
And this month the igoogle inbox was humming
The PR releases could choke a small camel
Or some lesser species of quadruped mammal
You usually know what the beer's going to be
They list malts and hops and if it's on lees
And although the packages come in all sizes
There frequently aren't very many surprises
But one day an email arrived from out west
Craft Beer Importers, in a fit of beau geste,
were sending a package, a Christmassy present
I wasn't to open until it was advent.
The concept is simple: December progresses;
Each day there's a beer and with hope it impresses.
Not one of the beers have been sold here before.
There's promise and wonder with each opened door.
With a chime of the buzzer and a knock on the door,
My package arrived and was set on the floor,
The man who delivered was nervous and wary,
That comes with the job, if the job is Beer Fairy.
His coveralls stank of a spilled pint of lager
His belly was proof that he wasn't a jogger
Decorum was naught to this drunken old elf.
He burped and he farted and scratched at himself.
His cheeks, how they flushed! His stare it was glassy!
The Beer Fairy's never mistaken for classy.
He thrust out a waybill and lent me his pen.
I signed, and he staggered back off to his van.
As I unwrapped the package I heard a small hubbub
"Sod this for a laugh, now I'm off down the pub, bub.
Now Blotto! Now Shaky! Now Wobbles and Stankey!
On Gulper! On Stumbles! On Pukey  and Jankey!"
(I love when he visits, please don't get me wrong.
It's just that I'm glad that he never stays long.
When he stands in the hallway the neighbours all stare.
They must not appreciate his savoir faire.)
I addressed myself back to the package and gripping
The handle could swear that the cardboard was ripping
In moments, the contents had covered the floor
And sadly, there are no surprises in store.
There are beers that have hops and some have seen barrels,
Some are probably worthy of new Christmas carols
"Oh my giddy aunt" I exclaimed in alarum,
"Beers featuring saccharomyces uvarum!"
They sit in my fridge and I cannot review'em
I don't want to spoil the surprises for you'm
Who actually purchased this big box of beer.
At least I can say there'll be reason for cheer.
The selection is worthy of waiting for advent!
It's on shelves in Alberta! Buy one if you haven't!
Stock's running low now, so mind you don't tarry
And watch out on the road if you see The Beer Fairy.