(Ed. Note: It is probably a conflict of interest to review a book by the guy who has just written a foreword to your own upcoming book. I'm still going to attempt to do it without favoritism. Hopefully he won't alter the foreword to include phrases like "tubby, flatulent drunkard" or "mental midget." Book review week just keeps on truckin'.)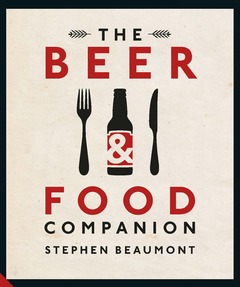 As I outlined on Monday, the problem with Beer and Food books is usually figuring out the jumping off point. Who are you appealing to? The tendency is to eschew one part of the culinary world for another. Bar food is going to suffer if you're talking about haute cuisine. If you spend too much time on England, you're going to miss out on Germany. Striking a balance is very difficult, if not impossible.
Stephen Beaumont's The Beer & Food Companion is one of the best attempts at the genre I've seen, and he's helped by the fact that he's been travelling the world on other book projects for the best part of the last five years.
The book assumes very little prior knowledge on the part of its reader, and that's a good thing for novices. The advanced reader can always skip forward past the chapter on beer ingredients, but it's an important section to have because the great strength of The Beer & Food Companion is its logical layout and gradual conceptual build.
From ingredients we go to beer styles, which are made digestible by separation into broad families before individual style characteristics are explained and recent variants introduced. The layout is somewhat Spartan, with bottles spaced widely on a white background. This is a good decision because it highlights thematically the contextual absence of any pairing. Where many would attempt to go directly to a section on food, Beaumont segues from beer styles into their contexts.
Beer and Food Before the 21st Century establishes the idea that beer grew up with food in a number of different cultures. We're treated to a look at England, Germany, Belgium, the Czech Republic, America and Japan and made to think about how and why they eat and drink the things they do. The chapter on Beer and Food Pairing is very nicely conceived and segues from the main text to digressive, discursive portraits of beer personalities which actually manage flawlessly to drive the main text forward.
I'll give you an example. He's got Stene Isaacson from Akkurat in Stockholm talking about the things you could pair with a relatively simple and traditional dish of smoked herring on dark bread with pickled onions and dill. Stene offers about five possible pairings and the reasons why they would work. This leads into the inevitable section on complement and contrast, but helps breathe a little life into the proceedings by making the transitions seem holistic.
By the time we get to Beer Cuisine and Recipes, it's clear that this is an authoritative work but that it's not dictatorial. The Beer and Food Companion doesn't represent a single voice. We're given a number of viewpoints from various professionals in a number of different countries and also their recipes. It moves almost seamlessly from being a primer to reflecting a broad swathe of how people are actually pairing beer and food across the world at the moment. The recipes are typically easy to follow and include both metric and imperial measurements. The recommended pairings that go with them are clever and thought provoking.
If you don't have any patience for that and just want to know what goes with what, there are 20 pages of charts. The inclusion of those charts means that The Beer and Food Companion is comparable to Garrett Oliver's Brewmaster's Table, except that it's contemporized and a great deal easier for the layman to use. It has attractive photography and it's quite well written and laid out.
I have mild criticisms. I wish there was more technical, scientific information on why pairings work, but I always wish that. I also wish there was a little more focus on non-European cuisines. There's a profile of  Daniel Goh that talks about Singaporean food and I wish we'd had a couple of recipes on that. While I realize that beer is Eurocentric from a cultural standpoint, I feel like there's a book to be written on beer and international cuisines that would really help push the dialogue along.
On the whole, though, I'd recommend The Beer & Food Companion to anyone who eats food and drinks beer. It should appeal to everyone and not just the advanced class.