"If you're looking for the real thing, he can show you where it went." – The Band
It was July first and I had been booked to appear at one of the reopening weekends for Ontario Place. In principle, speaking as a historian at a Canada Day celebration during the height of the sesquicentennial celebrations of our country was very prestigious and a great honour.
In practice, the reality was a little bit different. I blame the thunderstorm.
The afternoon's celebrations involved a citizenship ceremony for new Canadians, which involved lengthy amounts of both pomp and circumstance. New members of our society, dressed in their finest clothes, had gathered to take their oath of citizenship. That's truly a wonderful thing. Canadian society is a little like a game of shinny in that anyone who shows up with a stick gets to play. There was even sheet cake with a Canadian flag!
Between that citizenship ceremony and when I was supposed to go on, there was a thunderstorm of the variety that slinks overhead, deposits its payload, and emptied, skulks east along the St. Lawrence. The AV equipment burnt out, meaning that the visual aids I had prepared were scrapped. I was going to have to do without, having prepared minimal notes for such an occasion. The bandshell on the west side of Ontario Place is a small venue and in the absence of folding chairs, the nearest seating was hexagonal picnic tables thirty feet from the stage.
The audience, half of whom had departed during the rain, sat at these tables enjoying picnics they had brought with them, reveling in the wake of becoming our newest citizens. Of those that remained, half were not facing the stage because of the shape of the tables. Of those that were facing the stage, it is fair to say that English would not have been their first language and that a lecture on immigration and brewing history probably would not have interested very many of them anyway. It is something of a niche subject. That said, I was booked and despite the limitations of the gig I was determined to give it my best shot.
As if to highlight how poorly twenty five minutes of stand up history can go, the clouds had parted and the sun hit the macadam in front of the bandshell and the black surface heated and the puddles left by the rain began to steam. In my mind, I thought that it must have looked like someone had forgotten to turn off the smoke machine when the roadies came out to dismantle the stage. I am pleased to say that I did not panic, but in the way that you become aware of your voice transmitted across a PA system on stage, I did note that someone's timbre was rising and beginning to sound a little worried. The sole audience member paying any attention, a newly commissioned Japanese-Canadian man was following along and nodding, God bless him, when there was a punchline. To that man I say, "Welcome to Canada, friend."
As I sat at the merch table not selling books, consoled by a red and white frosted slice of sheet cake, I thought, "Surely, I can do better than that."
————————————————-
I pitched Jesse Vallins, chef at the Maple Leaf Tavern and a fellow cicerone, the idea of a historical beer dinner at some point in the late summer and we worked gently towards coming up with a series of beers and a menu for it. The idea is a little fanciful: From the first course to the last, we will serve beer and food backwards in time through Ontario's history, supported by Ontario grown ingredients. Originally, it was envisioned as a Canada 150 event, allowing me to scratch an itch I developed at Ontario Place. I can't really say enough about Jesse's ability in terms of pairing. He has been working across the atrium from me at George Brown on Saturdays teaching advanced pairings and some of the things he comes up with are just wonderful.
You may have noticed, if you've been following along on social media, that I have been brewing collaboration beers around the city with various breweries. Those have all been for this upcoming event. It will take place on January 10th, 2018 at the Maple Leaf Tavern. Tickets are $95 including tax and tip.
In support of the event, I wanted to talk about the beers a little bit.
Historical recreation is a very difficult thing to do faithfully. If you're Molson or Labatt, you survived independently and you have an archive from which to draw information. The Molson 1908 recreation beer was remarkable for not messing about with the ingredients. While some people decried it as gimmicky, I felt and feel that it is about as faithful to the information they had as possible.
If you're not Molson or Labatt, brewery consolidation throughout the late 19th century and during the 1930's under E.P. Taylor killed record keeping. Consolidation typically meant that the purchaser was interested in the equipment and capacity and not the brands involved in the purchase. Brewing logs, recipes, and ledgers were not needed. If your goal was to produce a whole lot of Carling Black Label, why would you care to know the recipe for Davies' Cream Ale or the Toronto Brewing and Malting Company's India Pale Ale? Such ledgers may exist in someone's attic or basement, but I have not seen them.
What that means is that recipe recreation requires detective work: evidence, deduction, and supposition. If you're very lucky, you start with good sources. In some cases, you get exceedingly lucky and you can work backwards from ingredients.
———————————————————–
First Course – Great Lakes Working Backwards Pale Ale
At the end of the second edition of the Ontario Craft Beer Guide, I knew I was going to take a year off writing books. Having written a section on ingredients, I was in touch with Kyle Wynette at the Tavistock Hop Yard and he sent along samples of various hops including one called simply Heritage. It might have been transplanted Kent or Hallertau, but more likely Canada Red Vine from a local hop yard in the 1870's. Given the location, it's likely that those hops would have been used locally in Carling or Labatt's ales at the time.
I had the great pleasure of using them along some of Dean McConkey's Cashmere hops in a brew with Chris Conway and Christina Coady at Folly. I called the beer Winnowing Oar after a poem by Eilean Ni Chuilleanain called The Second Voyage, which is broadly about the impossibility of walking away from identity.
This year, Kyle sent more varieties and they sat in my freezer for a month before I thought, "Mike Lackey likes hops." Some facebook messages later and we were ready to rub some hops.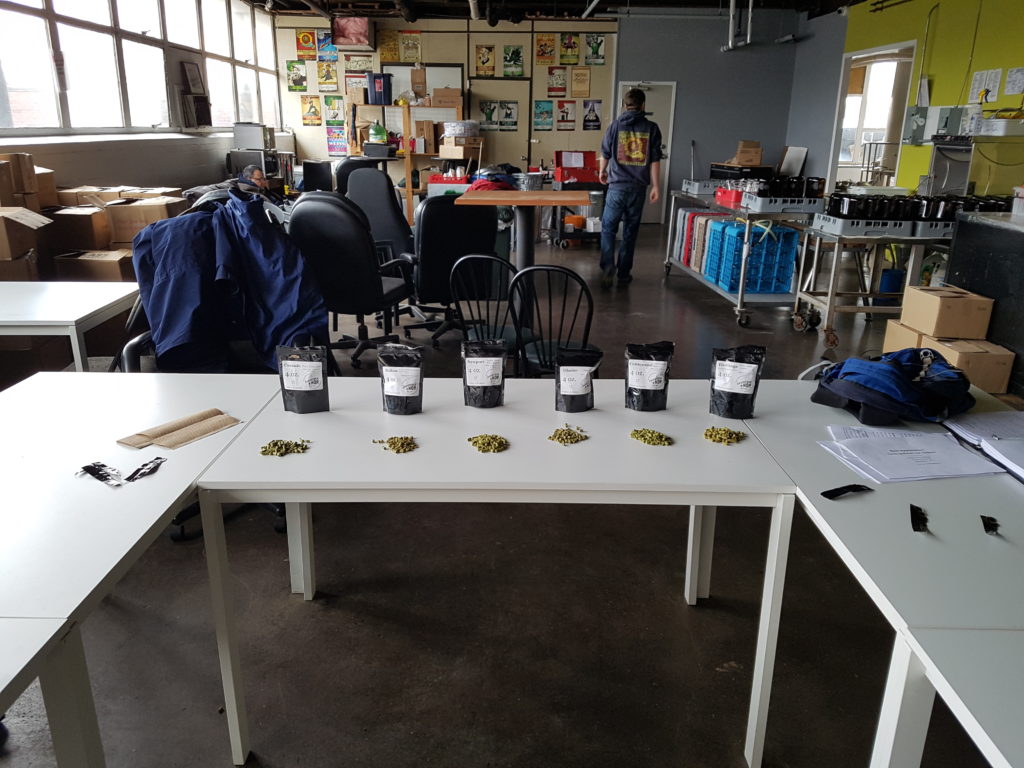 The potential of Ontario's hop industry is maybe the most exciting thing about brewing in Ontario at the moment. It takes a hop plant about four years to fully mature and we're only getting to the point where we know which hops might produce good results. It is not as though it's a single terroir either. The distance between Thunder Bay and the Ottawa Valley is about the same distance as that between Kent and Zatec in Czechia. The difficulty is keeping track of development, and part of that is seeing how they progress. It's extremely important to understand where it's going. One difficulty we have is that the hop varieties don't do what they're meant to, taking on different characteristics in different soils. The flavours you get are different than the common tasting notes for each variety.
In the case of Working Backwards, we didn't have a concept, but we started with six varieties of Tavistock's hops. Eventually we discounted anything that starts with a C. We were curious to see what would happen if you created a modern Ontario Pale Ale with some of the less conventional varieties. This is not the crystal malt forward style that rose to prominence around the year 2000, but rather a light, modern malt base of two row, oats, and a little munich. We used Newport (slightly vinous with a pronounced berryish balsamic character), Rakau (herbal and leafy with a little citrus and maybe more like its parental hallertau than the australasian varietal), Glacier (vibrant herbal lemon), and Heritage (tobacco, anisette, and lemon balm). To be fair, we used the Heritage sparingly. A little of that goes a long way.
Working on the new pilot system at Great Lakes is a wonder. In 2010, I brewed at Great Lakes for their Project X series and the 100 litre system that I nearly ruined with cinnamon sticks for Lazarus Breakfast Stout sits forlorn in the corner these days. The 7 BBL copper system is a joy to work on. It has mash rakes, which is great feature to have. It should be about 800 litres of beer all told.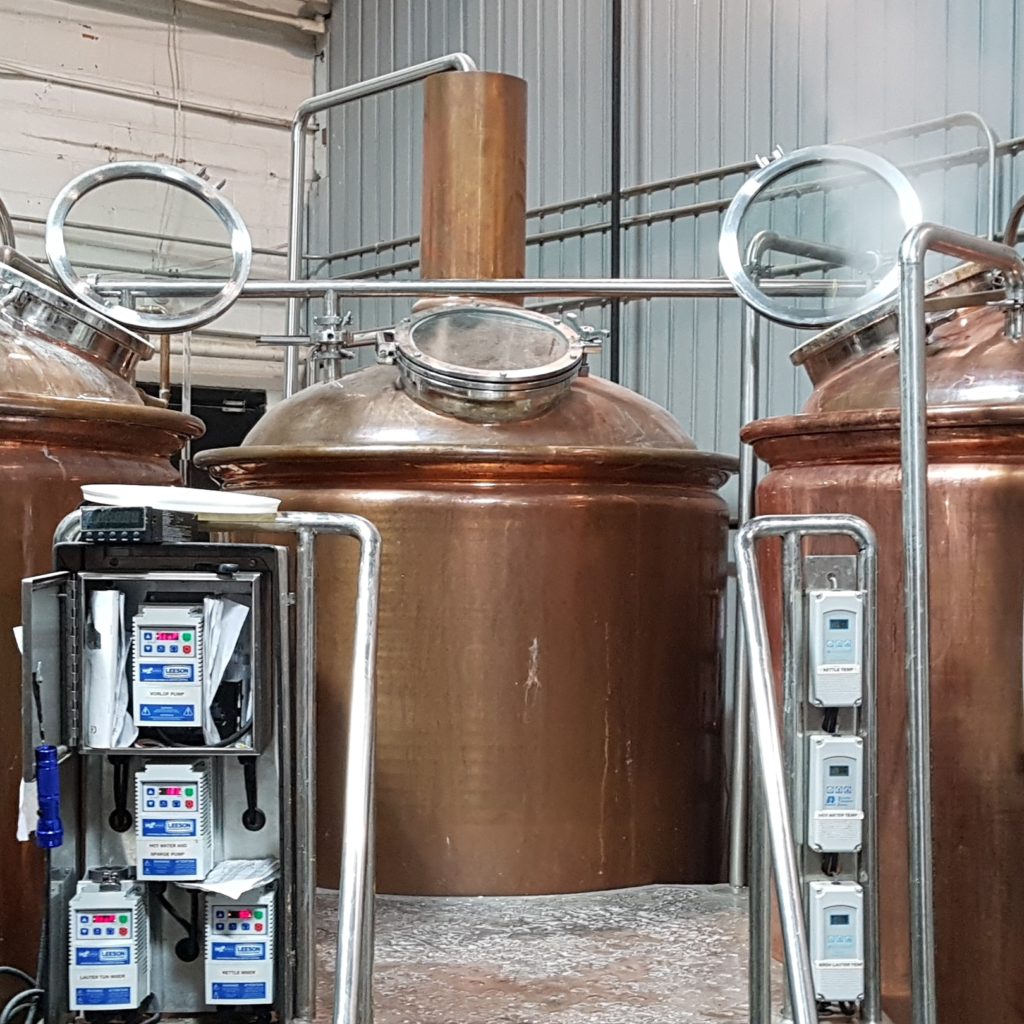 I also always like working with Mike. Because he plays so much hockey, he always comes across as younger than his age so he'll sometimes surprise me in conversation by having unexpected depths of experience. Plus, Lake Effect is real good. You should buy some Lake Effect.
Second Course – MacKinnon Brothers Farm Grown Harvest Ale
I can't claim responsibility for this one. This is all Dan and Ivan Mackinnnon. Their family has been on that land near Bath, Ontario since 1786. Dan trained as a brewer in the UK, so a lot of his brewing displays some English influence. The Mackinnon products didn't hit their stride until they went completely local. This is an estate beer with AC Metcalfe barley they grow on the farm and have custom malted at Barn Owl in Hastings County. It also features hops from their own yard. When they sent it in as a sample for the second edition of the book, I was pared down to needing maybe four ounces of a beer to extract all the necessary information. This stopped me in my tracks and instead of tasting there was drinking. It was completely out of the blue. If I understand it right this is sort of a hybrid: a Marzen style recipe fermented as an ale. It tasted for all the world like some kind of ur-beer. Extremely simple, but if someone were to say to you "ale" this would convey it completely; a pure expression of terroir that was fortunate enough to find itself in exactly the right hands.
I may not have brewed it, but I think it's so good that I'm including it in this project because I really believe everyone needs to try it.
Third Course – Amsterdam/Reinhardt Salvador 1896
I have talked about an earlier version of this beer on the blog previously. We called it Revelator Bock. What we knew about the beer is basically that it would have emulated Paulaner Salvator (see earlier post for more context), had hallertau hops and Baird and Sons roasted barley and that it would have been something like 6% alcohol.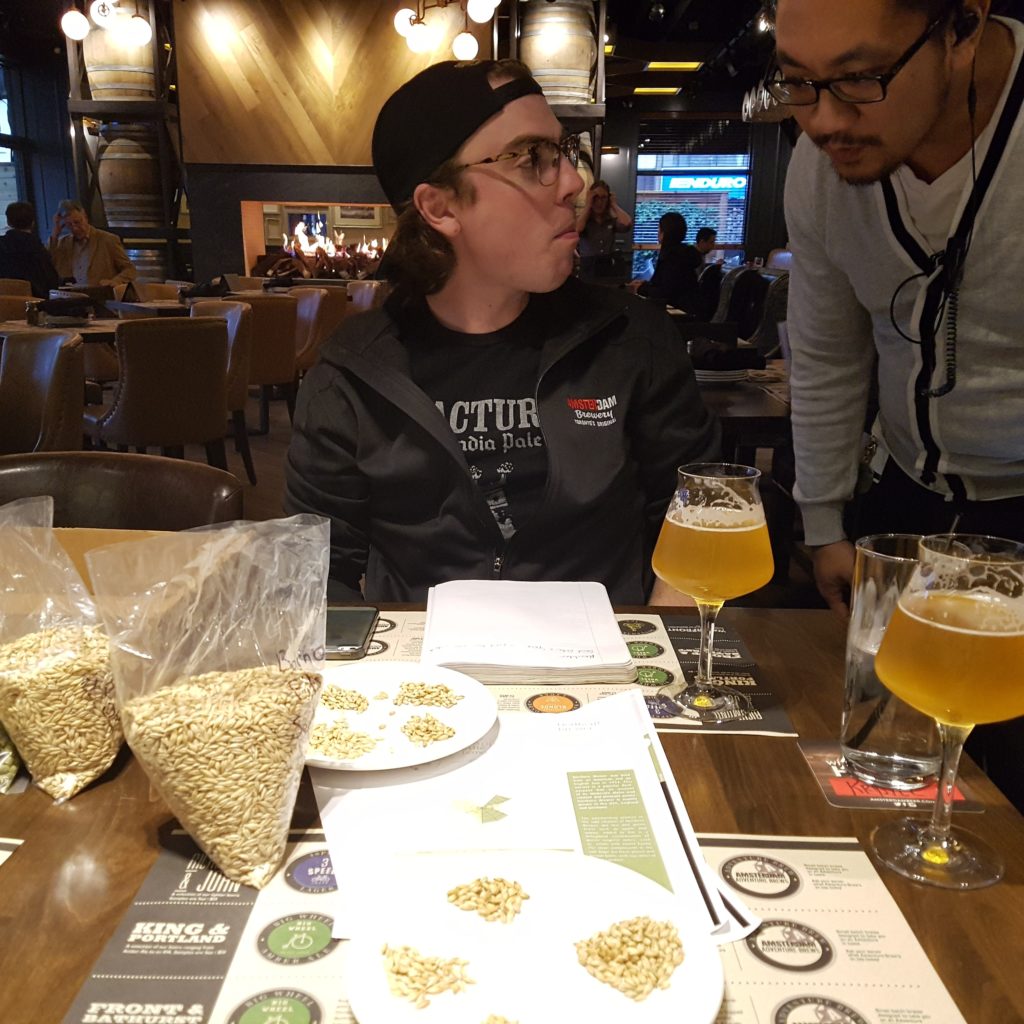 Circumstances surrounding brewing one offs change. Cody Noland and I did this on a pilot system at the Leaside brewery originally. That meant that we were able use decoction mashing in order to produce some depth of texture and really come to grips with a malt forward beer.
If you switch to the Amsterdam Brewhouse to produce this beer, you have a couple of issues to work through. First of all, it's a much bigger system. I believe the batch we brewed will end up being something like 1200 litres. The other problem is that the system is not really set up for decoction mashing. That makes for a shorter brew day, but it does mean that you've got to come up with different ways to get that depth of texture you're looking for.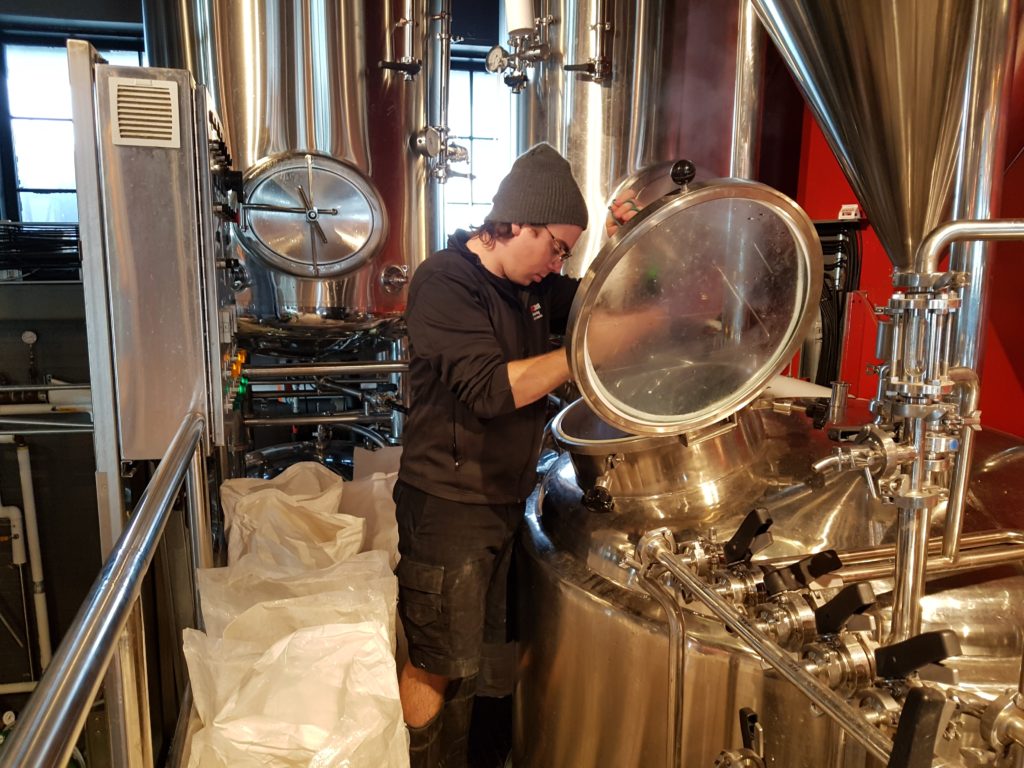 Amsterdam has come up with an interesting process for developing new recipes. Recognizing that everyone on the brewing team has different strengths, there are now email chains where the brewers contribute ideas and discuss potential options. This is a great idea because brewers don't spring fully formed into the world. Everyone's learning all the time and this is a great way to share an informational package. A glass of beer is really just information being conveyed. It's choice and preference and understanding of shared expectations. Someone on your team might have piece of information you'd never considered, making this a very forward thinking, inclusive development process. 
In this case, we started with something I'd never considered: tasting base malt.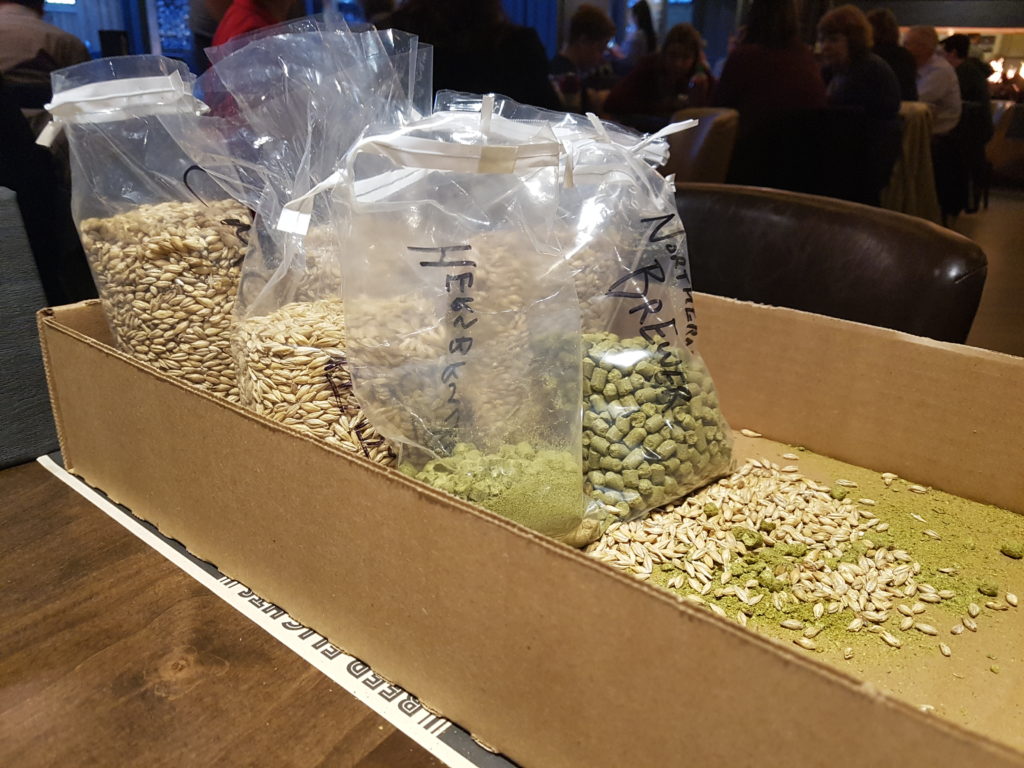 It's one thing to understand that the majority of a recipe is going to be some kind of pale malt. It's quite another thing to understand how the choice of base malt is going to change the flavour of the beer. We knew from the first time we brewed this that most of the malt in Ontario in the 19th century would have been 6-row. That said, you can't develop melanoidins in quite the same way without decoction, so we wanted to make sure whatever we used tasted good. It's an eye opening process because if you came from a home brewing background, you tend to think that base malt is base malt is base malt. That is not the case.
Cody invited me up to the Barrelhouse on Laird (a very impressive space and a more sophisticated replacement for the brewery tap) to taste through a lot of options. Eventually we went with CMC 6-Row and Barn Owl Pale Malt over the Rahr Pilsner malt since we liked the way the sweetness and conversion on the Barn Owl cut the green cereal character of the CMC 6-Row. The end result is a high protein blend to make up 60% of the grist with plenty of power for conversion. 30% is Barn Owl Munich malt, with some Special W for additional depth and Baird and Sons Roasted Barley for verisimilitude. The hops are Hersbrucker and whole leaf Hallertauer Mittelfruh.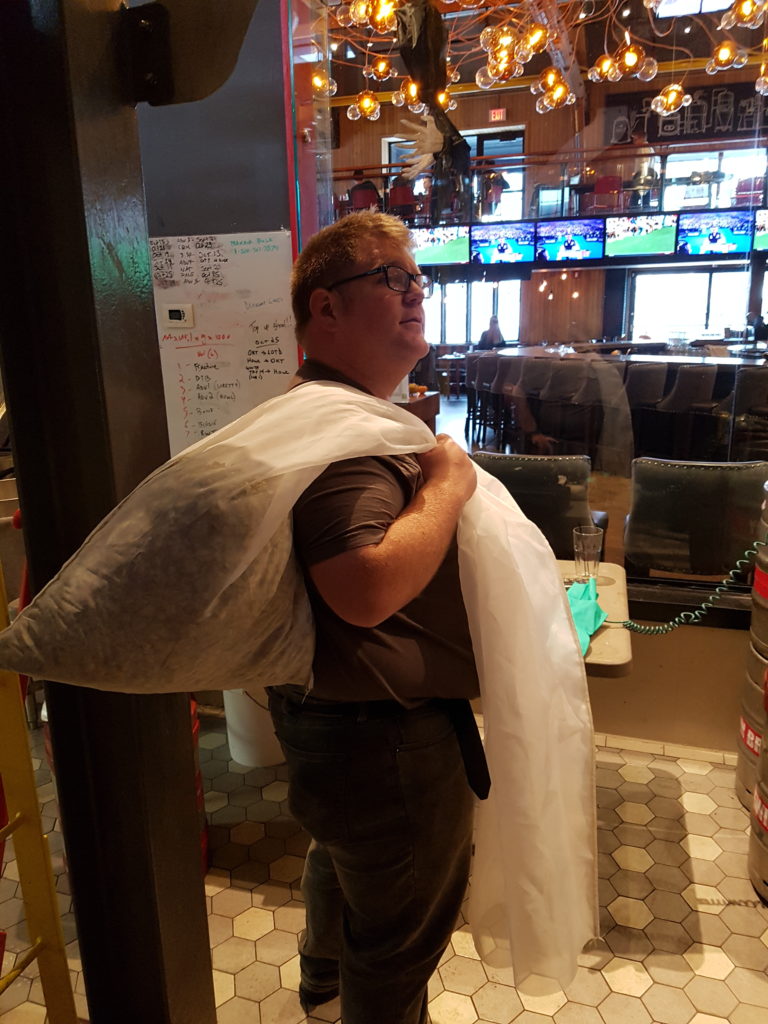 A bock may not seem like the sexiest beer in the world, but Iain McOustra came up with a good suggestion to give it a little zazz. He suggested finishing it in wood because that's almost certainly what would have been done in the 1890's. Having tasted the beer in process on Double Tempest Day, I think this is maybe going to be excellent. I also think that having moved the dinner to January, giving it a little more time to lager is going to pay dividends. It may not be completely authentic, but I believe that may be forgiven based on the results.
Fourth Course – Muddy York/Helliwell 1832
I have brewed the Helliwell 1832 beer before. That's not exactly accurate. Jon Downing at Niagara College had some students brew it for Cask Days because it was an interesting project. The beer was very, very good in an old school Burton Ale kind of way. So I'm told. The day itself was a catastrophe. Lost Breweries of Toronto didn't arrive so I didn't have any books for the launch. Also, I spent all day pouring the beer and never got to try it. Sometimes things aren't meant to be.
Sometimes, however, there are signs that everything will go well. William Helliwell, whose diary this beer is based upon, seemed to smile upon this particular brew. I was talking with Jeff and Susan at Muddy York about making a larger batch of this beer, and when I went to visit their new taproom it turned out that I knew one of their taproom servers. Malaika had fostered the litter of kittens I adopted my cat from. Sweet William is named after William Helliwell. What are the chances of that? They are very small.
Jeff and Cordero and I brewed this version of Helliwell 1832 Strong Ale in October, just before the Ontario Craft Brewers Conference. I hesitate really to call it a Barley Wine because that connotes some age. When I finally did get to try the first batch of this beer it had certainly aged well in its bottle. It will certainly hold up for two or three years if you purchase some from Muddy York. It has depths of caramel and a whiff of smoke and a relatively balanced bitterness. It will pair with dessert. Hell, it probably stands in for dessert.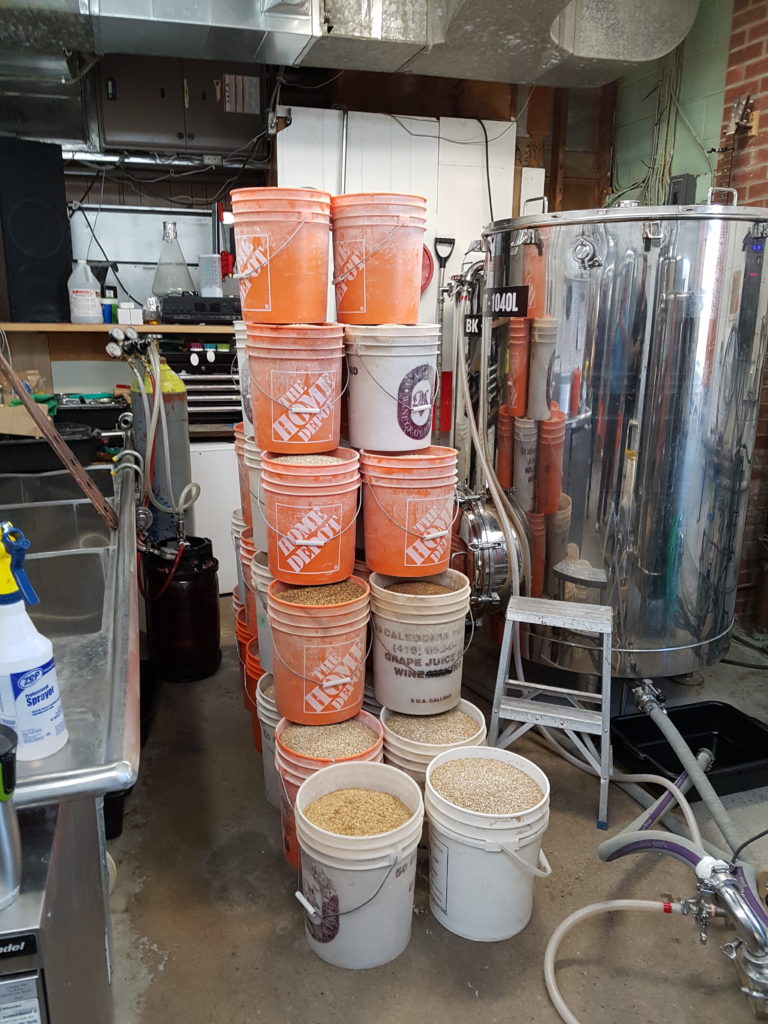 On the system at Muddy York, we mashed in with something like 300 kilos of grain, which is just enough to snap a mash paddle. Prying at the grain, Jeff fell backwards off the short step ladder, landing back first on the stainless steel sink and I thought immediately of a passage in the diary.
Commenced Brewing !!! But alas I was not destined to finish. About one oclock when I was about to start the worts from the copper and had just put the fire together for the purpose of letting burn out before emptying the copper I had only just turned my back when the bottom of the copper gave way and our rushed the Boiling Wort and struck me on the back of the legs and knocked me down but fortunately I had the good fortune to fall on some wood which cept me out of the boiling fluid which covered the floor. I retreated as soon as possible into the Granary and pulled off my pantaloons and shoes and hose adn with them the skin off my legs and ankles. In this state I came through the window by the Mill and round to the House where as soon as possible was applied Linseed Oil and lime water and continued till about six oclock I began to be faint and was taken to bed and a doctor sent for who when he came said that they could not have been better taken care off For the space of nine days I suffered the most extreme pains after which time I had more ease and now the 19th 16 days since the accident happened I am able to sit up and write. My legs are healed up and my ankles nearly so But still I am unable to walk from weakness.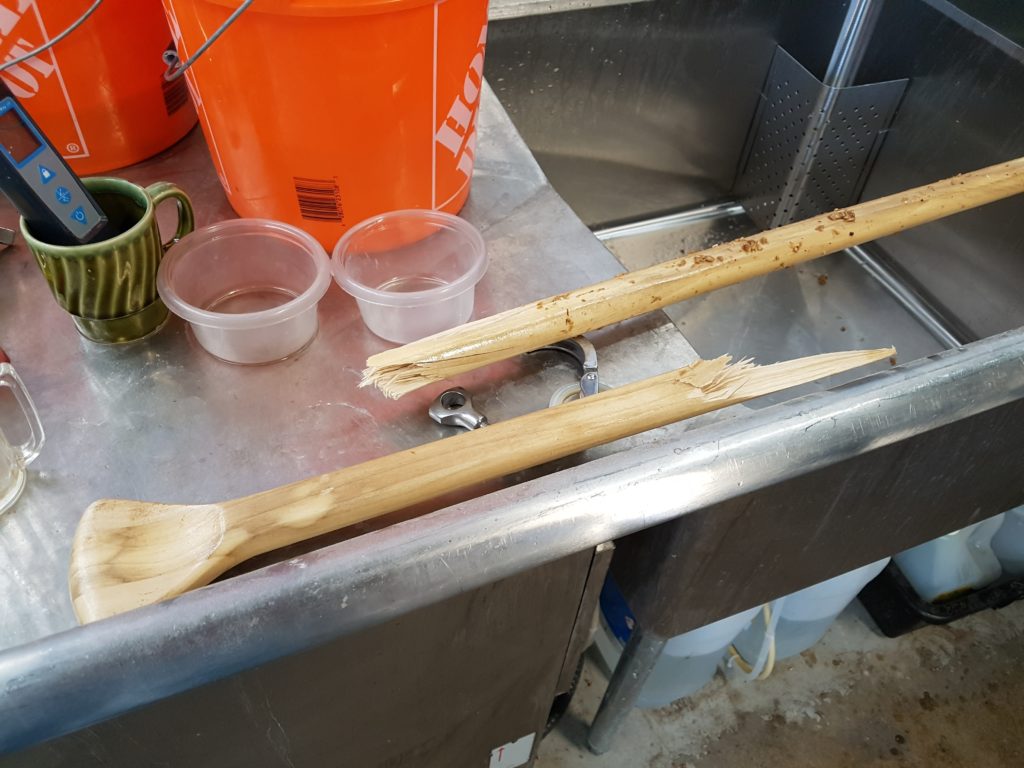 Fortunately, he escaped unscathed from that mishap. But it's a fine indicator that nothing has really changed. A brutal, physically dangerous job is still a brutal, physically dangerous job. Safety first.
———————————————————————————-
We are closing in, in Ontario, on having a distinct brewing culture of our own for the first time ever. I wanted to contribute in the form of providing context, and I'm not sure you can accomplish that in print. I wanted to celebrate the 150th anniversary of Canada by showing you what we've got and where we came from. I wanted to make the history as accessible as possible and to explain where we are now. It has been an honour to work with all of these men and women on this project. It is perhaps overkill that we created something like 25 HL of beer between three breweries for the occasion.
The dinner at the Maple Leaf Tavern on the 10th of January is going to showcase not only the history of brewing in the city of Toronto, but the ingredients being grown in the province at the moment. With Jesse Vallins pairing these beers with four courses at one of the best new restaurants in the city, it will be an excellent evening out even if you don't care about the historical aspect.
It would also make an excellent last minute Christmas gift for the beer lover in your life.