The Background:
I don't really have a working relationship with Lake of Bays. I think this is partially because they're tucked away up in Baysville in Lake Of Bays Township. It's an apt if not particularly creative name for the brewery when you base it on that criteria. In honour of their northern heritage, I have chosen Neil Young's Decade as the soundtrack for tasting this beer.
I've met their brewmaster, Dan, a couple of times. He has a moustache that makes him look like Scruffy from Futurama. He is certainly in charge of the boilers at the brewery. I don't know if he's in charge of the toilets. He's a personable fellow.
When Lake of Bays launched in 2010, they launched with beer styles as the names of their products. They had a Pale Ale. They had a Red Ale. I don't want to be a jerk about this, but I should point out that I forgot Lake of Bays existed between about May 2011 and whenever they rebranded the products in their core lineup. This is a good object lesson for you if you are launching a brewery: Find a memorable way to brand your product. "Crosswind Pale Ale" is a better choice than "Pale Ale."
The Pitch:
Lake of Bays 10 Point IPA is ostensibly their fall seasonal beer and in this instance the reason that it has been sent to me is that the Ontario Craft Brewers would like me to review it as part of their Brewmaster's Choice Discovery Pack. Let's talk branding again for a second: OCB Discover Pack wasn't doing them any favours as a name. Brewmaster's Choice conveys a greater sense of authority to some average tippler scratching their elbow in the LCBO and staring at an interminable wall of product. It's a good change. I'll probably talk about a couple of beers from the series over the next little while because the other really positive change is that there is a wider range of flavours in there than usual.
A caveat: 10 point is usually in 750ml bottles and this is a smaller 341ml bottle with a twist off cap.
The Beer: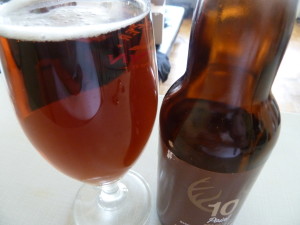 10 point pours an amber brown colour that just about matches the Industry Standard Bottle with a small and rapidly diminishing head that is probably the result of the unusual packaging. The carbonation is not particularly assertive. The beer is 6% alcohol although it feels like it might be slightly higher. If pressed I would claim that this is in the range of Ontario Pale Ale rather than IPA. Ontario Pale Ale was bandied around as a style a few years ago when people were making malt heavy hopped beers that didn't comfortably fit into any other category. You've had Mill Street Tankhouse? Then you know what I mean.
In the case of 10 Point, it's an amped up version of that evolutionary offshoot. 10 Point's aroma is deep down in the Ontario vault with MacKintosh Toffee and mouldering hay. The hop character comes through as candied grapefruit on the palate and a slight note of chocolate from the roasted malt. The finish is quite dry and the lingering bitterness waddles slowly away. They don't list the IBUs, but I'd be tempted to say it's as high as 65.
The Arbitrarily Chosen Score Based On Various Criteria:
On a scale from Out On The Weekend to Cortez The Killer, I'm going to give this a rating of Helpless. It's ultimately representative of the artist, but might not make sense unless you've been to Ontario.