People continue to send me beer. This is, more or less, a good thing, although the volume has ramped up lately due to monthly beer clubs. I'm currently clearing something like 4000 calories a day according to fitbit and the gym, so beer calories are not much of a concern. I plan to talk about that at some point, because there might be value in it for other people.
The difficulty at the moment is that I'm no longer writing specifically for tasting notes for a book. Time was the natural practice was to discard half or two thirds of a bottle of a product if you'd gotten everything out of it from an informational perspective. People would hate to know how much beer gets poured out tasting for the Ontario Craft Beer Guide. I tell the George Brown class "beer is meant to be drunk, but you are probably not." Sometimes tastings turn into drinkings. Seven years into the career I naturally avoid that most of the time. The only off position on the critical switch engages sometime around pint number four.
That said, let's have a look at some of the things I've been sent recently.
HENDERSON UPA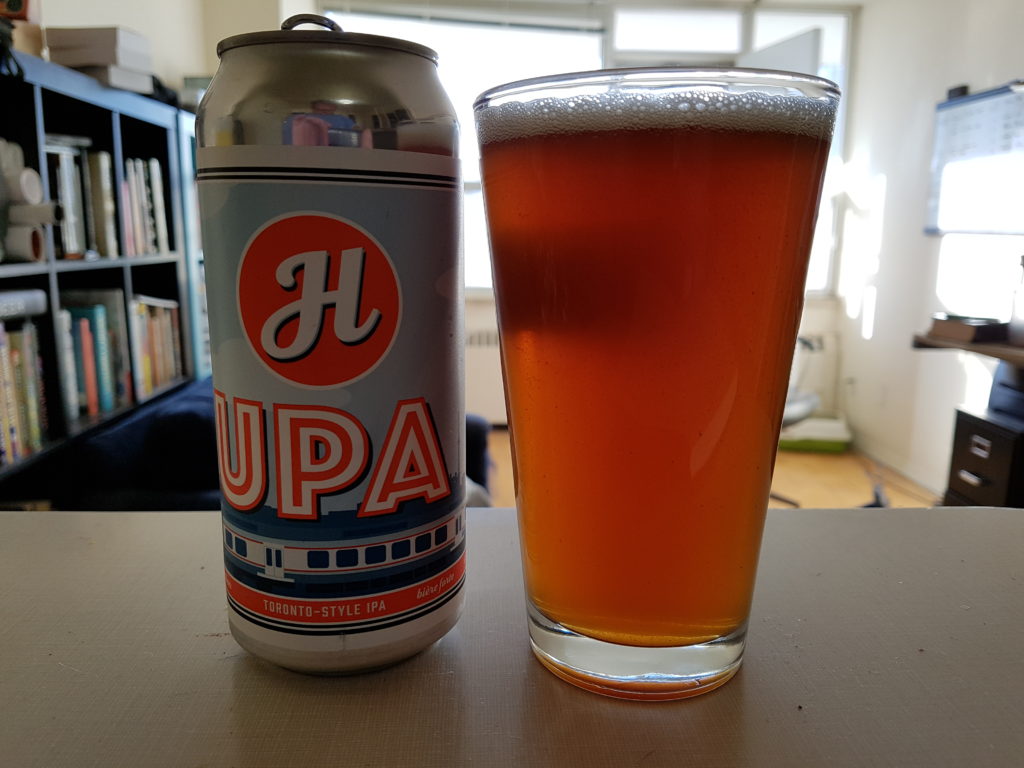 This was courtesy of Amazingclubs.ca and their beer of the month club. Considering that it must have gone from Henderson to their facility and then survived Canada Post to get to me, it's in remarkably good shape. I'm going to be honest with you for a moment here: Henderson had diacetyl problems. I say "had" because they're not there now.
The current brewer, Evan Bauer (a Niagara College grad I got to know a little in the program) has changed the method by which the beers were carbonated. Originally, they were aiming for natural carbonation and that caused some of the more delicate flavours in the beer to get blown out by butterscotch. I tried Food Truck on four separate occasions for the OCBG2E. Diacetyl all year long.
No more!
UPA is a different beer, but it seems like the conceptual element has improved a little. If you put it in front of me blind, I'd guess this was some kind of old school East Coast IPA from the late nineties. There's a touch of cantaloupe under the grapefruit and pine and the body is fairly complex. What I particularly like here is the balance between the bittering and late hops. There's a core of bitterness that lingers, but it's dialled in enough that it doesn't shatter the previous elements. I'd say it's their best full time offering. Yes, it's old school, but there's a wee space in the market for that with everybody chasing the latest lupulin fix.
MOOSEHEAD ANNIVERSARY ALE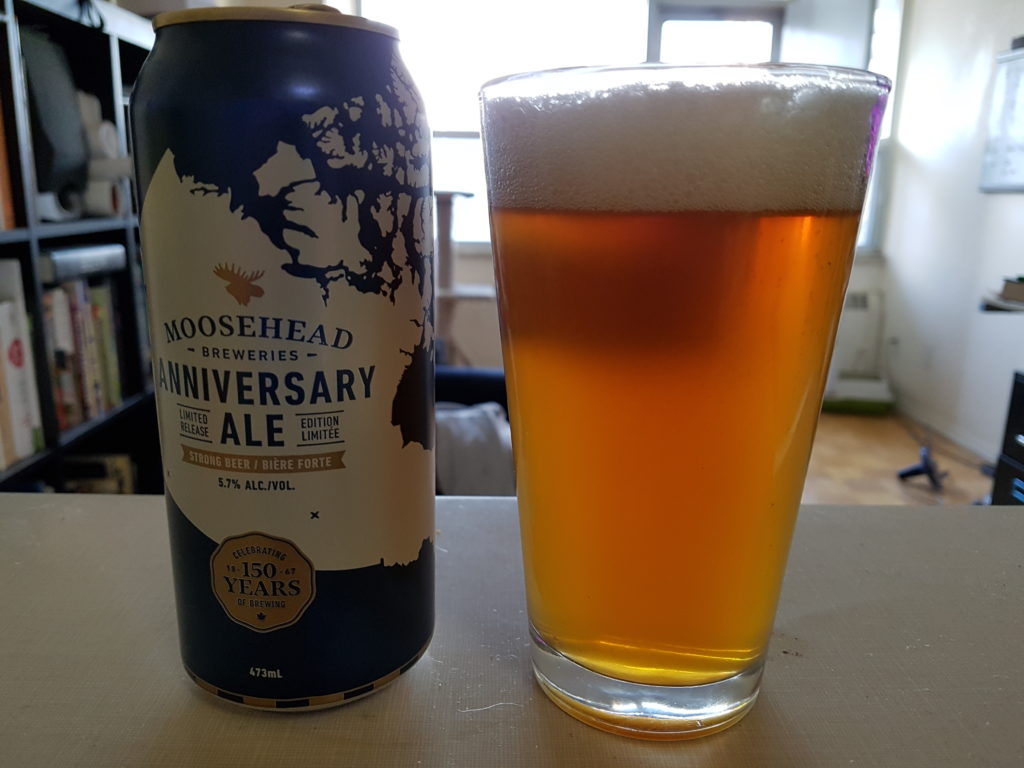 Canadiana is going to be a favorite pastime for everyone this summer and why should Canada's oldest independent brewery be any different? I have quite liked some of the small batch Moosehead projects before. I thought Boundary Ale was pretty clever when it came out and it strikes me that this beer is a little like Boundary Ale, but with all Canadian ingredients.
That's right: Galena, Columbus, Cascade, and Chinook all sourced from Canada. Malt from Mike Driscoll down in Ontario and from the prairies beyond. I don't know whether they used genuine Saskatchewan Seal Skin Bindings for the cask, but we can safely assume this is 100% Canuckistanian.
It's an odd agglomeration of ingredients, really. What this beer strikes me as is a good approximation of where the Canadian ingredients market is now. The malt character is a touch sweet and a little rough around the edges. The Galena, which I'm assuming is from the east somewhere, has that blackcurrant bite that mutes the rest of the hop character a little. There's citrus, but it's not prominent. There's orchard fruit, herbal pine and thyme character. As a beer, it's not bad at all, but you could make a better beer with more tailored ingredients. If you want to know what the materials we have here look like now, this is a good reference point.
MILL STREET WELTER WEIGHT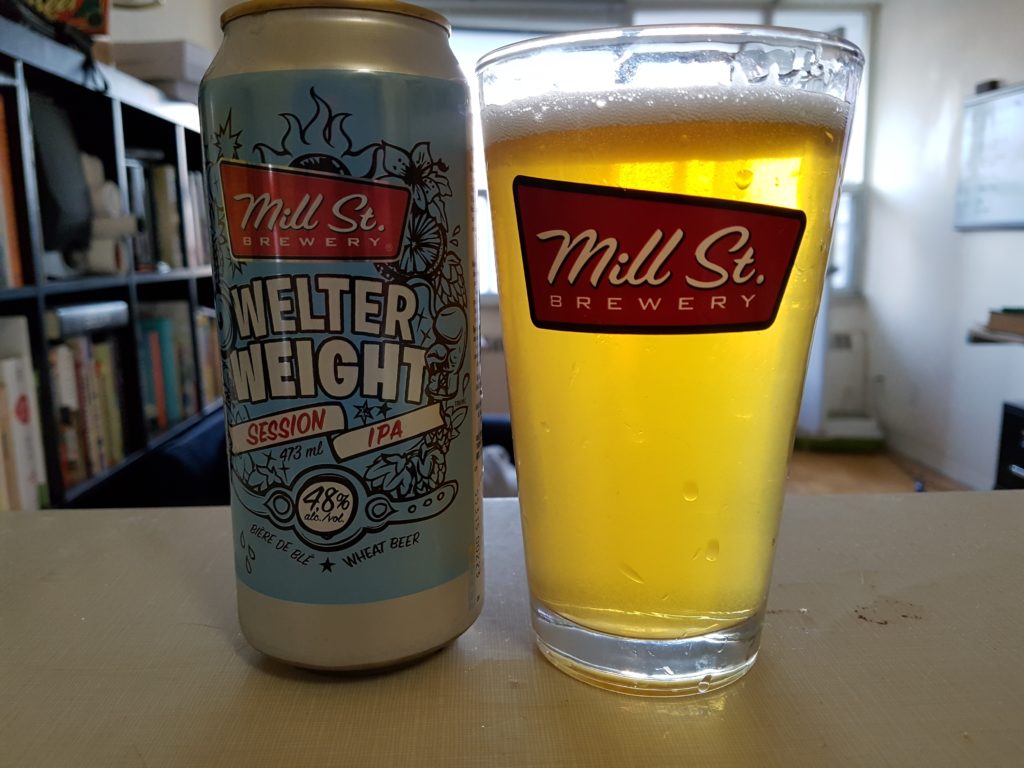 During the summer I have a Heritage Toronto tour about the history of brewing in the city that ends up at Mill Street and while I was doing a dry run one week I saw the beer hall has a new brewing rig. I got talking to their PR rep, Liam, one day, and the next thing you know I'm trying Welter Weight on their patio. That's the place to try it. This beer is best on draught.
Conceptually, it seems to be West Coast IPA Junior. It uses the same sort of Belgian Witbier profile and it has a combination of five hops supporting it. The body is quite light and I'm assuming that there's some wheat in it for that reason. The hop character is sort of melon, berry, peach, and passion fruit. It's complex enough to be a successful patio beer and for that reason it's a good move for Mill Street who have rather a lot of patio. Personally, I find the body a little thin, but I understand that's intentional.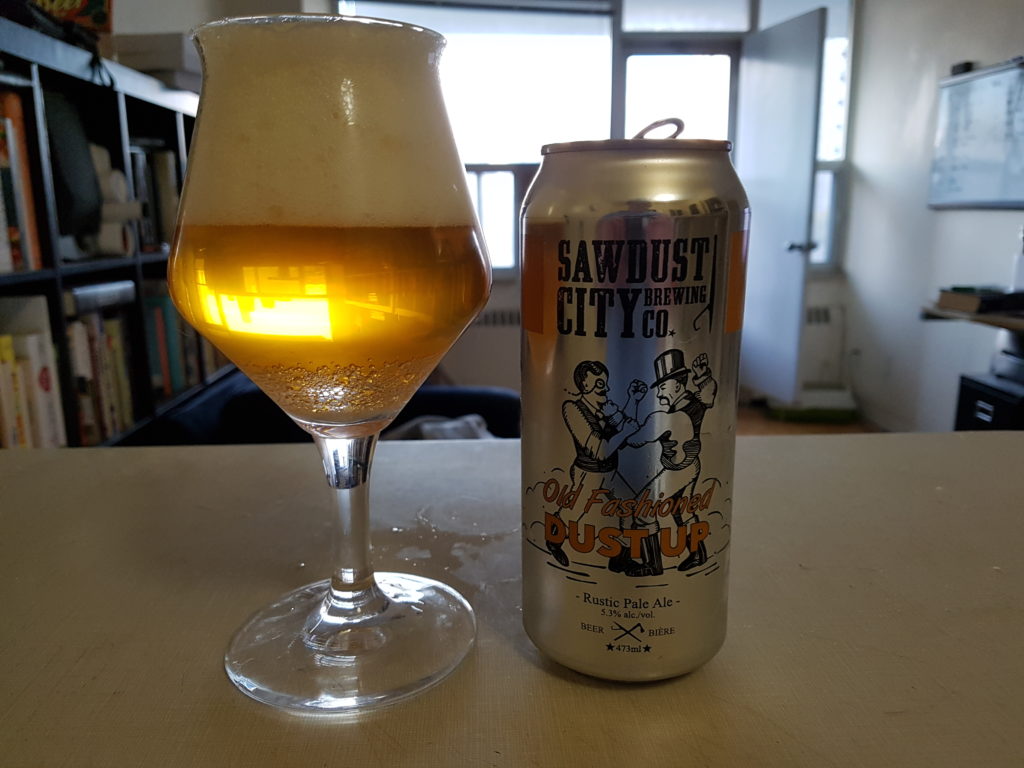 There's some audacity in telling beer writers that you have just made a collaboration beer that is meant to be an homage to Orval and then making it a can conditioned beer and telling people not to store it in a warm room. Someone's coat is going to smell like fusty brett funk when the inevitable closet explosion occurs. This is the result of Sam Corbeil from Sawdust and Matt Tweedy from Tooth & Nail getting together and giving it a go.
Audentis fortuna adiuvat, I guess. I like the complexity here. The Barke Pilsner malt is what makes Vim & Vigor such a vibrant can of Pilsner. The hops are Magnum, Mittelfruh, and Ariana, which is apparently meant to impart gooseberry and tropical fruit. I wonder what Orval uses. Probably some specially grown monastic hop harvested by tonsure shorn brothers.
Can conditioning is fickle and while Sam has been doing it for something like three years, I imagine there's a learning curve still ongoing. The Abbey yeast, brett, and dextrose have combined into a candy like character, which is odd to say: "It runs the range from horseblanket to a dry sweetie." The peaks don't reach as high as they do in Orval, but that would be an unfair comparison if the intent hadn't been made clear. It's like condemning a man wheeling barrowfuls of earth to a mound because it's not Kilimanjaro yet. I wonder whether the time in the fridge has muted it. I had one earlier I liked better, but that might have been during a drinking.