Background
For reasons that I don't completely understand, the people at Molson keep sending me things to review. I think this is due to the fact that I try to be fairly objective when I review a product. This always strikes me as somewhat odd because an objective review of some of their products is not really in their best interest. Had I been at Sun Media a week longer, I would have reviewed Coors Altitude in an extremely negative and possibly violent manner. They dodged a bullet on that one. (ed note: The ratebeerians have done that for me. My favourite review: "What is the point of this I mean really do they just brew one kind of beer and just put it different packaging wow")
Rickard's, on the other hand, has been of surprisingly high quality over the last five years. Discounting Oakhouse and Cardigan (which were sort of flavoured lagers), they've had a fairly high quality Pilsener in Rickard's Blonde, a creditable Shandy and the Oktoberfestbier, Lederhosen, was possibly the best thing they've ever done. They've got a talented brewing team including Steve Straddioto. He's a guy who knows his way around beer styles and who I've underrated in the past because he's frequently used as a stunt brewmaster for marketing purposes. Every organization has got to have a face.
Rickard's exists in an interesting position at the moment. They've got a competent staff and the potential to do a lot of good things, but they're the middle tier in the MolsonCoors sandwich. MolsonCoors isn't in the risk taking business at the moment. They've got to contend with a shifting Ontario market and the likely advent of grocery store sales. They shut down their Beer Academy and will turn it over to Creemore in the near future. I'm given to understand that the other craft property in the stable, Granville Island, has recently lost brewmaster Vern Lambourne and has gone through some core property rebranding. Brockton IPA is now Infamous IPA. Kitsilano Maple Cream Ale is now Maple Shack Cream Ale. This suggests they're being positioned for a wider market at the expense of geographical sense of place.
The Beer
The question here is what do you do if you're Rickard's? For the first time in a long time, they are not really in competition with their opposite number at Labatt's. The Alexander Keith's property is now making single hop varieties and instead of direct equivalency to the competition, Rickard's has some room to develop independently. It would seem that they're going after the import market.
There are a number of Radlers currently available around the country and a lot of this is based on Stiegl's success in the market. Stiegl Radler is (and believe me I hate this term) crushable. I am fully aware that it would cost less to buy quality lager and quality grapefruit juice and just mix them than it would to buy Stiegl Radler. That said, the Stiegl is somehow more than the sum of its parts. People are right to be emulating it. It's delicious.
Rickard's version, then is being positioned as a flavoured light beer. It is apparently a combination of the Blonde and lemon and grapefruit juices. It contains an approximate total of 5 IBUs, so you know they've dipped a hop in it at some point. In terms of food pairing suggestions, they recommend chicken, lobster and broiled fish, all of which are sensible. Potentially it's the sample bottles, but the carbonation dissipates fairly quickly. It basically tastes like candied grapefruit.
The Arbitrarily Chosen Score Based On Various Criteria
Radler is neither one thing nor another so this week we'll be using the Gygax Chimaerical Composite Index in order to ascertain what mythical creature best represents this beer. What is a chimaera, I hear you ask? It is specifically a mythological creature from Greek mythology with the head of a lion and the tail of a snake and another head sort of grafted on in the middle as if to ask "what are the titans wearing this season?" Notable other examples of Chimaeric creatures include the centaur, the jackalope and my cat Sweet William who is part violent hooligan and part total bastard.
Flipping through the index of various Chimaeric entities I'm forced to award Rickard's Radler a score of LABRADOODLE.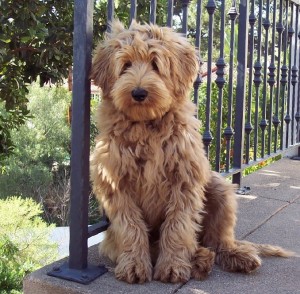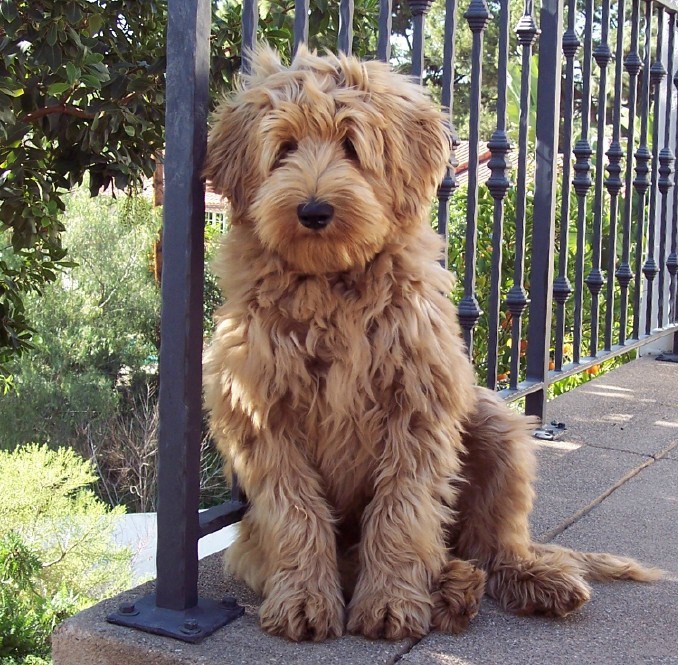 Part Labrador Retriever, part Poodle and part dust mop, the Labradoodle is very like the Radler. Made popular in another country earlier in the 20th century, it has become popular with middle class families looking to enjoy their backyards. It is not very far out of the realm of possibility that you will encounter both at the same North Toronto barbeque at some point before June. The Radler is not unlovable, but you do wonder, looking at it, about its constituent parts. I wonder whether using the Rickard's White rather than the Blonde might have helped with head retention and eliminated the need for orange slices.