The Background
Grand River started brewing in Ontario in 2007, but the site that they're on in Galt has actually been producing alcohol for something like 200 years. Absalom Shade had mills there and eventually managed to vertically integrate the whole community. He sold seed and milled grain and made whiskey. He had to issue credit because there wasn't any currency.
Grand River's mission statement was different: Originally the idea was to make beer that was under 5% alcohol because people are worried about overindulgence. This is a good idea which has only really caught on subsequently. There was a five year period there where people were drinking 7% everything and there weren't lighter options. Personally, I like a beer that I can have two pints of and then go do something afterwards.
It's a hard place to brew beer in a literal sense. The water is very hard in Cambridge, Ontario. 25-35 grains of hardness apparently. Toronto's is something like 6-7 grains. Cambridge's water is so hard that Bob Hoskins plays it in films. This is good for some kinds of beer and bad for other kinds of beer. It does mean that Grand River makes stuff that tastes different than anything else in the province.
Like any eight year old brewery, Grand River is going through some changes. Change is inevitable in a brewery. Rob Creighton, who was their head brewer, recently left the company. Left Field, who had been contract brewing their Eephus out of Grand River's facility, has finally opened their own plant. Given these changes, I was glad to see the owner, Bob Hannenberg, at the Queen's Park tasting. I like Bob. He doesn't ever seem to say any more than he has to, which is refreshing in a world where constantly checking twitter is a thing. Bob is a farrier, which you can tell if you ever shake his hands; it's like shaking hands with a concrete statue.
The Beer(s)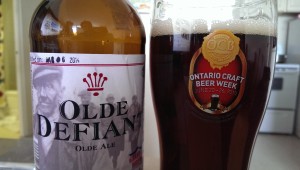 I'm always interested when Grand River comes out with a new beer, because I don't quite understand the thought process behind development over there. In recent years we've seen a Ginger flavoured beer called Tailset and I'm told that there's a Blackberry Ale to be launched for the summer. I guess that those are safe bets for summer drinking, but it's not the highest and best use of Grand River's terroir.
The water does interesting things to the lagers they make. The carbonate punches up malt character to an extent that almost destroys hop aromatics. They're there, don't get me wrong, but it must take a lot more hops than it would in other places. Take, for instance, the Dogstalker Bock. At 6.0% the main notes are the rich fruity malts that are thrown into the foreground on the aroma and on the palate. There's a practically strawberry preserve on toast character, but the hops come through spicy on the finish and burn that out with bitterness. I don't know how true to style it is, but I suspect the conditions make it hard.
Grand River always seems to be at their best when making ales. Perhaps it's the way the yeast interacts with the water or the fact that they tend to stick to traditional English styles, but that seems to be the wheelhouse. Consider that their Mill Race Mild is one of the best examples of the style in the world, and you begin to get the picture. The Pugnacious Pale Ale, which I hadn't tried in some time is reminiscent of a turbocharged Fuller's London Pride or Darkstar HopHead and worth your attention. This year's Russian Gun lacks some of the roasty astringency and body from previous years, but manages to satisfy. This year's Curmudgeon is possibly a step backwards and the hop character comes through muddled with bitterness edging out flavour.
What I really want to talk to you about is Olde Defiant. Apparently, it was first brewed in 2011, but I missed out the first time around. Old Ale is a traditional English style where beer was brewed at a high mash temperature so as to produce unfermentable sugars that lend body to the finished product. Typically what brewers do is keep them around and age them to develop character like a Stock Ale. They might go a little sour or oxidized or leathery. It's designed to age and change.
Olde Defiant is 7.0% alcohol and it shows a ruby tinged edge in the pint glass with lacing that persists throughout. The aroma is naturally that grain loft toastiness that comes through from Grand River's water, but there's raisin and toffee. The hops come through spicy with a slight tobacco and cut herb greenness that is just pronounced enough to play around the edges. There's a hint of smoke off in the distance and a practically unqualifiable funk that comes across as an impression more than as a distinct sourness. There's a bit of chocolate on warming and a tawny whiskeyish presence.
It's old school. It's Absalom Shade old school. It comes close to the quality of a Fuller's Vintage Ale. It is desperately uncool and fantastically unhip. It is one of the best Ontario beers I've had in a long time. If you can get out to their store, you should buy some.
There are Grand River beers I like and Grand River beers I don't care for. I think they've got to standardize their branding and labels at some point, if only for the sanity of the beer critics across the province. What I will say is this: We've got enough IPA and APA and EPA and BIPA and DIPA. In a lot of ways trying to brew a world class mild or old ale is a hell of a lot more impressive than lobbing another half developed galaxy dry hopped pale ale into the market and just walking away. Olde Defiant's just about the right name for this beer.