The Background
St.Ambroise sold a couple of years back to Brasseurs RJ and the quality has kept up. Originally helmed by Peter McAuslan and Ellen Bounsall, the beers have been and continue to be largely English in their influence. While we tend to see a lot of Belgian influence in some of the newer breweries in Quebec, there was a period fairly early on in the craft beer renaissance when a lot of the styles were English. They seem to be one of the first Quebec craft breweries to have realized that they can put their beer in cans in that market and it's a real strength for them. In Ontario, where the can is rapidly becoming king, it just means that they can compete on an even playing field.
St.Ambroise continues to expand their product list. They've come out with an IPA and a double IPA and most recently a Session IPA (because if you don't do that, the beer police will come in the night.) Their fruit beers are complex and interesting and their Russian Imperial Stout and Vintage Ales continue to do them proud. There's a hell of a lot to be said for consistency. While some of their beers are probably not to everyone's taste, they're very representative of the brewery's character over the long term.
The Beer
St.Ambroise, despite their well-deserved reputation for quality, were apparently apprehensive about releasing this beer to market. This is odd as the person who wanted them to brew it was larger than life bon vivant Martin Picard of Au Pied du Cochon and Cabane Sucre fame. When you think about it, a maple beer is ideal for his winter Sugar Shack. Also, I figure it'd be hard to say no to a guy that large and friendly.
I'll be honest. There aren't a lot of maple beers that I like. I'm not sure that I'd drink more than a couple of the St-Ambroise Maple in a year, although I'll gladly recommend it and I'll tell you why: Subtlety.
At a recent tasting I had a sip of a Maple beer from Flying Monkeys called Acadian Groove that was all that was maple. They might end up chugging it in Super Troopers 2. It replicated perfectly the effect of syrup and if you had poured it on your pancakes I am not convinced that you would have been able to tell the difference. Maple requires a deft hand because it can so easily overpower the beer or get fermented almost entirely out of the beer if added at the wrong point in the brew. If you want to go extreme on it, you can easily do so, but I'll ask that you time it for Shrove Tuesday.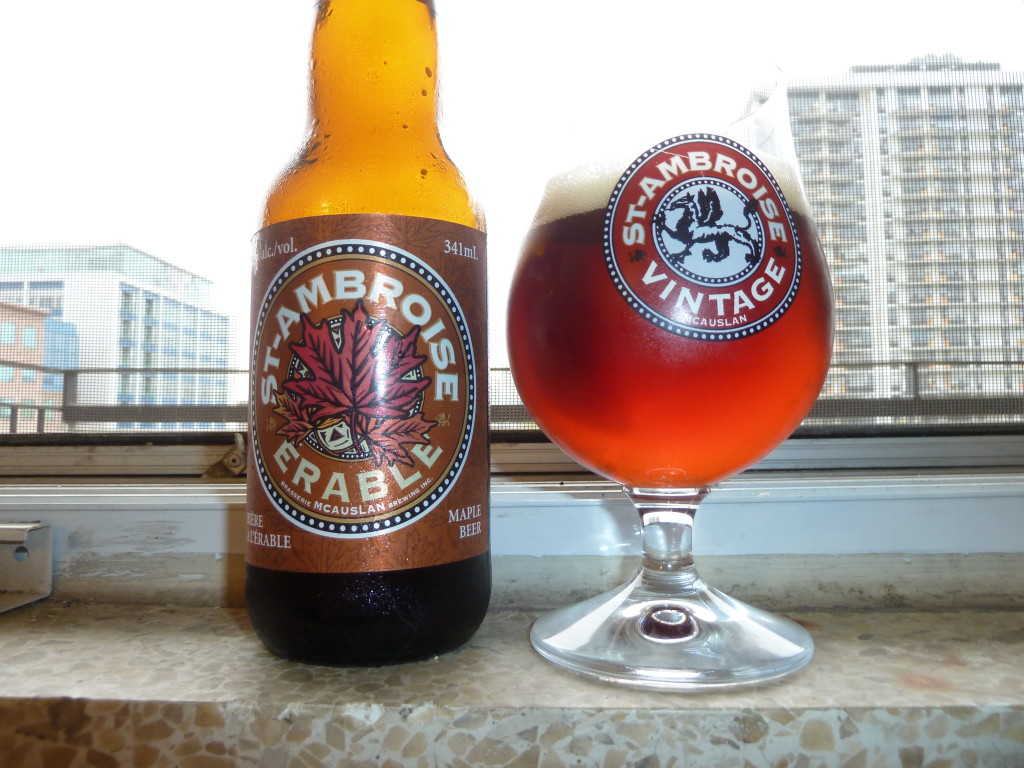 Erable manages to balance the sweetness of the maple syrup by bridging it to the crystal malt in the beer and then letting the Willamette hops scrub the palate a little. It's a good choice because they're earthy and peppery. You can't use a hop that resembles coniferous flavours in a deciduous beer. It makes no sense. There's still a lingering cloud of retronasal maple at the finish, but it's quite reasonable compared to shotgunning a can of Canada no. 1 Extra Light.
The Arbitrarily Chosen Score Based on Various Criteria
Not today. Instead we're doing:
Food Pairing
Barry Pletch, McAuslan's Ontario representative, asked me what I would pair with the Maple Beer. I'm a Cicerone, so I ought to know what to do with it, but it sort of sat at the back of my mind taunting me for a couple of days.
The obvious choice here is to stare at Martin Picard's menu and steal something beautiful. Let's do that for a second by clicking here. I think that the sweetness needs something to offset it. A lot of the stuff on the menu is going to be rich and fatty Quebecois fare of the type that sticks to your ribs. I'd be tempted to go with the Blue Cheese, Apple and Endive salad if only because the salt and funk of the blue cheese would treat the maple like a dessert flavour while the bitter Endive freshens between bites. Otherwise, there's the Duck Magret in mushroom sauce which would be rich enough to stand up to the beer if not stop it in its tracks. Rich, earthy, but you're probably working to the hop profile at the expense of the maple.
Then I had a less obvious thought.
You know when you're walking along the street and suddenly you smell maple? That used to happen in another life when I worked over at Don Mills and Eglinton near a spice processing factory. It turns out that's because when they processed fenugreek, you'd get this odd maple aroma floating through the air. If you eat enough fenugreek leaves, you'll actually begin to smell like maple. This is down to a chemical called Sotolon.
Fenugreek is pretty exotic and tends to be used in Armenia, Iran and bits and pieces of North Africa and India. That's why I'm switching from Martin Picard to a different Canadian chef, Vikram Vij. This recipe for Marinated Lamb Chops with Fenugreek Cream Curry looks to me like it would bridge the gap nicely by making the maple the communal flavour element between the beer and the dish. Both food and drink should have enough other stuff going to be able to pull in separate directions without breaking apart.
Warning: your coworkers might refer to you as Pancake Jimmy for a few days.