(Editor's Note: The Kensington Brewing Company is the only company from which I have ever accepted money as a beer writer. They bought a banner ad when they launched their crowdfunding initiative. I don't think the banner ad did much good and I felt bad enough about that to leave it up for a lot longer than was agreed. If you'd like to throw great flipping wodges of cash at me to have your banner ad installed on my blog, please feel free to get in touch. The cat needs to eat. Hell, so does the blogger.)
The Background
The Kensington Brewing Company has been around for a while at this point. For the most part they've existed as a contract brewery over at Wellington in Guelph. Owner Brock Shepherd has been thinking about this for a while. I remember climbing around in the disused bakery out back of the sadly short lived Burger Bar and having him point out where brewing equipment might go while attempting not to contract tetanus.
When Augusta Ale came out, brewed by Paul Dickey, the excitement was palpable. That was 2011 and there weren't a lot of Paul Dickey beers around. If you were now to choose a contract brewed beer at random from a shelf in Ontario, you'd have something like a two in five chance of drinking something he either designed or stewarded the design of. That's not a criticism of the man, incidentally. If anything it's a testament to his unique skillset that he is so much in demand.
The difficulty with being a contract brewer is that most of them are in it for a quick buck and are more interested in marketing than ever brewing a beer. "How do we cash in on the trend?" they ask me, having invited me out to talk about it over a few pints. "Ha, ha!" I laugh, sensing that there is no money in this situation and fob them off for an hour or so with vague generalities until they go away. I don't like Carpetbaggers.
Kensington aren't carpetbaggers. They became a contract brewery to help them become a real brewery. They've been constructing a brewery at 299 Augusta Avenue for what seems like eons to me and must seem even longer to them. The running joke with Michael Gurr, their factotum and general nice guy, is as follows:
"Hey Mike, when's the brewery due to open?"
"Fall of 2014."
We have fun, don't we?
Things are looking up. The brewery construction seems to be clipping along at a decent rate (it no longer exists solely in AutoCAD) and they may actually have something open this year. The Watermelon Wheat beer, a passable summer patio choice is going to be in the LCBO this summer. They have also had a few legitimately impressive one offs of late. Their Home Grown Porter was the kind of core of the style exemplar of a Robust Porter that signalled some growth as a company. Hopefully they'll revisit it when they get a roof installed.
The Beer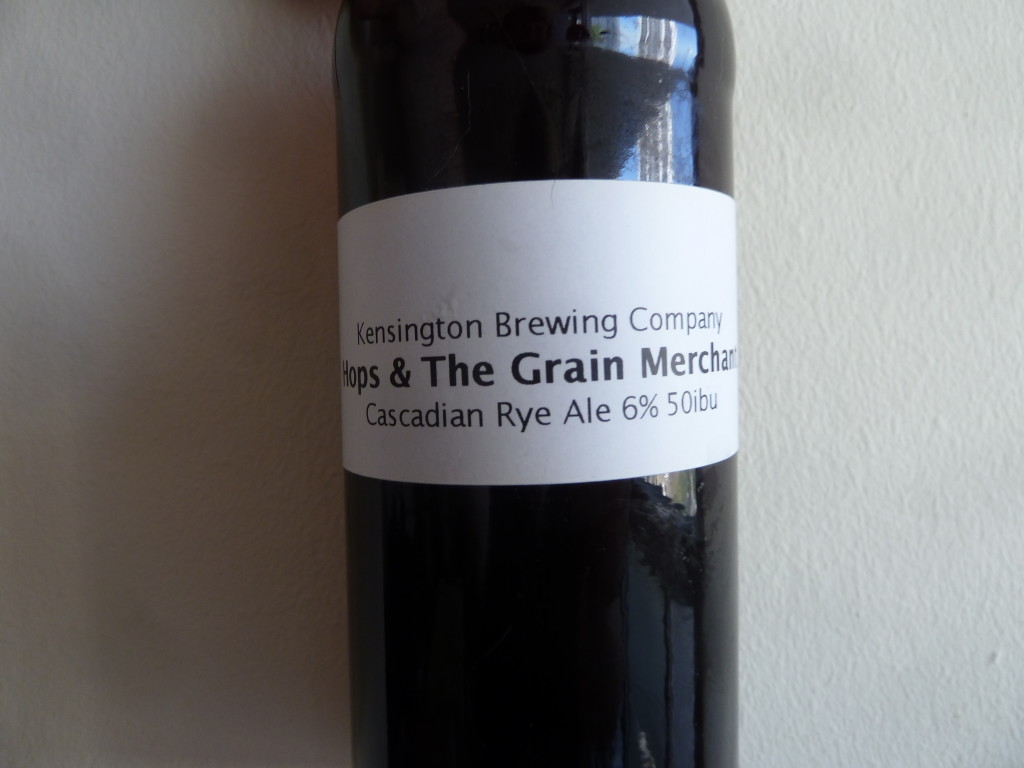 Hops & The Grain Merchant is billed as a Cascadian Rye Ale. I guess that that's like being a Cascadian Dark Ale but with Rye. At 6% and 50 IBU, it sounds like it ought to be a fairly substantial beer, but the impression that it leaves is lighter than that. The Reddish-Brown body accents ruby in sunlight. The head recedes relatively quickly, but I'm willing to put that down to packaging. They're using a standard 341ml bottle here with what looks like an Avery 6879 Envelope Label and an obviously hand bombed metal cap. Due to the length of the review queue, this beer has been sitting in my fridge for a while. Reviewing it probably doesn't help them at all at this point. Some days the bear eats you.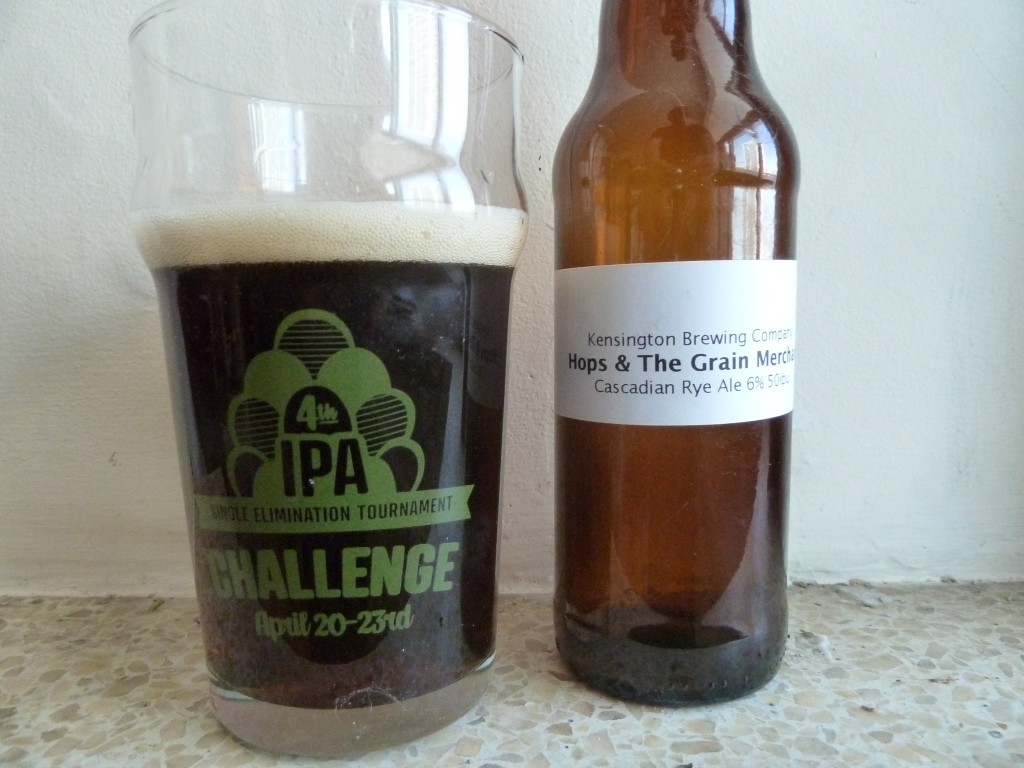 In truth, this is actually pretty impressive. The aroma doesn't seem to have faded at all and there's a large splash of spritzy grapefruit at the beginning and that's reinforced by the pepperiness of the rye. Most of the time, you'd assume that a beer like this would have more dark malt notes to capitalize on the "Cascadian" aspect, but this doesn't do anything that simple. As it warms up, you get caramel, but it seems like whatever crystal malt and rye is here is doing the heavy lifting. After a malt peak in the mid-palate there's a cedar shake with some peppermint and thyme reinforced by the rye spice. The finish somehow manages to be short but juicy, leaving a sort of mouth-watering salivary response. I don't see that quality often.
This actually does one of the things I look for in a high quality beer: It has the same progression of flavours on every sip. It doesn't dull or recede. A great beer can vary from sip to sip and moment to moment. A very good beer has to do the same thing all the time.
Hopefully Kensington will open soon and hopefully this will be on the tap list when it does.