The Background
Black Oak started in the last days of 1999, initially launching with a Pale Ale, a Nut Brown Ale and a Premium Lager. I know that sounds weird. By all accounts the Lager nearly killed them. It was the least well received of the beers and it was retired in 2003. It is not as though Black Oak has not made a lager since then. They make their Oaktoberfest Lager every year.
Having worked the very occasional shift on their bottling line over the years, I can tell you that making a lager would have been a difficult proposition. While the amount of fermentation volume has increased over the last five years, the amount of conditioning that you're looking at in order to make a proper lager might cause backlogs with the main products, which is probably why it's not done all that frequently.
A word about Black Oak's staffing: It's hard to think of a character more beloved than Ken Woods in beer in Ontario. Everyone has a story about the time he let them borrow some equipment or helped them out of a jam. That said, I believe him to be the only member of staff that has been around since the beginning. The rest of the roster has changed around over the years.
The current group is a great fit and with John Hodd brewing and Erica Campbell manning the hashtags and interwebs, we're really seeing Black Oak live up to its potential. They've switched out to 650ml bottles for the LCBO, which means that the seasonals get shelf space. They're also being sold at a price point that's impossible to argue with. That's key to an Ontario business model at this point.
When you've got talented people around and product is moving, you can branch out and do more interesting things. The Epiphany Series has resulted so far in two beers, the first of which, a Cherry Wood Aged Belgian Strong Ale (I'm not saying Quad. You can't make me say Quad.) was a real shock coming out of Black Oak. Releases like Love Fuzz and Nox Aeterna are a far cry from the days when we'd get a cask of Saison with Marmalade (not that there was anything wrong with that).
Black Oak is currently the best it has ever been and any missteps, most of which would be small issues with balance, may be put down to growing pains.
The Beer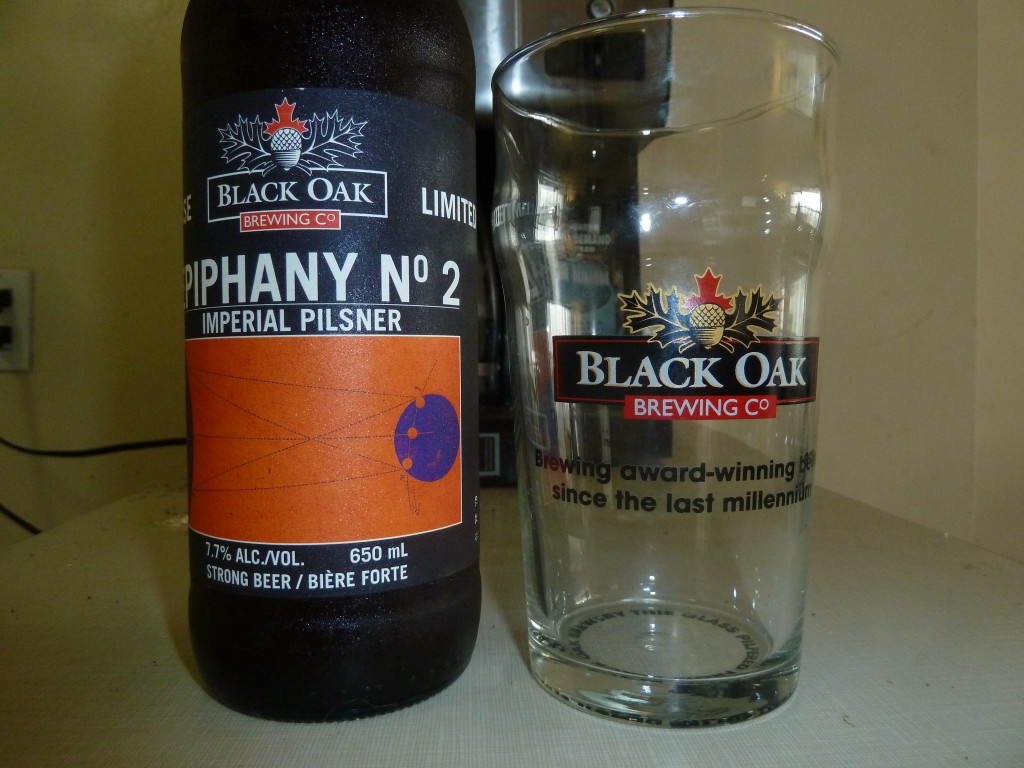 Black Oak Epiphany No. 2 is billing itself as an Imperial Pilsner. In the 650ml bottle, it'll set you back $8.95 at a nearby LCBO location. You'll want to use Drinkvine to find it since the 'BO website is currently borked.
As a style choice, it's a little odd. We haven't had much in the way of Imperial Pilsner in Ontario. I suppose this is the influence of Jack's Abby out of Framingham, Mass. I like the idea of mixing Pilsner styles with some of the newer hop varieties that are out there. There's the potential for finding combinations that work really well and we're beginning to see some experimentation in the province.
The most important thing with a strong lager is conditioning and this has apparently been given 45 days in total. Six weeks is significant, and it helps ensure there aren't any technical flaws like DMS or Diacetyl. Epiphany No. 2 has good head retention, although I feel like the dry hopping may have slightly foxed the clarity. In the case of Epiphany No. 2, the dry hopping incorporates Comet, Wakatu and Saaz.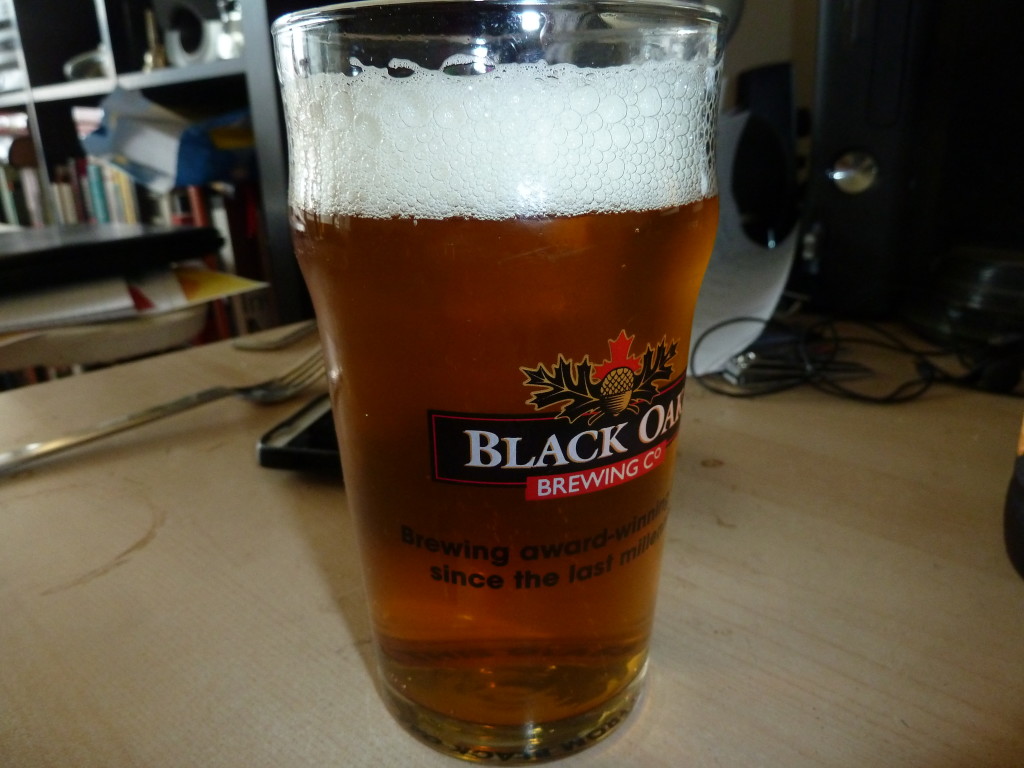 The result is a fairly complex beer. There's a slight pear ester from the lager yeast and aromas are pepper, peach, apricot, and sourdough bread with a sense of very slightly hot alcohol smack dab in the middle. The breadiness continues on the palate, but the interesting thing is that it manages the same progression of flavours on each sip. Sourdough up front with a bloom of pepper on the swallow. As it warms up you get a dankness from the hops and a sort of lime cordial character that continues to work with the other flavours in the mid palate.
The Arbitrarily Chosen Score Based on Various Criteria
It's probably too good to give it a silly rating. Instead:
Food Pairing
How do you approach pairing something like this? Well, there aren't a lot of places in the world where they serve Strong Lager. You probably need to take Germany and Scandinavian food culture into account. That said, you've also got Comet and Wakatu hops. Comet is apparently where the dimebag dankness is coming from, being an American landrace blend. Wakatu is a Hallertau Mittelfruh cross from New Zealand and exaggerates the lime character of the mother variety.
What this means is that you're free to play around because these are flavour profiles that don't really exist in Germany. Although the accent is different, let's attempt to keep the bones of a pairing from that Swabian/Bavarian food culture. Let's make it pork.
I'd like to see this with Pork Tonkatsu or Katsudon. The claim is that this was invented in Japan in 1899, but I'd bet you that just as the German beer styles influenced Japan in its early years, so did the cuisine. Tonkatsu is basically schnitzel, but the sweet, fruity sauce would pull at the beer in interesting ways and the salt and crunch just make for good beer food. In a Katsudon, I feel like the Mirin would tug at the slight alcohol heat and while the slightly creamy egginess seems odd, it's not very different from a Jagerschnitzel sauce. Actually, I'd like to see what an Izakaya like Guu would make of this beer.
My first choice, googling while I polished off the bottle, would have actually been this Pork Tenderloin with Tomato-Peach compote. Tomato is always referred to as difficult to pair with beer, but I feel like the peach would create a complimentary bridge and that the curry dry rub and thyme might bring some of the myrcene heavy Hallertau parentage out of the Wakatu and reinforce the Saaz.