It should probably be obvious by now that people send me beer. I made up a fictional character to explain the phenomenon for God's sake. The concept of The Beer Fairy has even caught on to some extent. I see people using it online periodically.
What probably isn't obvious is that a lot of the time I just don't have anything to do with these beers. The purview of the column is national, which means that of London, Ottawa, Toronto, Calgary, Edmonton and Winnipeg, I need the beer to exist in at least three of those markets to write about it. This creates some pretty serious problems in terms of audience reach. I don't always, for instance, want to promote imports. I'd rather put the spotlight on Canadian breweries when possible. Fact is that imports are more widespread and therefore more accessible to all the nice people out there who have either paid for a newspaper subscription or clicked some kind of link. Relevance is not optional.
This means that I end up with a lot of beer that I can't really use in the national column. I know people from around Toronto send beer thinking I'll be able to help them out with a newspaper article. I'd like to, but I can't and since that's the deadline and the blog posts tend to deal with larger issues than beer reviews I eventually drink the beer but tend not to do much of anything with it except throw it into Untappd which might as well be Minecraft for beer nerds. Big whoop. So it makes it to twitter. That's not a great use of everyone's time.
Now I know deep down that people are basically sending beer because they expect some kind of utility out of the action. I don't know exactly what the return on reviewing beer is but there's probably some kind of indirect monetary recompense that happens as a result of promotion on blogs and whatnot. Otherwise, why would people send beer? Cause I'm the prettiest princess?
At any rate, there's an implied contract here. They send beer and they think I should write about their beer. I basically never ask for beer, so sometimes I don't feel bad about not doing a review. I realize though that I probably should.
The problem is that they send a lot of beer and that my blog posts are legendarily long and convoluted. There's a minotaur at the centre of some of them is how labyrinthine they get. For this reason, I'm going to be trying out a new feature on the ol' bliggity blog in which I actually review a beer instead of talking about the industry.
I know that's a novel concept, but damn it, I hear it works for other bloggers.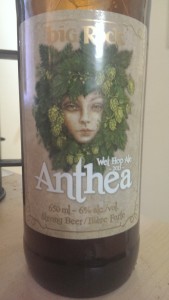 THEY SEND ME BEER: BIG ROCK ANTHEA WET HOP ALE 2013
The Background:
Big Rock basically sends me one of everything at this point. They know that I will gladly write about their stuff because it's relevant to the newspaper audience. I try to keep the limited releases to a minimum because if there are only 4000 bottles of something in the world, people will be disappointed that they couldn't find it. Still, though, I like Big Rock. Their new series of beers under Paul Gautreau are pretty good for the most part. Some of them I can sense that Paul is finding his feet creatively after a long time brewing the core range of products. I'd like to see him edge toward the upper limits of styles instead of brewing to the centre of them. I'd like to see more hops. I'd like to see the Paradox Dark Ale again.
The Pitch:
The Wet Hop ale was the first thing that Paul brewed as part of the Big Rock Alchemist series in 2012. It was pretty exciting because it involves flying hops in from the Yakima Valley and brewing with them within 24 hours of picking them. That's a neat concept, although I question why they don't just grow some hops outside of Calgary. I imagine Big Rock has the budget for that, but hasn't cottoned on to the possibility yet.
Anywho, these are fresh Cascade hop cones in the beer.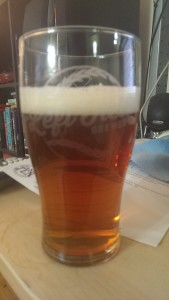 The Beer:
When you consider the beer it's a little difficult to classify. I suppose that it's probably some variety of American Pale Ale given the Cascade Hop and the rest of the specs. It comes in at 6% and 39 IBU and while you'd think that that is a decent size for a harvest beer, it's not huge. It has all of the things that you'd associate with cascade hops down to the spicy pine at the back of the palate and the Seville orange pith on the nose. As something of a departure from previous beers in the experimental range that Gautreau has brewed, this is using caramel malt in the American style which is a welcome departure when you consider that Alberta is a good deal closer to British Columbia than British Citizens. The giveaway on that is the colour and the way it blends with the hops into marmalade. It showcases a single hop variety in the way that the Keith's beers do. I mean that in the best way because this is not a hop bomb. It is a dignified, restrained beer that is easy to drink. I'd love to see it on cask. In fact, if it were not reliant on the harvest, it would be a good beer to tweak slightly and keep in the repertoire. Any brewery would be pleased to have made this.
I keep saying that one day real soon Paul Gautreau is going to break through and make a really fine series of beers. It seems like each of these releases edges closer to that. This is the best yet. He has narrative strength going for him in much the same way that Mike Lackey did in Ontario.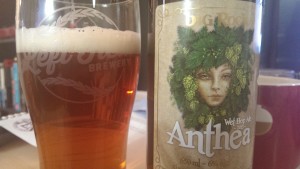 The Arbitrarily Chosen Score Based On Various Criteria: I'm going to give this seven and a half hop cones out of ten. Solid. Completely worth drinking. Someone buy the man a hopback and tell him to tweak this into a permanent fixture replacing the Big Rock IPA. If you're going to give the man enough faith to let him develop things, you've gotta use what he develops. In the words of Joe Strummer, "it's wrong to cheat a trying man."