I don't have a sense for how long people have been following the blog, but if you started reading back in 2010, you'll know that I had pretty strong opinions about Trafalgar. At that point, we were living in a 40 brewery Ontario and Trafalgar was down amongst the bottom of the heap with things like Old Credit and Wolfgang's. I wrote a post about them you can see by clicking here. It was fairly gentle, considering. I didn't like the way their labels kept changing. At the time I didn't have the context I do now. If I had been reviewing them then with the context I have now, it would have been worse.
Searching through the archive, I find I also wrote this paragraph:
Trafalgar Bert Well Pale Ale will be the absolute last chance I'm ever going to give Trafalgar and if it isn't any good I am going to rain down fire and brimstone upon them with such intensity that it will raise the temperature of the blogosphere by several dozen degrees. They are already on double secret probation for Korruptor and I for one have very little difficulty seeing the benefit of hastening along Ontario beer Darwinism.
I've been keeping tabs on things coming out of the brewery over the years. Some of the Black Creek beers that they've been contracting have been very good. Some of their one offs have been questionable. The bottle of Saison I purchased by Brasserie des Quatres Lunes was brewed there and somehow managed to soak through the cork, which is something I'd never seen before. It was an unqualified drain pour. It was terrible.
Part of being a good critic is being honest and being open to the idea that things can and sometimes do change. Earlier this year, Trafalgar won a number of awards at the Ontario Brewing Awards. They also won "best newcomer."
I've tallied votes for the Canadian Brewing Awards four times, so I feel comfortable telling you this even if it means that I never get to do it again: An award doesn't really tell you very much on an ongoing basis except that the beer has achieved a certain level of quality. An award means that on that day in that room to those judges with their understanding of BJCP criteria, the beer was an exemplar of the style category it was submitted in. This doesn't mean that awards are nonsense. If you see one brewery win a lot of them, it means they're performing well according to a Michael Jackson/AHA/BJCP defined context. All of the awards judging I've ever been involved with has been conducted in good faith based on principles of fairness.
That means that when you win as many awards in one fell swoop as Trafalgar did this year, you're probably due for a revisit.
The newcomer thing has to be addressed. Trafalgar isn't a newcomer. Trafalgar started when I was 13. Giving a 22 year old brewery a newcomer award is the kind of asinine decision that makes people take you less seriously. It's like awarding Justin Bieber "Cutest Toddler." I know the justification was that they had not entered the Ontario Brewing Awards in five years. That doesn't make them a newcomer. 60 breweries started in 2014. This is pretty cut and dry. I feel like running that decision by literally anyone would have been a good move. "Most Improved" would have been fine.
I sent Connor at Trafalgar my address and the following picture.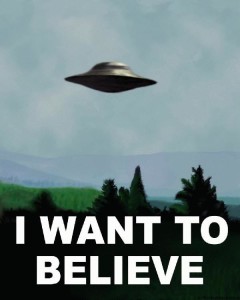 He sent me six beers from the Trafalgar Black Label series. What follows is the upshot:
Big Hefe: A 5% wheat beer, Big Hefe is really more of a Kristalweizen due to its clarity and carbonation. It's more like an American Wheat Beer than anything else if only because of the filtration. The aroma is still clove and a little bit of banana with some chalky grain and a wheaty tang towards the back. It has quite a rocky head, and the iso-amyl acetate suggests it fermented fairly warm. It is a touch too sweet for me, but it's objectively pretty good.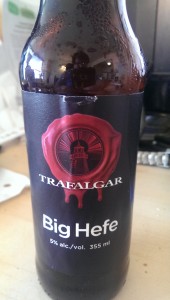 Wee Beastie (second on the operating principle of low IBU to high): An 8.5% Scotch Ale, this is throwing aromas of toffee, grape, raisin and grape nuts with some booze in the background. There's a touch of licorice peeking through at the back of the palate. There are other dark fruit characters at play here, but I feel like the body could be a little thicker. I think that some texture would take care of the bitterness which is a little on the high side. That's a minor quibble. I have had worse Scotch Ales than this. Also, the name is clever (if already taken by Howe Sound.)
Schwartzy: A 5% alcohol Milk Stout, this might have been leaking carbonation. The aroma doesn't present the lactose in a creamy way and to be honest it's more of an American Stout than anything else. There's smoke, chocolate and a small amount of roast. There's a really lingering bitterness and astringency from the malt. Of the six this turns out to be maybe the poorest bottle.
However.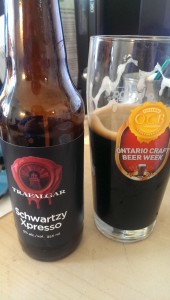 Schwartzy Xpresso: Also at 5%, Schwartzy Xpresso pours with a big fluffy head and the coffee here seems to bring out the lactose in the milk stout, creating a creamy character. There's a little vanilla and I'm actively reminded of Dieu Du Ciel Aphrodisiaque. The difference is the texture. This is aggressively carbed and that spikiness takes away a little from what could be a really smooth texture. This could easily have won an award.
Stinger: An 8% Dry Hopped IPA, this is really leaning in the direction of Torpedo. I think that the dry hopping here might be citra because of the vibrant lemon and (maybe it's because I broke 5kg of Marynka with my bare hands the other day) I'm getting raw whole cone vegetal notes. I think they really dry hopped the hell out of this. There is something in the malt bill I don't quite like, but I've had many worse IPAs than this. From other OCB members. Recently. It is another example of a name that's already taken (by Mill Street).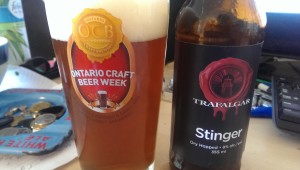 Eclipse: The Imperial Stout. It's quite simple and is basically exactly to style. No flaws, but not much joy either.
I wanted to believe. I don't know if I do. There are serious problems.
For one thing, the fill lines in the bottles that they sent were inconsistent. One near the cap and one near the bottom of the neck. This and the crimps on the bottle caps lead me to believe that they are probably manually bottling the beers in their black label series. I hope that they will listen to me when I suggest improving their processes to eliminate inconsistency in packaging. As I checked the beers in on untappd people got in touch via twitter and facebook and email to tell me about their experiences with bottles that had been undercarbed or had gone wrong in some way. The focus needs to be on consistency if Trafalgar is going to claw back some reputation. People talk now more than ever.
Additionally, it's important to recognize that you don't exist in a vacuum. Using names that other people are already using just signals a basic lack of market research. Yes, it's hard to come up with a new name, but it's not so hard that it's worth eventually getting sued over.
The upshot is this: Three of the beers that Trafalgar sent over (Wee Beastie, Schwartzy Xpresso, Stinger) would absolutely have been worthy of award consideration. In the right room on the right day in front of the right judges, they'd win. That's a hell of an improvement and at some point in the near future they might think seriously about switching out a couple of LCBO skus with their black label stock. Once they get their processes squeaky clean, of course.