Since I started writing about beer about four and a half years ago, the Ontario situation has become more and more interesting. There are more breweries competing for market share and there's increased media coverage of the beer retailing problem. Martin Regg Cohn, for instance, has been on fire of late pointing out the Beer Store's lobbying practices. I'm not going to accuse anyone of peddling influence because I don't have a lawyer on retainer. Instead, I've decided to see if I can recap the problem and explain why change is extremely likely to happen in the next couple of years.
The Beer Store was never intended to be for the benefit of customers. What Brewer's Warehousing was designed to do from the start was to take beer retailing out of the hands of the province. Even in 1927 the idea was that it would take the necessity of warehousing out of the hands of the provincial government. This was a pretty good idea as long as it was a co-op. Breweries were getting larger and the fact that everyone had a hand in the distribution system was a good thing. It made it equitable.
E.P. Taylor exploited the obvious flaw in this system and started buying up breweries left, right and center. By the early 1980's, there were very few breweries left. Allen Winn-Sneath's Brewed in Canada suggests there were 40 breweries left in Canada in 1980 and only 8 were not owned by Molson, Labatt or Carling O'Keefe. In Ontario, this meant Amstel and Northern Breweries. I have put the plants on a map so you can visualize what that might have looked like. The vast majority of these plants are now gone.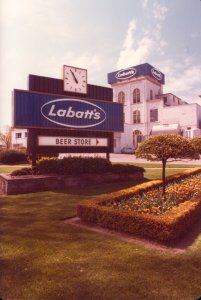 This was a pretty good deal for the large brewers. The Beer Store's organization is such that it works in your favour if you are a very large company. The fact that your beer can only be sold in predetermined locations and that the organization that runs those locations stocks those stores from centralized warehouses means that you don't have to pay for delivery, storage or a sales force. It's a gigantic savings. The large breweries don't generate profit from owning and running The Beer Store and this is something critics frequently fail to understand. The monopoly is not profitable for the owners because it extracts profit on sales. It is profitable for the owners because it saves a frankly ridiculous amount of money on outlay. Large brewers don't have to pay for a labour force for sales and delivery in the way you might have to in a completely privatized market.
The problem is that the beer industry doesn't work the way it did in 1980 and never will again. The breweries that operated in 1980 were all capable of producing well over 300,000HL of beer at once. The largest craft breweries in Ontario at the moment hover around 75,000HL for tax reasons. There are currently 220 craft breweries extant or in planning over on the Mom and Hops directory. If you would like to visualize what that looks like, here is a map that was put together for me by a talented young geographer named Kevin Roy. (He would like me to tell you that the brewery data came from the Mom n Hops Brewers Directory 4.0 in March, and the population data is calculated from Statscan's 2011 Census of Canada.)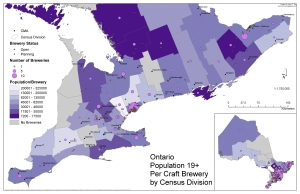 The high point for Canadian beer consumption was 1978. We drank 106.5 litres of beer each. We're currently down to about 64 litres a piece. That's about 42.5 litres of beer per person less. That volume loss did not hurt craft brewers. Many of them didn't exist yet. The large brewers lost that volume. They have shut down plants in Barrie and Etobicoke and Edmonton and Halifax and bottling lines in Vancouver. They lost 40% of their volume in 36 years and that's terrible.
The truth of the matter is that The Beer Store is losing. Look at this polling data that Lorne Bozinoff at Forum Research was good enough to run for me last spring. People under 45 are equally likely to buy beer at the LCBO and at The Beer Store. The LCBO didn't really sell beer until the mid-1980's when The Beer Store had a month long lockout and managed to alienate beer drinkers province wide. Since then they have lost 50% of their customer base in what is practically a monopoly.
Let me say that again. In about 30 years, the large brewers who own the beer store have lost approximately 40% of their volume in sales and 50% of their customer base despite sweetheart deals, lobbying and a practical monopoly. If it were a real company rather than a cost offsetting device operated for the benefit of the owners, a series of CEOs would have had to resign in disgrace.
In contrast, there are the small breweries. Every year we get statistics from the LCBO about how much the Craft Beer retail segment has grown. The number is usually something like 30%. The total number is 575% since 2006. In truth, we don't know how much Ontario Craft Beer could have grown if there had been an equitable distribution system for it. It has grown as much as the LCBO has allowed it to grow, so the 30% average growth is sort of nonsensical. The number could probably have been much larger than that except that there are really significant problems.
If the 1980 version of the beer industry was built around monolithic brands, the current model is built around niche products. To extend the metaphor from a previous blog post, we've got a distribution system designed for Network TV but what people are increasingly interested in is Netflix and free movie apps.
If you are a small brewer, you have a couple of options for distributing your product. First of all, you can attempt to get into the LCBO. The LCBO is not designed for beer sales. It does not have anything like the shelf space required to stock all of the products submitted. The LCBO is not obligated to stock your product. In fact, the shelves are so crowded at the LCBO that it is a nightmare attempting to find anything in a store. Sometimes, instead of your product, they will stock Norwegian Barleywine for no discernable reason.
Any brewery can get into The Beer Store. All you have to do is pay a listing fee for each packaging iteration of your product and then pay a shelving fee for each store. It's about $30,000 dollars for 100 stores for a single packaging format. If you're a small brewery starting out, that's an employee that you are going to have to forego. Additionally, since you are a small brewery, you probably make seasonal products. It would be ridiculous to pay $30,000 to shelve a beer for three months in a retail setting that discriminates against your product. Even Moosehead's Hop City brand doesn't do it and they have deep pockets. Barking Squirrel may be at the Beer Store but all the rest of their beers are LCBO only. (Next time you see an Oland brother making an argument in favour of The Beer Store feel free to ask him about this in a loud and vocal manner.)
If you're a small brewery, there's no guaranteed avenue of sales that doesn't force you to pay your largest competitors. People have been making this argument for a very long time. It is not new information.
The difference is this: There are 220 small breweries out there already existing or in planning. There will be more. Each of these represents a business that is going to be someone's life's work. Even a very small brewery probably employs four or five people. If you look at the 2014 map from earlier, you'll see they are everywhere. Until the last couple of years this wasn't the case. Just about every city in Ontario now has a brewery. More than ever before, the public is identifying with the small brewers because they are their neighbours. The media coverage of the problem is not slowing down even a little and everyone is more aware of The Beer Store's foreign owned monopoly than they were five years ago. The public is increasingly aware that small businesses owned by Ontarians are suffering at the hands of foreign owned companies.
Those are small businesses that probably employ a couple of thousand people directly and which are going to grow over the course of the next twenty to thirty years. They provide jobs upstream and downstream. More than that, they provide employment locally rather than in a central location. They provide a sense of local pride and let's not forget those tourism dollars.
The large brewers, on the other hand, are shrinking. They are selling less volume and all you need to do is google Molson or Labatt and "layoffs" to see how they have been trying to achieve more with less over the last half decade.
If we don't change the system in the near future we force the small businesses which have the potential to grow over the next twenty years and generate tax revenues and employment to stagnate by forcing them to compete in a business model that was outdated by the mid 1990's. The large brewers will continue to shrink and as their size dwindles so will their ability to generate tax revenue for the province. Additionally, very large craft breweries from the United States who are not hampered by distribution as restrictive as we have here will be able to buy shelf space in The Beer Store eating away at both ends of the Ontario beer market from the middle. Sierra Nevada, New Belgium, Oskar Blues, Lagunitas, Stone are names that beer drinkers may welcome but which both Ontario's brewers and government should fear.
If we do change the system in the near future, we have the prospect of the growth of small breweries over the next twenty years. We have the employment that they create and the revenue that they generate. We might have an export manufacturing industry. The American breweries are coming, but with Ontario's small breweries freed up to compete, they will mostly take share away from the large brewers who are already losing.
Now, if I were a recently elected Premier of Ontario who had made it into office attached to a large scandal and it was being intimated by the Toronto Star (who recently brought Rob Ford and Jian Ghomeshi down and who do not ever seem to give up) that lobbying is the only reason The Beer Store continues to exist, I would think very seriously about pulling the trigger on The Beer Store's situation. We are very nearly at the point where it would pay off as both a short term strategy for economic protectionism and as long term investment.
The majority of the public is in favour of getting rid of it and it can actually be spun as a long term economic strategy. What a PR coup it would be to be seen to be investing in the future of Ontario instead of maintaining a status quo which provides dwindling benefit and does not exist to serve consumers! The best part is that there is no reason not to go ahead with Ed Clark's plan to bleed The Beer Store for a hundred million a year while reforming the system outside The Beer Store. If they complain of unfair treatment, remind them that they had 30 years to change their model and that they spent that time replacing dusty bottles with an iPad.
For the first time since I started writing, I'm actually optimistic that we're within about 12 months of significant change.