When we write the Ontario Craft Beer Guide, the hardest part is coming up with interesting things to say about newly founded breweries. In some cases, we're lucky and the personnel involved takes care of that for us. Take Second Wedge in Uxbridge: They hired Doug Warren as a brewmaster and that creates some dramatic interest. Can a 30 year veteran of the brewing industry come up with recipes that will engage the public while remaining true to his experience and his vision? That's a narrative with internal conflict. Also, in case you're wondering, the answer so far is a solid yes. They make an unconventionally hopped IPA and a dead solid 80 Shilling.
"We decided to start a brewery" is not terribly compelling. The thing is this: if you're going to start a brewery, you're going to live with that decision until you stop running a brewery. You need to put some of yourself into it. It doesn't convey a sense of the personality of your brewery to tell us you used to be a biochemist or that you were in ad sales and hated it. I want to know about the day the boss told you to stay late and work on the Johnson account and you snapped and told that big fat ugly boss of yours "cram it with walnuts, you big fat ugly boss. I'm off to open a brewery and fie on you and your gormless children." I want to know about the time when, as a biochemist, regulatory process and QC on the drug that you were manufacturing was reduced for the third time in a year and you realized that you, a highly trained and motivated professional really didn't feel as though you were valued and sod this for a game of soldiers I'm off to make Saison for the people of, I don't know, let's say Owen Sound.
I want to know that you've been planning this move meticulously for years. I want to know that you've put some thought into it. I want to know that it burns at your soul. Starting a brewery costs what, like a quarter million bucks? Half a million? You're going to invest your money. Think about investing some personality. It's probably not enough to say "one day we decided…" or "four friends got together…" or "also, we're here now…"
It will help if the public has a sense of who you are. Initially it seems as simple, and I'm going to borrow from Genesis (and Alan Bennett) here, as the difference between Jacob and Esau. "But my brother, Esau, is an hairy man, but I am a smooth man." It may seem as though a single delineating factor is enough to make you stand out in the market, but it didn't even work in a story with two people. Jacob is able impersonate Esau by wearing a sheepskin. You need to forge an identity that is unmistakable.
The bad news is that it's nearly impossible to do out of the gate. Identity is really a question of cumulative experience. You develop it by existing. Go ahead and ask anyone in their 40's if they're the same person they were at 20. The answer is going to be no unless they have lived a very sheltered life indeed.
I'll give you three examples based on recent showcases for exactly this kind of information: brewery anniversaries. Over the last couple of months I've seen three of them.
We'll start with Beau's All Natural Brewing Company in Vankleek Hill.
Beau's celebrated their 10th anniversary on July 2nd. Let's see if the way they decided to celebrate that milestone tells us who they are. Beau's hallmarks at this point are their exceptional branding, their business as family ethos, and a hit or miss reputation for special releases.
Many brewers would do one celebratory thing for their 10th anniversary. Beau's rode madly off in all directions. They started a system of employee ownership. They released their flagship Lug Tread in a commemorative ceramic bottle in a nod to their beginnings. They released two collaborative beers: an Oud Bruin brewed with Anders Kissmeyer and a Barley Wine brewed with Gigantic. They released Batch 5000, an American Wild Ale (which might have the coolest label in Ontario's history). They announced that they were going to be distributing beer nationally.
It tells me exactly who they are. They're ambitious and enthusiastic and they value their employees. However, they are leaping from celebratory measure to celebratory measure like a class field trip to Canada's Wonderland deciding which roller coaster to go on first. It's a little worrying. Ten years in, they're depending on other brewers to do the heavy lifting. It's likely the national exposure will act as a crucible to make them focus that enthusiasm in the coming years.
Then there was Muskoka!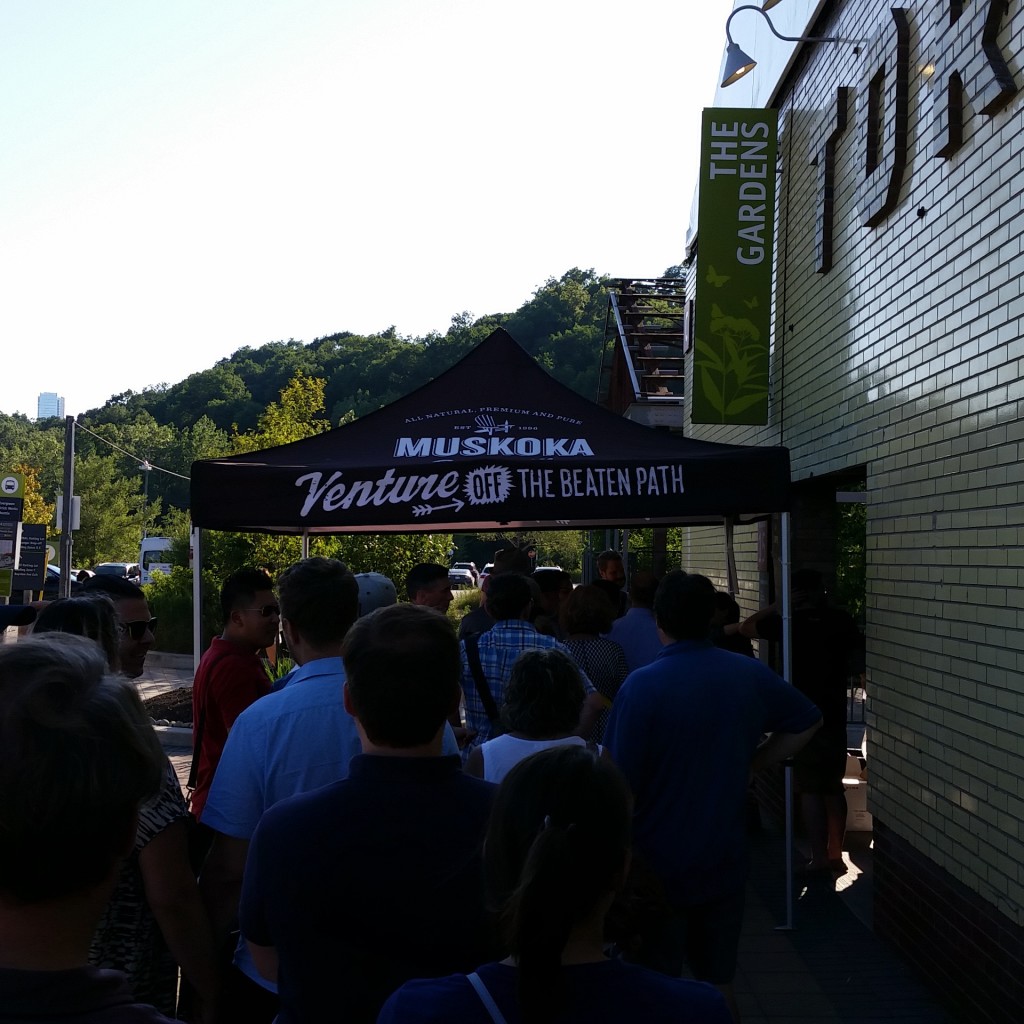 Muskoka is celebrating their 20th anniversary this year. In the space of five years Muskoka has undergone a complete rebrand, an expansion, and has recently purchased a west coast plant. It's a very clever response to a recently announced western Canadian trade bloc. Of the products that they offer, only two have been around longer than five years. It's a brewery that has completely reimagined itself in a relatively short space of time.
In addition to creating a series of collaborative beers with breweries that have been part of Muskoka's story, the brewery introduced a Peach Kolsch as a tribute to the late Kirk Evans, one of their founders. There was also an Oak Aged Cream Ale that didn't quite work out conceptually. They also did something that I don't believe I've seen before: they celebrated their anniversary by throwing a beer festival that included dozens of other breweries. That manages two things. It lets us know that they view themselves as part of a larger community with whom they have good relationships. It also lets us know that they're confident that some of the best breweries in the province won't upstage them at their own event. It's a really interesting calculation on their part.
From this, you can tell exactly who Muskoka are. They're almost painfully aware of the totality of their experience. They are confident enough in their product that they think it will stand up to anyone's. They have a little bit of swagger and while they've got their eyes on bigger things, they're not going to cede an inch of territory to get where they want to be. It sort of conveys a sense that they earned the space.
For all the complexity of the other celebrations, my favourite was The Granite.
The Granite is celebrating their 25th anniversary. In a lot of ways, the beer that the Granite makes is a holdover from early craft beer and influenced by the Granite location in Halifax and the influence of Alan Pugsley and ringwood yeast. There is a sort of unbroken continuity in the brewery's existence. They are currently on the second generation of the Keefe Family and well on the way towards a third.
For their 25th anniversary, the Granite did what it always does. Yes, there was an anniversary Golden Ale. It was very nice indeed, but it wasn't the focus of the celebration. The focus of the celebration were the people who have been patrons of the Granite for the quarter century it's been in existence. The chicken curry was as good as it always is. The Best Bitter was as good as it always is. The company was the same company you might find on any Sunday afternoon. People who hadn't seen each other in years got to catch up. One older gentleman told me that he had come with his wife to the Granite every Friday since 1991 and that the server had two pints of Peculiar waiting for them when they sat down. When she passed away, she requested that they have her wake there.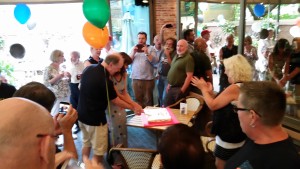 The Granite may have the most concrete identity of all of Ontario's breweries. There will be change, but it will be measured and it will come about organically. The scale may be smaller than some other breweries and the success is temporal; bound up with family and location and a defined community. All they can really do is be themselves and all you can really ask for is more of the same.