(Ed. Note: Every Christmas, they send me books to review in the hopes that I will publicize them. I'm usually writing my own book and I'm not sold on the strategy. Anyone can sell a book at Christmas time. Everyone needs help selling them at any other time. Welcome to book review week.)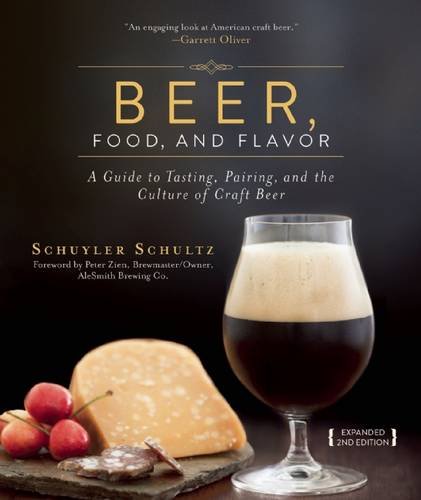 Beer and Food is a popular topic at the moment, but it's one that's a little difficult to address properly. What do you make the jumping off point? Will it be simply recipes from brewpubs, or will it attempt to be more comprehensive? What's the demographic? Are we taking ingredient cost into consideration or are we talking foie gras? How scientific are we going? Are you going to Alton Brown the sucker?
It's a hard row to hoe.
Schuyler Schultz's book Beer, Food and Flavor: A Guide to Tasting, Pairing, and the Culture of Craft Beer is actually an expanded second edition rather than a new property. The first edition was published in 2012, and since I do not have a copy of that tome on hand, it is somewhat difficult to see which bits have been amended and appended.
This is a book with some significant issues of balance. A look at the title suggests that the purpose of the book is to talk about beer and food. The first two thirds of the title talk about that. In practice, that focus makes up a little under a third of the text. There's a significant portion of Beer, Food and Flavor that addresses craft beer in a larger generalized sense. There's an entire chapter on the philosophy of craft brewing that amounts to an advertisement for AleSmith in San Diego. I've been to AleSmith and they're great, but I'm not sure how this chapter fits the mission statement. Chapter five is entitled "Notable American Craft Brewers and Their Art" and amounts to fully 120 pages containing 19 brewery profiles, with bottle shots and beer labels where food is hardly mentioned. It is well written if inutile, feeling as though it had been airlifted in from a different book.
The value of Beer, Food and Flavor must then lie in its first three chapters: Tasting Beer, Pairing Craft Beer with Fine Cuisine, and Beer and Cheese.
Tasting Beer is a little reductive in terms of styles one might encounter, but the sample notes on three beers (two of which are from AleSmith) are instructive for a novice.
Pairing Craft Beer with Fine Cuisine runs through the now practically clichéd complement and contrast strategies of pairing before diving into a series of exercises which nicely explain the thought processes. Using a wine tasting menu as a jumping off point, Schultz switches out the wines for beers and explains the thought process behind each selection. Olive Oil-Poached Tuna Fillet "Provencale" with Haricots Vert, Hard-Boiled Egg and Aioli gets matched with Lost Abbey Red Barn or Saison Dupont. Duck Confit with Wilted Frisee and White Nectarines is matched with AleSmith IPA and Victory Hop Wallop.
There are other menus used as examples, naturally.  Beer dinners from The Lost Abbey, Bear Republic, Green Flash and, at this point hardly a surprise, two from AleSmith.
The section on Beer and Cheese has excellent explicatory text and illustration and suggests, when the rubber meets the road, that just about all cheeses on this planet can be paired with AleSmith products.
What, then, are we to make of Schuyler Schultz's Beer, Food and Flavor and AleSmith?
To be honest, I'm not sure who this is being marketed to. The information in the second two thirds of the text is not related to the title and it seems to me that the value of being able to construct a beer dinner is worthwhile only to Cicerones who have managed to talk their way into consultancy for breweries or restaurants. It's a small market. The beer and cheese section likely has the most value to the layman. Additionally, the whole issue feels a little provincial. It's a big world which doesn't end at the rockies. Knowing how to pair to specifically Californian beers doesn't necessarily help the rest of us.
This would be a better book with additional focus on beer and food pairing at a more basic level, more recipes (the book contains something like six or seven), and less AleSmith. Now, in 2012, when the book first came out (or in brewing terms 1500 breweries ago) using a small group of breweries to illustrate your points was very much the thing. The references to specific breweries could be generalized to styles and the beer dinner milieu could be scrapped for more specific everyday pairing instruction.
The thing is this: At no point do you doubt Schultz's taste or his ability. I would trust him to create a compelling degustation menu any day. Furthermore, I'm sure I'd like him if I met him. He writes expressively and convincingly about the subject of beer and food.
The problem is he does it for about a third of the book.