"Try it with Mexican Food."
This was the food pairing recommendation on a press release for a bottle of beer I got last year. I can't remember which bottle exactly and it doesn't matter very much. One of the things that many beer companies are guilty of when it comes to food pairing suggestions is inspecificity.
This is Mexico
It is the 14th largest country in the world at about 2 million square kilometers. It's got about 120 million residents. It is big enough that the different regions all have their own cuisines. The cuisines are mostly derived from Aztec and Mayan traditions with a good deal of Spanish influence.
"Try it with Mexican Food."
If you, as a brewer, are convinced that your beer is good enough that it will heighten the sensory experience of a meal, you owe it to the person buying your beer not to make them use a dartboard to narrow it down. Did you mean tamales or mole sauce or barbacoa or chalupas or what? Be specific. If you put "Try it with French Food" on your label, Escoffier's spectre would come back to haunt you with a ghostly whisk. You can't adopt the airs of gourmet sophistication and then just wave vaguely in the direction of Latin America.
For heaven's sake, if you mean tacos, just write tacos. That narrows it down a little bit. More than likely, what you mean specifically is the Old El Paso taco kit with the luminescent neon ground beef seasoning packet. It's the standardized ersatz version of the experience.
That's fine if it's Thursday and you're in grade 11. This is Toronto and we're adults, more or less.
You've got some options for tacos in Toronto at the moment and the newest one is Estrella Taqueria up at Yonge and Sheppard. That may sound like an odd place to open a Taqueria, but it makes sense when you consider that it's at a junction of two subway lines and that the population at Yonge and Sheppard is young and multicultural. This is a good thing to remember if you're a beer rep. The city does not end at Bloor.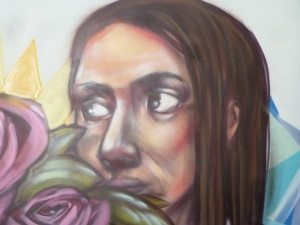 It makes more sense when you realize that the place is going to clean up as a bar. The feel is Dia de Muertos with vibrant colours scattered throughout. The owners are taking the thing seriously, having hired set designers and graffiti artists to instill a sense of occasion. They've got a rooftop patio that should be fantastic during the summer. They've got fifty varieties of Tequila and twenty five varieties of Bourbon. Most interestingly to me, they've got a pretty eclectic selection of beer available on draught and in bottles.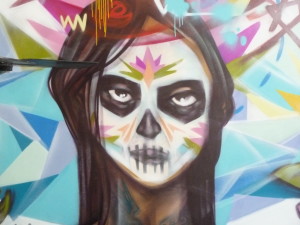 Essentially, what this means is that there's a place with punchy, flavourful tacos and a wide number of beers to choose from. If you're interested in pairing beer with food, this is an excellent playground and a pretty good place to go with a group of people who want to try a bunch of different things.
When you break the taco down to its core components, it's pretty clear that it's simply a format. There are conventions for fillings, but it's a good place to get a little creative. You could go authentic and use lingua as a cheap cut. You could go Baja and go with lightly battered fish. You could do just about anything with the filling. At Estrella, they're running the gamut and it's pretty clear that the menu is going to be in flux while the chef follows his inspiration and they develop some house favorites.
Take the Oyster Taco, for instance. Cornmeal battered oysters with miso/celeriac remoulade and green tomato salsa. The miso complements the light briny flavour of the oyster and there's a tartly sweet hit from the salsa that's brightened up by a squeeze of lime and a sprig of cilantro. As near as I can tell, the celeriac is mostly there for texture, but there's a slight starchiness in it that ties into a wheat beer. The Krombacher Weizen is a good choice for pairing here, but it seems a little too easy to just say "wheat beer and seafood." The authentic choice would probably be a Vienna Lager here, since that's mostly what there is other than Pale Lager in Mexico. King could do worse than try to get on tap at Estrella, since they've already got the Vienna Lager in bottles. It's a contrasting pairing, given that the malty lager would provide a background for the highlights in those few bites to pop against.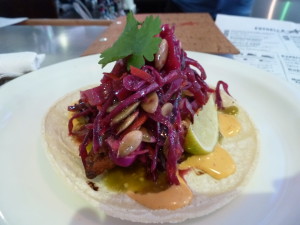 The Baja Fish Taco is heavier than I would have assumed, both in flavour and in terms of its sheer wet nap required physicality. The really interesting thing here is the combination of two kinds of heat. The chipotle aioli brings smoke while the pickled chilis are more directly assertive. For a single taco, you might want an IPA with some citrus character to let the acids battle it out. Oddly, despite the trend, the hoppiest beer on tap is Flying Monkey Hoptical Illusion. If you ordered a plate, you might need something a little lighter as the heat built. Let Hogtown and Beau's respective Kolsches duke it out for your affection.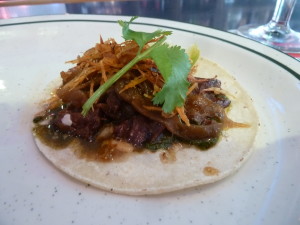 Perhaps the most successful offering at Estrella is the Short Rib Taco, which is "braised with cola and cinnamon, served with chimichuri, caramelized onion, chipotle aioli with BBQ yucca chips." The thing that I like most about this treatment is the braising method which seems to go incredibly well with the Krombacher Dunkel that they have on tap. The slight smoke from the chipotle and the peppery chimichurri really seem to work with the hefeweizen yeast. The yucca chips provide a much needed contrapuntal textural element. I am put in mind of the fact that the Germans do a type of shandy that is half hefeweizen and half cola. I don't know why cola braise works so well here, but I'm sure there's a scientific explanation lurking in the wings.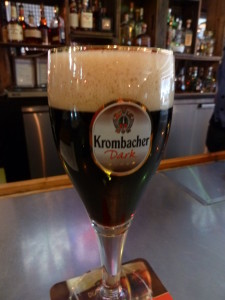 There are many other items on the menu and given an afternoon and a group of people, you could make your way through a number of them at a leisurely pace, stopping periodically to play ping pong. I think they need an IPA on tap. In San Diego, one of the places I went for Tacos had Stone IPA. I think that the vibrant citrus character and acidity plays really well against some kinds of heat.