Recently, I was flown to Boston to visit the Sam Adams Brewery. While we'll no doubt get to the brewery tour itself later in the week once the experience has had some time to percolate through the ol' grey matter, I wanted to talk about something that Sam Adams is doing right.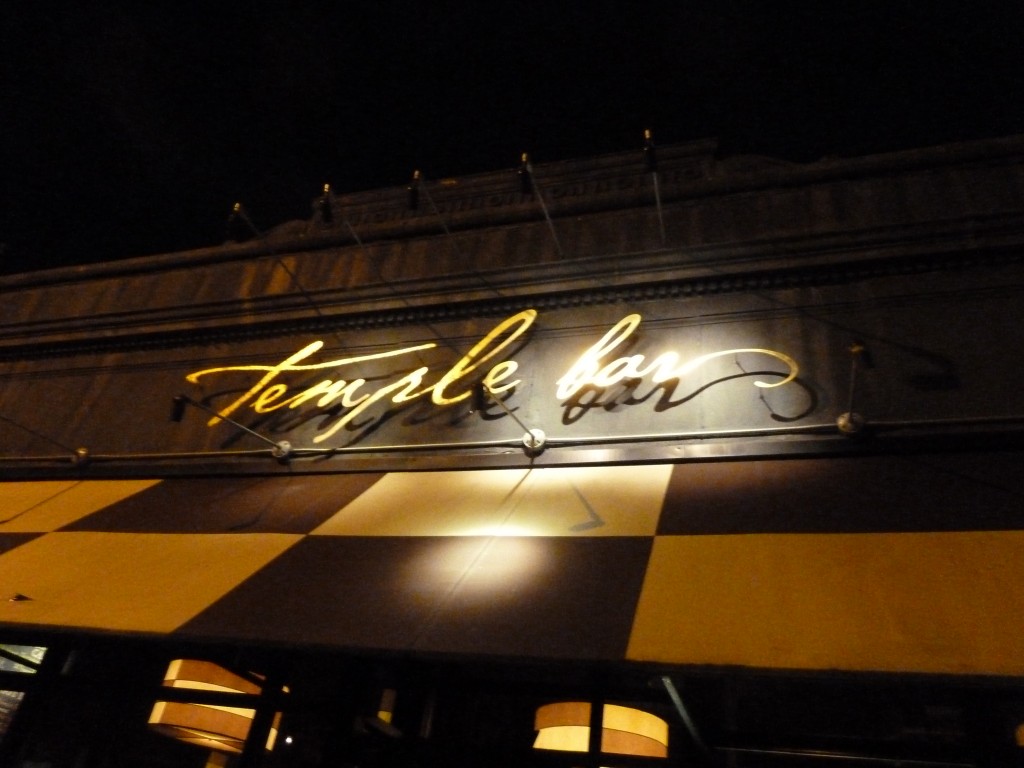 Once a month, or thereabouts, Sam Adams hosts a beer dinner at Temple Bar in Cambridge, just a couple of blocks up from Harvard. Coming from Toronto, where beer and food pairing is something that happens at a rotating series of restaurants and comprises great effort on the part of individuals like Greg Clow or of brewery reps, it's somewhat surprising to see an attempt at continuity between a brewery and a restaurant.
Temple Bar does an upscale bistro take on what I suppose you would call Yankee cuisine, with a focus on seasonal ingredients. They have a wide selection of beers on tap, including small brewers like Jack's Abby, and Pretty Things in addition to larger properties like Harpoon and Sam Adams. The beer menu is nearly as long as the wine menu. That's an encouraging sign in and of itself.
Our host for the evening was Todd Bellomy, who is the Consumer Relations Representative for Sam Adams. He is one of the biggest beer nerds that ever sighted a refractometer. He makes Sake in his spare time. He's all about beer and food, having spent years working in kitchens as an undergrad. This is a man who held forth eloquently for nearly ten minutes on "Beer Cheese" at one point in the evening, going so far as to highlight the advantages of various types of cheddar that might profitably be employed for this application.
Clearly, we were going to get along just fine.
The novel thing about the relationship between Temple Bar and Sam Adams is the way that it works. Before there were beer dinners, Todd showed up at Temple Bar and gave executive chef Greg Boschetti and his staff a bunch of beer to play with. The cases included a few bottles of everything that Sam Adams makes. The goal wasn't to come up with a focused menu that would persist as a feature, but rather to see what a talented group of people could come up with if they were given license to play with the pairings. It has been over a year since this program started and so far they have repeated a total of one dish, but Todd was quick to point out that the beer pairing was different so that may not really count.
Before we get into the beer dinner proper, I have an observation about Sam Adams and regionalism. In the bread basket, there was a delicious Boston Brown Bread. I noticed, over the couple of days that I was in Boston, that most of the Sam Adams core lineup seems to have crystal 60 malt as part of its DNA. It seems like you get some of that malt character in the Boston Lager, Winter Lager and Oktoberfest. It goes extremely well with the molasses heavy brown bread, and I find myself wondering whether there was some intentional mirroring of a traditional cuisine or whether it was a subconscious thing on the part of the brewers, who may have been influenced by what was around. It's possible I'm imagining it. Either way, it's worth replicating at home as an experiment. I'm hoping I can shake the recipe for the bread out of them with a polite email.
FEZZIWIG STEAMED PEI MUSSELS: Chorizo, Jalapeno, Cumin-Cilantro Butter, Grilled Baguette. Paired with Winter Lager
This is an interesting combination, because the Chorizo leeches a smoky paprika into the broth that compliments the heat from the jalapeno and the earthiness from the compound butter. It is probably déclassé to sop up broth with sourdough at a place like Temple Bar. I did so unapologetically. Winter Lager showed up in Ontario without much fanfare and it was never really advertised that it contains orange peel, ginger and cinnamon. It's subtle, so that I'm not sure the mixture is immediately obvious if you drink it by itself. As a pairing, the orange played off the cilantro and the malt from the Fezziwig matched the Winter Lager.
BOSTON LAGER POACHED PEAR & CRISPY DUCK RILLETTE: Caramelized Blue Cheese, Baby Greens, Balsamic-Lager Reduction. Paired with Latitude 48 IPA
This is designed as a plate where you can combine different flavours in order to discover what works with the beer pairing. Each of the individual components would work with the IPA. The rillette and blue cheese, with their fat and salt, play with the mouthfeel and carbonation of the beer and also with the malt sweetness from the crystal 60 (those dudes love some crystal 60) and Gambrinus Honey malt. Because Latitude 48 uses hops from different regions, the individual character of the hops is highlighted by different components. The baby greens are peppery enough to bring out some of the Hallertauer Mittelfruh and East Kent Goldings.
BEEF TWO WAYS: Grilled Brandt Bavette Steak, Holiday Porter Braised Short Rib Cannelloni, Fingerling Potatoes. Paired with Boston Lager
Typically, at beer dinners, when I see beef on a menu, it's with a darker beer than a Vienna Lager. Todd was of the opinion that sometimes you just want to let steak stand on its own, that the beer balances the maillard reaction in the steak while more or less staying out of the way. I'm not sure it's a great pairing, but in context, it's a welcome relief between the intensity of the bookending courses. That said, in any other context steak and beer is nothing to whine about.
CHOCOLATE BOCK CAKE: Chocolate Bock Ganache, Salted Caramel, Chantilly. Paired with Utopias 2011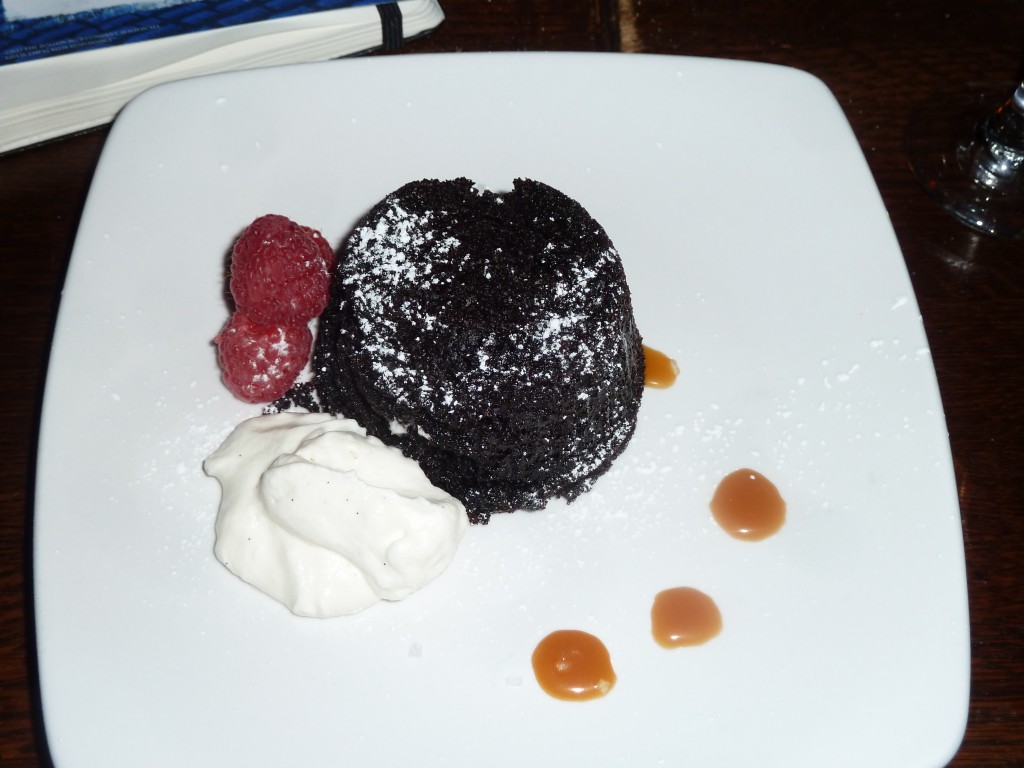 I'll talk about Utopias more in another post, but I have to say that Graham Duncan made an excellent observation about the pairing here. Utopias takes on a minerally character from the barrels it ages in and that means that, oddly, the dessert component that complements it best is the salted caramel. At this point in its life, it seems to me that the barrel character coming through on the 2011 Utopias is port heavy, and that certainly works with the chocolate.
I think that the ongoing collaboration between Temple Bar and Sam Adams has some benefits. First of all, I can say that this is one of the most considered beer dinner menus I've seen. I think that results from the removal of one-time planning from the equation. Greg Boschetti has been thinking about this for more than a year and he's had the opportunity to try different things. I suspect that means that there's no impetus to do something really wild and crazy with the pairings in order to make a short term impression. That's a good thing, especially since Sam Adams uses these monthly dinners for training new employees.
This is the kind of thing we should be looking into in Ontario. It's one thing to have talented chefs doing one off beer dinners. It's a joy when it works out. A longstanding arrangement, on the other hand, builds consistency and builds fluency on the part of the chef doing the pairing. I don't know that there are any individual craft breweries in Ontario with the wherewithal to make something like this happen, but if I'm the Ontario Craft Brewers, I might look at this post as a suggestion of something being done right that can be shamelessly pilfered.