The other day, I was invited to a lunch launching a couple of Goose Island's beers in Canada. Specifically, Matilda and Sofie. The Goose Island property is a contentious one, and to attempt to relate the details of the lunch without at least acknowledging some basic facts about the brand and about their perception would reek of incompletion.
As most beer nerds (and I suspect relatively few other people) know, Goose Island was bought out by AB InBev a couple of years ago for about 40 million bucks. Some of the existing personnel have changed over. John Hall, the original owner, stepped down as CEO. Greg Hall, who was the brewmaster is now making craft cider.
There was outcry about the purchase. People swore up and down that they'd never drink the stuff again. Then there was an announcement that some of the beer would be brewed in upstate New York. Again, people more or less lost their minds.
It has been about two years since the takeover, and for better or worse, I had never managed to get to Chicago when it was under the old ownership. I have no platonic ideal of what the product ought to be to compare it to. For me, it holds no sentimental value. I feel like I'm relatively well equipped to talk about the beer and the food that was paired with it without a whole lot of bias.
So, that being said, let's have a look at what's going on here.
The launch took place at Nota Bene at lunchtime, and the beer and food pairings were designed by their chef, David Lee. It seems that the beers are more or less exclusive to Nota Bene until the end of April (although, I have heard reports of them popping up in other quarters.) According to a representative for AB InBev, Matilda and Sofie should hit liquor stores the week of April 29th, with other brands following in the nearish future.
The concept of a beer launch in Toronto that is restricted to a restaurant, as opposed to a pub or bar is something of a rarity. I don't recall that happening before. Even a single location launch is practically unheard of. I believe this to be because of the specialized nature of the Goose Island Vintage Ales. I'm sure that you could drink them by themselves, but they cry out for food. This is not because there is some hole in the flavour profile that needs to be filled, but rather because there is so much nuance throughout. Food teases things out of them.
Take Sofie, for instance, a Belgian Style Farmhouse Ale. It's a Saison with brettanomyces and it's aged in neutral oak barrels for three months. Neutral oak, as it was explained, essentially means that the barrels were used for wine at one point, but have been re-used frequently enough that they now only impart oak flavour. The aroma is huge with pear and pepper and tropical fruit and wheat and the mildest touch of barnyard. On the palate it diffuses into ripe peach and kiwi and passion fruit and honey. It finishes dry and is dangerously more-ish. The carbonation is vivacious.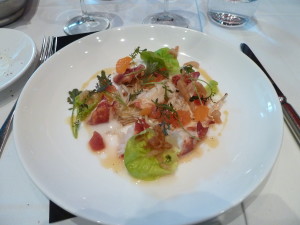 It was paired here with Poached Nova Scotia Lobster with a Citrus Vinaigrette, Pineapple-Vanilla Reduction, A Foam made from the beer itself and um… Crispies.
Now, the lobster is rich and the carbonation cuts right through that, but there's nothing particularly revelatory about pairing seafood with saison. Where David Lee's pairing shines is on the understanding of the periphery. It might seem overly elaborate to include a foam and a reduction and a vinaigrette on the same plate, but all of them hit different tones in the beer. The Pineapple-Vanilla reduction is especially clever because if there's even a mild note of vanillin from the barrels, it will highlight it. Not mentioned in the brief on the menu was the bed of what I believe were enoki mushrooms. I had never considered it previously, but there is probably some umami component in a bottle conditioned beer that resonates there, creating a detail in pairing that is somehow more about commonality in mouthfeel than flavour. A trick I had never seen before.
Matilda is a Belgian Pale Ale, but no less complex. The aroma I picked up off of it, aside from the cloves and some other baking spice which likely derive from the yeast were stewed apple and possibly persimmon. The hops are Saaz and Styrian Golding, and there's this quality of depth to it reminiscent of some English Pale Ales which I can really best describe as forest floor; that hint of herbal dampness in brisk autumn.
It was paired with a Suckling Pig and Boudin Noir tart with Maple-Smoked Bacon, Mushrooms, Arugula and Truffle Vinaigrette.
Looking back now at the plating, I wonder whether David Lee came to the same conclusion I did: Matilda is an Autumn. From the plating up through the pastry to the mushrooms to the staggering variety of pork, he's practically recreating that forest floor, layer by layer. The suckling pig is (and I hate to use the word) unctuous and the boudin is surprisingly light. The bacon and crackling are, I suspect, just there to round out the concept of the pig rooting for truffles. It is not so much a pairing of beer and food as an evocation of October.
You can see why they chose Nota Bene. David Lee should really be doing this kind of thing more frequently, as he clearly has some insights into how pairing beer and food should work.
As to the Goose Island beers, let me say this, if you're concerned about the takeover: Both Matilda and Sofie are lovely, complex beers. If you've had them before, I would advise to seriously consider should you find there to have been a decrease in quality, whether it is imagined. If you haven't had them before, you're in for a treat.
As for the launch at Nota Bene, I have to suggest to you that I have not seen anyone pair to the whole flavour profile of a beer like David Lee. The specialty menu is on until April 30th.