Probably the highlight of Alberta so far was dinner at Charcut Roast House, which has garnered a reputation as one of the best new restaurants in Canada. I didn't realize, when I saw it on the itinerary exactly why I knew what it was. It turns out that the chef is Connie DeSousa, who was a solid competitor on Top Chef Canada Season One. When I started looking into it a little more, I found out that this is a place that has developed a practically cultish following as a result of its cuisine and because of their Alley Burgers. The idea was that the restaurant would periodically inform the public through social media that  there was going to be a set number of burgers offered through the alley door of the restaurant. I'd say that if you can get people to line up in -35 degree weather, it's got to be a pretty exceptional burger.
I was mostly interested in Charcut because they are one of the only restaurants in Canada with a beer sommelier on staff. This makes complete sense since the menu deals with shared platters of hugely beer friendly food. Kirk Bodnar prefers the moniker of Beer Steward. We have a lot in common. We're both Cicerone Certified Beer Servers and we're both waiting to hear back about the results of the Cicerone exams that we've recently taken.
When you're faced with a menu like that at Charcut, there's a wheelhouse of flavours that anyone pairing beer is going to be extremely confident working with. Connie picked the menu, resulting in a situation in which Kirk was forced to pair beer with each course on the fly.
Now, it has to be said that after four days of hobbling gently about Alberta with a broken arm and a mildly sprained ankle, that my appetite was not completely suited to the vast outpouring of dishes from the kitchen. I gave it my best shot.
You know that you're in for a treat when the amuse bouche from the kitchen is house made mortadella with bubbling raclette and fresh made brioche. The mortadella is apparently formed in a pig's head. I hear that Connie has the ability to debone a pig's head in less than half a minute, which may well fall into Bill Brasky urban legend territory. The pairing here was tree hophead, which certainly had enough bitterness and carbonation to cut through all of the elements of the dish, and enough of a malt backbone to play nicely with the sweetness of the raclette and brioche.
Subsequently, dishes simply started arriving. Bone Marrow with Escargot Gratin. House made pretzels with a cheese dip and pickled vegetables. Tuna Conserva with a salad of arugula.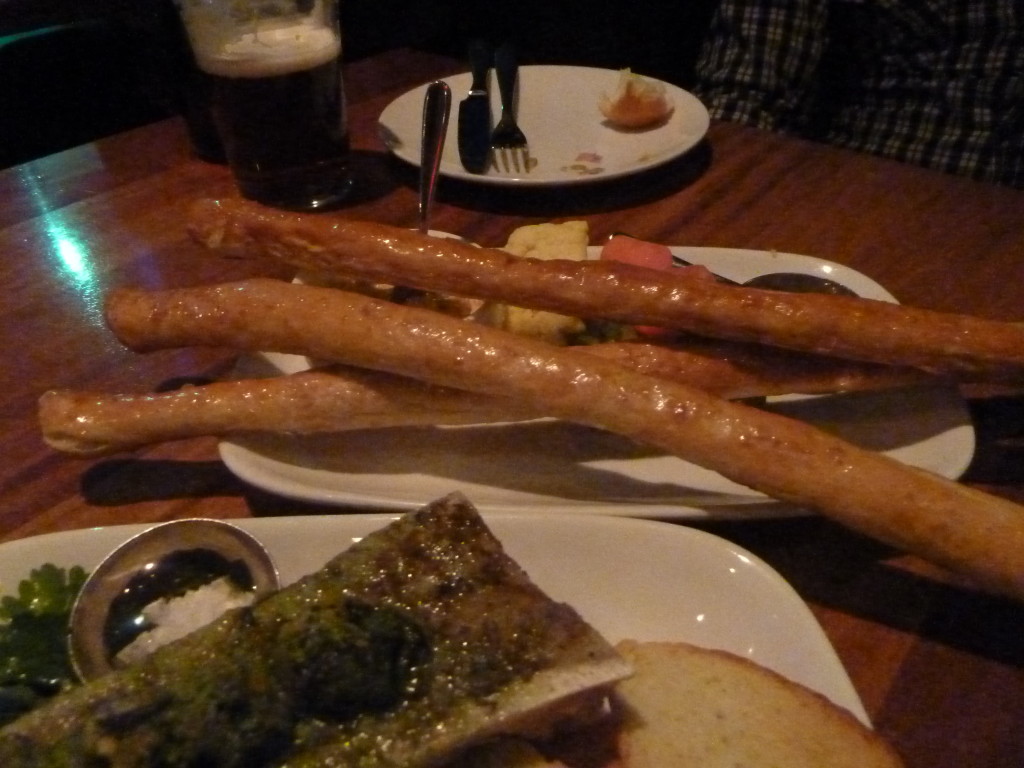 Kirk chose two beers for the appetizer course. A Munich Helles and an Schneider Weisse Aventinus. While the Aventinus tended to compromise the subtlety of the Bone Marrow and the Tuna, it was a dead certainty for the house made pretzels and cheese dip. The highlight of the course was the Tuna Conserva, with its lightly pickled (either new or fingerling) potatoes and its nuanced kick of citrus. The Munich Helles complimented the citrus perfectly and never interfered with the delicate mouthfeel of the tuna.
The realization that my eyes were bigger than my stomach arrived at approximately the same time as the plethora of entrees. There was the Share Burger, with its garlic sausage patty, cheese curd and fried egg (which explains completely why you'd stand in an alley late at night freezing your area off.) There was the Duck Fat Poutine with a truffle gravy. A Double Cut Pork Chop with Smoked Baked Beans and Aged Cheddar Cornbread. Although I didn't realize it for several minutes, a butcher's steak with chimichurri and matchstick potatoes nestled gently under a nonchalant bunch of arugula. Also, there was a salad, which was delicious but almost entirely disregarded by the table as the meat fever gripped us.
Kirk decided on three beers to pair with this course. A Naramata Nut Brown Ale, an Affligem Dubbel and the Ayinger Celebrator Doppelbock. Now, to be fair, it should be pointed out that any of these in combination with any of the dishes would probably have been an excellent pairing if only because of the character of the dark malts. I have a theory that the maillard reaction that takes place in the malting process and during the boil helps pairings with meat that has been prepared through a dry cooking method. Grilling, roasting, frying, even a braise will probably produce complimentary flavour compounds because of maillard browning.
That said, the subtleties of pairing are really about the minor elements of a dish. Kirk mentioned at this point that he is in favour of pairing with underlying flavours of a dish, and I agree. The Affligem Dubbel really does a number on the truffle in the Duck Fat Poutine's gravy. The Celebrator pairs wonderfully with the smoke in the baked beans and compliments as well the smoked paprika that was in the rub for the pork. It even makes sense culturally. If ever a cuisine was Pork-centric, it was Germany's. That southern fixin's would slot in alongside makes perfect sense. The earthy qualities of the Naramata Nut Brown even picked up herbal elements of the Chimichurri sauce (possibly oregano if I understand the milieu.)
There was dessert, which I'll mention only briefly since I had reached the point where I was begging for slightly more mercy than Uncle Jesse.
The dessert beer was a 2008 Brooklyn Chocolate Stout, which had picked up some sherry like notes as a result of the slight oxidizing that takes place through age. That it would work with the chocolate dessert was a given. More surprising was the support it lent the preserved cherry cheesecake and the apple pie gelato. (An apple pie gelato could easily be a one note experience, but this remained tart despite significant sweetness and pronounced cinnamon.)
People praise Charcut for its food, and that praise is clearly well deserved. There are, however two things you should know about Charcut:
1)      It should be one of the prime beer destinations in Calgary. There are nine carefully chosen draught lines and approximately twenty five bottled beers. Thanks to Kirk's expertise, not a single one of these is a dud. The staff has been educated on the subject and this is an excellent place to experiment with the potential of pairing beer and food if you're unfamiliar with the concept or uncomfortable trying it at home.
2)      You're going to either want to skip lunch before going to Charcut or bring a small army of confreres with you. To say that the portions are generous would be to do them a disservice. They are practically Brobdingnagian.