The Background:
Listen: Sam Corbeil has come unstuck in time.
He's living backwards. At some point in the next few months he'll have a brewery in a refurbished Canadian Tire in Gravenhurst. In April, he hired staff in the form of Aaron Spinney. At about the same time, he got Lone Pine IPA into the LCBO. As we go further back in time, we find him making more and more ambitious one off beers for special events. If we go all the way back to the 1970's, his moustache was in style.
Any sane person would have done this the other way around. Start with a brewery. Get staff and an LCBO listing. Maybe make a Niambic beer. Come out swinging at Cask Days with a Chai spiced brown ale. Sam Corbeil didn't let little things like convention stop him.
Out of all the beers I've tried from Sawdust City, I've never had a bad one. There are few breweries I can say that about. There have been Sawdust City beers that were not to my taste, but none of them have been objectively poor. The Red Rocket Stout with Cayenne burnt the hell out of my uvula.
I am massively appreciative of the fact that Sam cares about the quality of his beer. Sawdust City just yanked a batch of Lone Pine IPA from the LCBO warehouse. I think they were trying an unfiltered version of it out, going by the social media record. It didn't work and they pulled it and destroyed it. All that beer down the drain.
So it goes.
Long Dark Voyage to Uranus is a little special to me for a couple of reasons. One of these is that I've gotten to try every iteration of it. The first time it was brewed, it was for the 2011 edition of the Master Brewer's Iron Brewer awards. I don't believe it won, but it was highly regarded. I've tried every version of this beer since then.
I mostly like it for the detail on the label that is borrowed from Kurt Vonnegut's Breakfast of Champions. I reproduce it here from my copy of the book.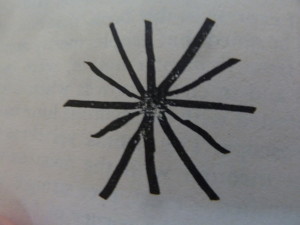 I like it when people engage with the audience. It does not take much to assume that your audience is literate. To be a beer nerd, you have to memorize details from a huge number of beer styles. It stands to reason that people who can do that are inquisitive. That can be dangerous. They might even have read a book. Then again, they might just enjoy a dirty joke about the human posterior.
They were good enough for Chaucer.
The Beer: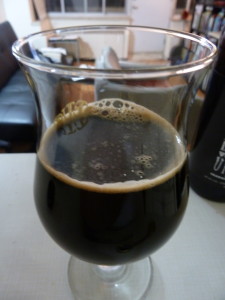 The beer is strong. At 9% alcohol, it's the kind of thing you're best taking your time with. I like that the ingredients are listed on the label right down to the yeast strain. There are apparently 10 kinds of barley and some Demerara. Demerara is a fancy name for brown sugar. The hops are Magnum and Centennial, and you can pick out the Centennial's pine barren waft on the aroma. The new version is hoppier than it has been in the past.
I don't have written data to back that up. I am a man who drinks for a living and relies on his memory. Isn't that silly?
The malt variety lends a nice breadth of flavours that expand continually as Uranus warms up. There's the obligatory 70% or better dark cocoa. There's the deeply roasted, frankly burnt espresso. The Centennial pine plays up the rye spice into a robust pumpernickel. There is some deeply scorched rum barrel in there as well. It is dry and it is a little astringent. I appreciate that. Last night I had the Goose Island Bourbon County Stout and it was as good as it is touted to be, but stickier than I like. I enjoy the brittle snap this provides.
The Arbitrarily Chosen Score Based on Various Criteria:
On a scale from "Goodbye Blue Monday" to "Ting-A-Ling, You Son Of A Bitch," I'm going to give this a rating of "If this isn't nice, what is?" Sometimes it's important to stop and look around and appreciate a nice moment and this is a beer that caters to that reflection. I liked it enough that I bought it.