Contract brewing has proved to be a grueling, merciless, low margin, joyless and difficult way to make your way in the beer industry. Consider how hard it is to operate as a physical brewery in Ontario. You've got to fight for shelf space in the LCBO and grocery chains or pay for it in The Beer Store. You have the limited advantage of being able to make some margin selling beer out your front door. If you start small you can parlay that into growth with some good planning and the odd governmental grant.
If you're a contract brewer in Ontario, you're more or less a sales force. You're paying a brewery to make beer for you, and it's not like that's a break even proposition for them. They're profiting regardless and don't even need to pay additional labour. You, on the other hand, now have all the problems a regular brewery has without the limited advantage of a door to sell from and with the significant disadvantage of a much thinner margin. If you're a really competent sales force (see Trouble, Double) you can probably make some headway with that on an ongoing basis.
One of the only reasons that contract brewing is a good idea is if you've got a plan for a physical space and you want to get your branding in the market. If the endgame is to be able to move some locked in volume when you've got the capacity in a year or so, it's not a bad idea. Left Field garnered a nice reputation with contract brewed Eephus before they had their Wagstaff location. Kensington seems to be nearing completion of a brewpub and All or Nothing bought Trafalgar, so there's light at the end of the tunnel in both cases there.
What makes less sense to me are contract brewed lifestyle brands like Ace Hill and Lost Craft. These brands seem to have targeted higher end restaurants and depend entirely on their image for their appeal. I've tried both of them a couple of times now because outside of the branding, the appeal eludes me and I wondered if I'm missing something.
Ace Hill is a Pilsner in the latter day sense of the term in that it is a descendent of the golden lager style. It is extremely lightly hopped and to be honest what it reminds me of more than anything else is a slightly less stable version of Carlsberg or another Euro lager. Now, I should point out, to be fair, that the first can I acquired from the Summerhill Beer Store was a little old (three months and a touch oxidized and diacetyl-y) and when I mentioned the packaging date to the Ace Hill gang, they gamely rallied round with fresh product. Points to Ace Hill for the effort. They seem like a good bunch of guys.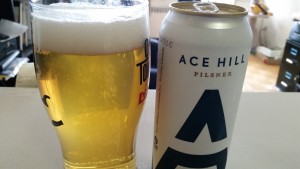 Fresh, Ace Hill Pilsner is extremely light in body and colour and flavour. I'm sure that if you were to take the product and compare it blind to a range of light European lagers from the LCBO or indeed light Domestic lagers from the Beer Store, it'd fit into the lineup.
The delineating factor is price point and branding. Pabst isn't getting a Holt Renfrew shoot. Is this Bud Light in a can wrap for people who don't want to seem outside the current craft trend and are willing to pay a premium? Has the market progressed to the point where people are willing to pay extra for a trojan horse in order not to look a pariah on the town? Isn't that good news for the future?
Lost Craft is possibly more confusing to me. It is recognizable as a Kolsch and I've tried it twice as well over the last couple of months just to get a handle on it. It has varied a little batch to batch (another quandary of contract brewing) and though the commonality has been a slightly sticky finish, the more recent version had pome fruit esters and a banana accent before some light floral hop character in the cereal sweet body and little residual bitterness.
As Kolsches in Ontario go, it sits in the middle of the pack, but with more contemporary branding compared to most offerings. The thing I don't quite understand is the approach to the market. Lost Craft attempts to portray Kolsch as a rare bird. Beau's Lug Tread just went national. There's no shortage of Kolsch and if the idea is that you're going to out PR Beau's, you might have picked an easier fight. Like, say, Mike Tyson ca. 1987.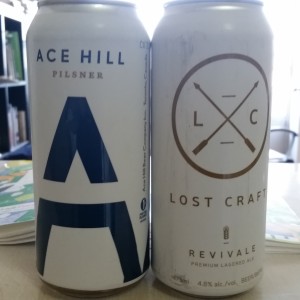 In both cases, these are beers that are apparently targeted at upscale eateries where it seems unlikely that people would drink more than a single beer and that as an aperitif. This confuses me. Targeting with laser precision a demographic that is unlikely to purchase more than one or two of something in what is really a volume business seems like suicide to me. As a contract brewer, you've already got a low margin and you've got a sales team to pay for. Beyond the initial push, you're going to see consumption fall without constant support and for people who are only buying one of something anyway brand loyalty doesn't even enter into the picture. It's sort of the popped collar of the beer market. It's eye grabbing, but then what?
I suppose that's what I find baffling. What's the endgame? Just selling contract brewed beer forever isn't really a viable business model with this much competition around. It was easier in 2011 in a less robust market, but not by much.
Now, you might think that I'm against these kinds of products. That's not really the case. I think the market has room for anyone who wants to be in it, although possibly less than they'd hope for. I also don't object to breweries with extra capacity making some money off their empty tanks. What I can tell you though is that I talk to enough people to know that "group of friends gets together and decides to start their own contract brand" is a story that's currently playing out in Ontario at varying levels of success, although the variation is less than you'd think. I know that there's going to be someone out there reading this and thinking that they too have a great idea for a contract brewed beer and this time it'll work for sure.
To that person I'm going to say this: Then what?